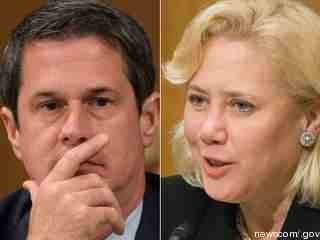 Writing for the WBRZ News Advocate, Gerard Shields describes the actions being taken by Senator David Vitter (R-Louis.), who is blocking the nomination of Brian Jackson to a federal judgeship in Louisiana. What's Vitter's beef with Jackson? He has none. He just wants another guy, named Jim Letten, to be reappointed to his post. Mind you, Letten is not out of a job: he continues to "serve at the pleasure of the President" and does not need to "go through the nomination process again." This isn't good enough for Vitter, who seems to want President Barack Obama to go through a superfluous nominating process, or, at the very least, send Vitter an "update" of some kind.
It's all terribly confusing, until you read that there's no substance behind any of this at all. Vitter and his fellow Louisiana Senator, Mary Landrieu, are just having some pointless feud:
"Nine other well-qualified individuals are pending for important federal posts," Landrieu said in a statement. "Senator Vitter's partisan antics will do nothing but hurt the people of Louisiana who need these positions filled."

The position is part of a long-running feud between the two Louisiana senators that has resulted in the judgeship not being filled for the past two years.

Under the U.S. Senate process in place, a confirmation hearing is not held by the Senate Judiciary Committee until both senators from the state submit what are called "blue slips" of support that allow the process to move forward.

Vitter is holding back his "blue slip" on Jackson and Genevieve Lynn May, who has been nominated for a U.S. Marshal post in the Eastern District.

May would become the first female marshal in Louisiana history, Landrieu said. "It can't be in Senator Vitter's best interest to stand in her way," Landrieu said.
The story goes on to report that during the Bush administration, Landrieu had opposed the nomination of another guy (David Dugas) to the judgeship for which Jackson is now vying, and that this has "agitated" Vitter, and that Letten and Jackson both work in private practices, anyway. [CORRECTION: Only Jackson is in private practice.]
It's all very confusing! And also pointless? I think the big story here is that the judicial hold process is in dire need of reform. Alternately, maybe Vitter and Landrieu should just agree to awake one morning, head to the National Mall, and settle this by dueling.
Calling all HuffPost superfans!
Sign up for membership to become a founding member and help shape HuffPost's next chapter