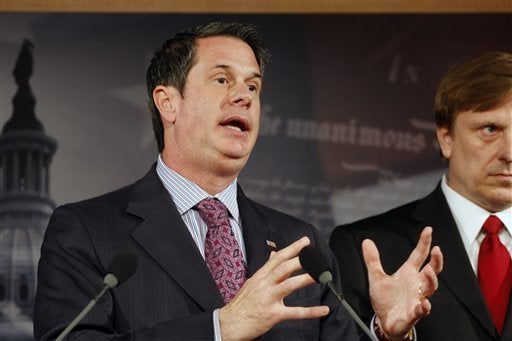 The tax day tea party movement is gaining steam, as TV celebrities and political figures try to glom onto what might be a burgeoning populist groundswell. Neil Cavuto and Sean Hannity of Fox News will join events in Sacramento and Atlanta. Newt Gingrich will be in New York. And on Friday Sen. David Vitter (R-La.) proposed to make a law honoring April 15 as National Tea Party Day.
Vitter's got a Web page that says "millions" of Americans will join protests "to register their displeasure with our government's addiction to wasteful spending, bailouts for big business, and higher taxes."
Before they register that displeasure, Vitter wants them to register as Citizen Co-Sponsors of his effort to "force the Senate to recognize this day as a formal protest by the people against these policies."
An organizer of the tax day protest outside the Treasury Department in Washington, D.C. told the Huffington Post that several Republican politicians -- it now seems Vitter might have been one of them -- had asked to speak at the event, only to be rebuffed because, as the organizer puts it, "We're not a function of the Republican party."
The Huffington Post wants to have citizen journalists at as many of these events as possible. If you think you'd be interested in attending one of the Tea Parties and reporting back to us with dispatches, photos, or video, click here to sign up. We'll contact you shortly with further instructions.
Calling all HuffPost superfans!
Sign up for membership to become a founding member and help shape HuffPost's next chapter