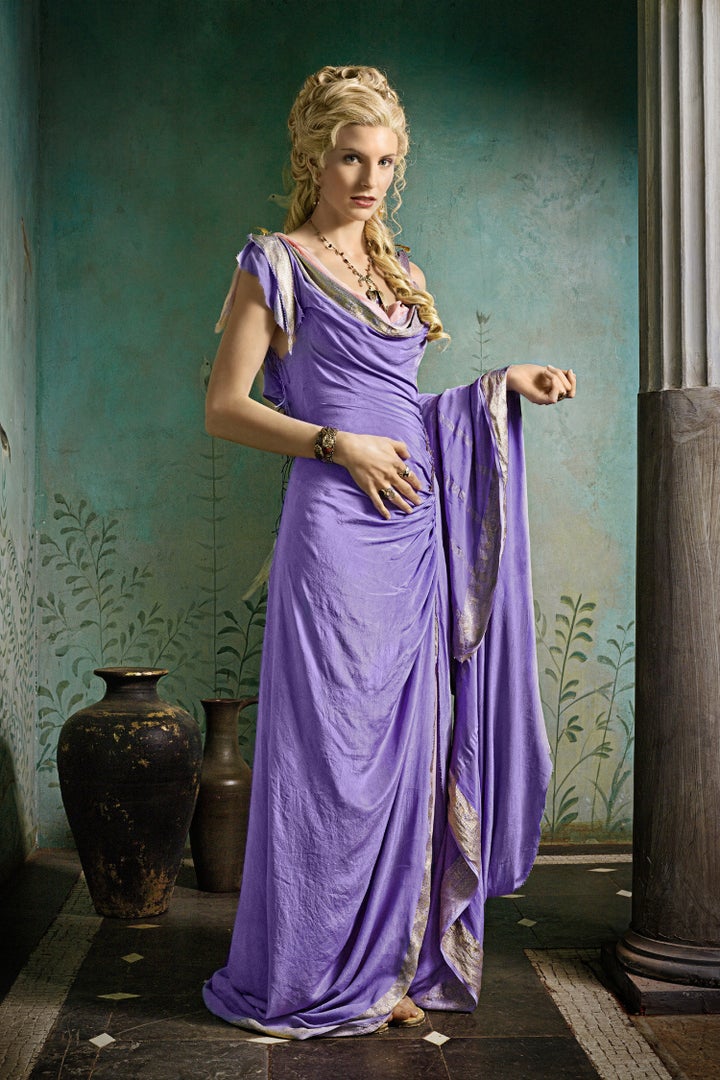 Viva Bianca's "Spartacus: Vengeance" character Ilithyia has certainly changed since we first met her. She has grown from a mischievous schemer into an upper-class married woman, with a trail of devastation lying in her wake. We last saw Ilithyia two years ago in "Spartacus: Blood and Sand" as she sealed the doors, closing the pesky Lucretia (Lucy Lawless) behind them.
Well, it seems that Ilithyia's best-laid plans didn't turn out quite as she wanted them to, and Lucretia is back on the scene -- more or less. The Huffington Post sat down to talk to Bianca about all aspects of "Spartacus: Vengeance," from the constant nudity, to Ilithyia's transformation, to working with Lawless.
First off, we here at HuffPost TV want to tell you your name is awesome.
I get that a lot, actually! [Laughs] When I was a little girl at school I really wanted to be Katie or Sarah or Sophie. When you're a little girl at school you want to be like the other little girls.
So it's back to "Spartacus" -- time to take off your clothes again...
[Laughs] Well, we do film scenes with our clothes on. But, you know, when we do take off our clothes, it's never entirely comfortable.
Do you ever get used to something like that?
No, you really don't. You don't even really get used to doing scenes where you have to kiss, or be particularly intimate, with another person who's not actually your lover in real life. It's part of the job, and it's part of serving the story. When it comes to sex scenes and nudity, if the scene is relevant to the story and moves the story forward, then it's justifiable.
You look pretty comfortable, though. Kind of like: "Here I am!"
Well, I am an actress. [Laughs] No, but these scenes have to be treated in the most clinical, strategic way possible. There is absolutely nothing sexy about them when you're shooting. There's a camera in your face, there are a hundred guys holding lights and booms. In between each take, you have your wardrobe people wrapping you in blankets. And let's not forget -- these guys you're acting with, they're like your brothers! You often end up laughing.
I don't know if I've ever seen sex done quite this way before on TV.
It's a radical show and it's pushing the boundaries, but there's a lot of talk about the sensationalism of "Spartacus," mainly the sex and the violence. But I think the success of the show is grounded on the integrity of the story and the complexity of character development and relationships.
Especially your character, Ilithyia, who seems to go from one thing to another to another.
Well, thank you! It's epic, right? She began as this brassy, mischievous, scheming princess character, but emerged from Season 1 as this villainess. Now, in Season 2, what's so lovely is I have the opportunity to play a more complex woman who's continually in a vulnerable state. Ilithyia has fallen from grace, and is desperately fighting for her livelihood and survival throughout Season 2.
Off to Capua again...
Yes, she ends up in Capua, which is her worst nightmare. She has to really struggle to get what she wants again -- which is to get back to Rome and live the privileged life she wants, far, far away from the very recent memories of all that drama, treachery and devastation.
That scene was great, when you arrive in Capua and order the slaves to clean the blood off the walls.
Despite the fact that Ilithyia can be so nasty and evil, there's something hilarious about her. I like it when she can be a bit camp.
We're also seeing a bit of emotion from her this season, too, right?
There's a really nice moment when something happens to one of Ilithyia's longer-standing slaves and she cries. She shows an unexpected moment of compassion for one of the slaves, and I think it's quite a poignant moment.
Lucretia is back, and she's off her rocker. How does this affect the dynamics of the relationship between her and Ilithyia?
Ah, yes. loopy Lucretia. I know a lot of people talked about this character relationship in Season 1, but it gets even more intense in this second season -- more complex and even more twisted. The very fact that Ilithyia finds Lucretia, and she's lost her marbles when she's supposed to be dead, is a huge thing. The plan was, when Ilithyia sealed the f**king doors at the end of Season 1, anyone related to that house, including Lucretia, would be finished. But that's not the case, and really, for the first half of "Vengeance," Ilithyia is very cautious of Lucretia; because she's loopy, it's difficult to know if she's lying or not about being crazy.
Yeah, it was infuriating not knowing if she was telling the truth or not!
I think that's what makes the dynamic so great -- who knows which of them is telling the truth? [Laughs] We have this love/hate thing, and in "Vengeance" you really start to wonder if these two love each other or not. They're co-dependent.
Do you and Lucy ever throw down? Like, Australia vs. New Zealand?
Oh, yes. Aussies are so much cooler. No... but really, Kiwis are awesome people, and working with Lucy has been one of the best parts of this job. She's a pleasure to work with, a ton of fun, and she's really good at breaking the tension on set. She really shines in this role, too.
We discover Ilithyia is pregnant in this second season. Did that affect the way you played the character? I noticed you holding your stomach when big things were going down.
Oh! You noticed! This is going to be a very key storyline -- the baby and her relationship with her baby. Ilithyia has grown up so much, and now she's a woman with a baby inside of her, I think it helps the character grow in complexity and wisdom. Even the baddies on "Vengeance" have many dimensions, potentially even more than the goodies! In Season 1, her currency was sex and beauty, and in Season 2, the baby is her ultimate trading card.
And what about your marriage to Glaber? Is that a marriage of convenience or is there real love there?
We find Ilithyia and Glaber in episode 1 in Rome, with full optimism about their future; they're having a baby, they're in Rome, the past is behind them. We've also just found out that Glaber got a promotion. Very quickly, of course, the s**t hits the fan and they're ordered to Capua. Their marriage is challenged from the minute they arrive there.
You have so many different relationships to manage!
I know, right?! [Laughs] Enemies, friendships, frenemies!
"Spartacus: Vengeance" starts up again on Jan. 27 on Starz in the U.S., and on Jan. 29 on The Movie Network and Movie Central in Canada.
For more of the year's new TV shows, click through the slideshow here:
PHOTO GALLERY
Midseason TV 2012 Preview - New Shows
Calling all HuffPost superfans!
Sign up for membership to become a founding member and help shape HuffPost's next chapter
BEFORE YOU GO