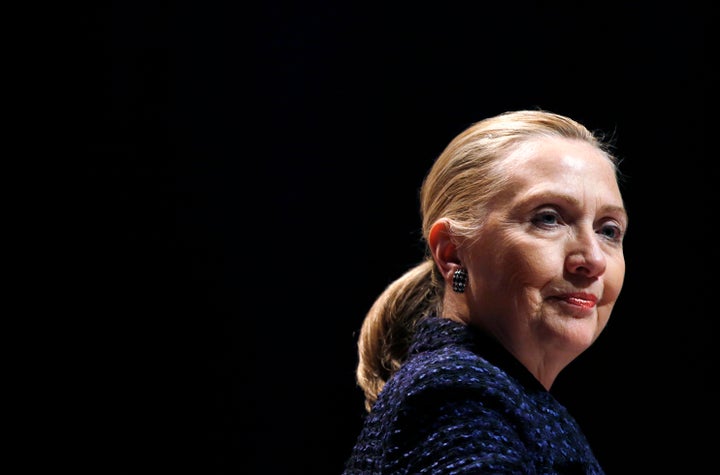 If Hillary Clinton ran for president, Viva Hillary Clubs would turn Texas Blue for her in 2016.
Everyone knows that at some point Latinos will win Texas for the Democrats. The only question is if it will happen incrementally, which might take up to 20 years, or instantly, which would take someone to inspire our people the way Kennedy-inspired Latinos into creating Viva Kennedy Clubs across Texas. That could'a been Hillary.
If you can't imagine Hillary as our JFK, then imagine her running mate as the first Mexican-American vice president ever and imagine that VP's last name as Castro, and I don't mean Fidel.
Imagine the delight caused by campaign visits to Hispanic Chambers of Commerce, Latino professional groups, art groups, activist organizations, colleges, and bingo halls by President Obama, Hillary Clinton, Bill Clinton, Michelle Obama, Julian Castro and his wonder twin brother Joaquin Castro, and their mom Rosa Castro, a veteran Mexican-American activist.
If you are not among those who get goose bumps at the mere mention of this line up, then let me give you a secret marketing fact.
That line up touches every facet of the Mexican-American Dream in a way that no other slate has. To explain all the nuances involved would take a book, but the Democratic Party would have the power to not only convey that affinity on TV and even mailers, but they would also be able to harness that knowledge to animate the Latino Sleeping Giant.
The history books would read: The first African-American U.S. president was followed by the election of the first female president and then the first Mexican-American president of the U.S.
If the Latino electorate were to wrap up Texas' 38 electoral votes in a blue bow and hand them to Hillary, it could deliver three straight Democratic White House administrations.
However, if you are reading this in English, you are probably saying, "Texas voted Republican again this last election. Texas is a Red state through and through."
That sentiment kept voters at home and kept candidates from even wooing the Lone Star State.
You might be asking, "Didn't Texas just elect Ted Cruz as its first Latino senator, and isn't he Republican? Maybe a Latino Texas might turn Republican?"
The Tea Party elected Ted Cruz in a death match showdown primary against conservative David Dewhurst. They spent a record $45 million on the race. People across the nation heard all about it.
This 2012 election demonstrated the largest the Republican base can get without the Latino vote.
There are a few obvious paths to take for Dems to take Texas.
The Democrats could chase a larger portions of those 8 million votes. That sounds hard.
Or they could reach the voters who didn't show up. In 2012, Texas had a record 13.6 million-plus voters. Betcha a huge chunk of the 5 million-plus voters who didn't vote were Latino.
Latinos are not the sleeping giant, Latinos are the working giant. They would report for work on Viva Hillary Clubs and register more Latino voters and inspire existing registered voters to vote early.
In Texas, there are hundreds of thousands new voters just waiting to happen.
In the Houston Independent School District, there are just over 48,000 students in high school who will all turn 18 by 2016. Sixty-two percent are Latino. That's about 30,000 new voters.
That's just one school district.
Add to that the numbers from the 29 school districts in the Rio Grande Valley, then add the 17 school districts serving San Antonio, then add El Paso, and so on, and so on, and so on.
Those young folks will not be voting Republican. Even if they are too young to remember Romney's self-deportation proposal, or Arizona Gov. Jan Brewer's anti-immigrant movement or Arizona Nativist Republicans banning of Mexican American Studies, it will take several generations of miracles for the rest of us to forget. We will tell them all about it.
The real danger is that they might not vote at all.
Commercials, flyers, and email blasts won't persuade them -- if they can even reach them.
Viva Hillary Clubs would take care of that. Brothers, sisters, aunts, uncles, moms and dads, would be inspired to organize those young to drive grandmas and grandpas to the polls and elect Hillary to set the stage for the first Mexican American President.
Perhaps, the syllabic resemblance to Viva Kennedy Clubs does not inspire you to believe Tejanos would actually form Viva Hillary clubs.
Well, Hillary Clinton was already president of Texas.
And no, Tejanos did not threaten to secede form the Union when she lost.
However, it does appear that the Texas Rio Grande Valley, which stretches 100 miles and covers about 43,000 square miles along the South East border of the state, did check out of the election.
However, in Nueces County, 5,425 fewer people voted people voted in 2012 compared to the 2008 presidential election.
In Cameron County 1,205 fewer people voted.
Of course, not every single one of Texas's 245 counties took a dip, and some are still Republican bastions, but with the increase in the Latino population -- all of the counties in the Rio Grande Valley should have seen an increase.
Tejanos didn't start Viva Hillary clubs in 2008 because at the time the perception was that the election was hers to lose. Back then the Democratic electorate was very inspired, even thrilled by Barack's Obama's message of Hope. They would be energized again with the possibility of delivering the American Dream to more people in the very tangible way of a first female president being followed by the first Mexican-American president, after the tenure of the first African-American president of the United States of America.
However, it appears that Hillary will not run for the highest office in the land. We are at a loss.
Both parties only follow numbers, trends, and talk to the wrong "experts" and pundits about our community.
Here is a final insight from a real expert, a third-generation Rio Grand Valley resident Laura Lee Oviedo. She's the graduate adviser of the Mexican American Studies Club at The University of Texas Pan American.
"Hillary has been coming to the valley for a long time, as early as the '70s helping out with voter registration drives, and she's kept a close connection. Politicians rarely EVER take time to come to the Valley and rally the Hispanics here, but she's been doing that for decades building more than a political connection but a deeper connection with a willingness to truly understand what the Hispanic community needs and wants."
The Democratic Party has held the strings to our hearts. Hillary was poised to make the Latino electorate blossom. But with her gone, who will fill our aching hearts?
Support HuffPost
Every Voice Matters
Popular in the Community