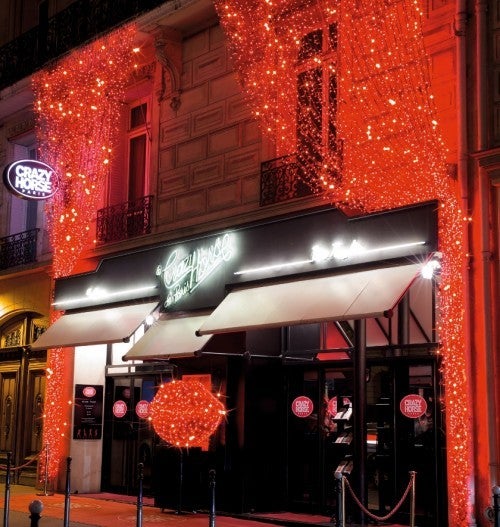 If there is one thing I'm sure of it is this, one never knows what they are gonna get at a burlesque show. I recently found myself at the venerable French institution, Le Crazy Horse. Established in1951 by Alain Bernardin, a man with a resume full of odd jobs who hadn't yet found his calling until he was struck by an image that would motivate him to turn a dozen wine cellars into a nudie show for the history books. His inspiration was the American born, legendary stripper Lili St. Cyr (the subject of my latest book). Stumbling across a picture of the elegant stripteuse, perhaps in her notorious bathtub act, Bernardin, a former painter, decided he would open a club featuring elegant Lili-eque girls.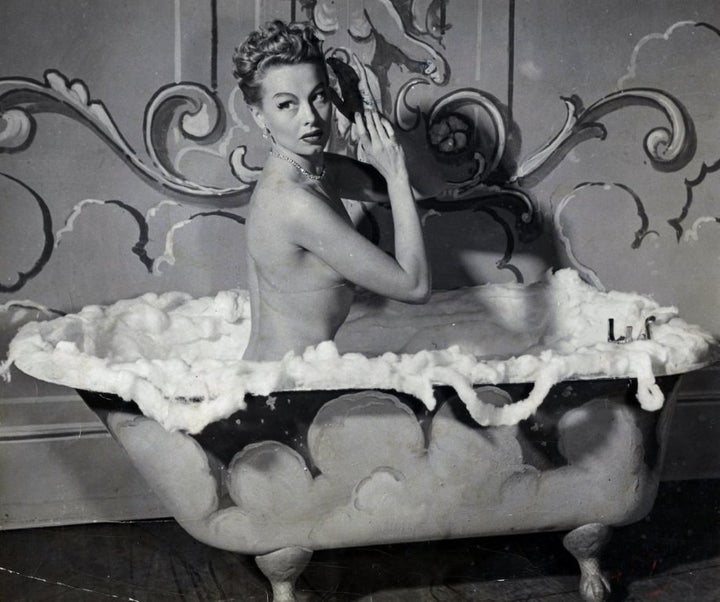 Le Crazy Horse Saloon, or Le Crazy, at 12 Avenue Georges V is nestled underground in former potato/wine cellars. Le Crazy is sensual, cozy and feminine. Bernardin decorated it in "Le Crazy Red" with red velvet walls, rich mahogany and mirrors. It retains the similar look and feel today. One is transported to another time and place, one of fantasy and frivolity. Champagne is popped and laughter floats over the tables. The club accommodates 200. There is not a bad red-velvet seat in the house. It retains exactly what its creator wanted. In comparing Le Crazy with other clubs Alain claimed, "We are more artistic, more intimate. People like to look at a girl's eyes and mouth." (Press-Telegram 5/23/57) That's not the only place they are looking.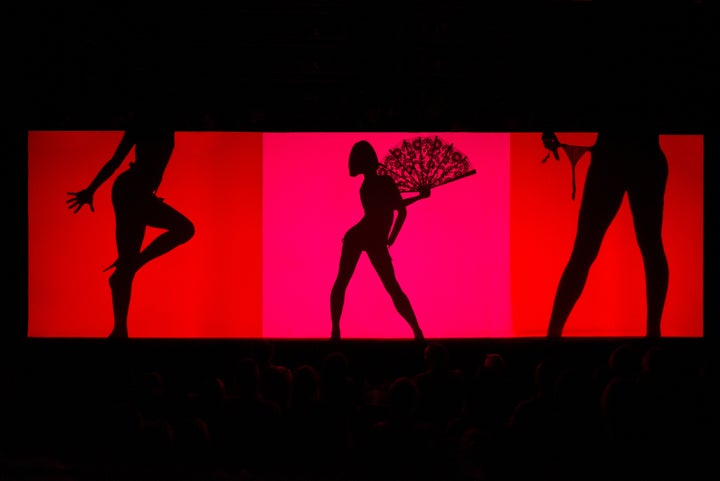 When Bernardin built his cabaret American Westerns were apparently popular in Paris, so, Alain decided Le Crazy would embrace that theme. He had a saloon type boardwalk in front and dressed his waitresses in cute cowgirl outfits. A 1954 newspaper called it "100 percent Texas." (Lima News, 3-9-54) Le Crazy was, and is, on valuable real estate. Beside Balenciaga and near YSL, the club is located in what is referred to as the "golden triangle" replete with tony shops and restaurants. Spanish designer Cristobal Balenciaga hated his neighbor's inelegant boardwalk. Pleading with Alain to remove it so as not to offend his couture customers, Cristobal was stunned when Alain agreed. As long as Balenciaga would design the showgirls' outfits, Alain "suggested." Thus began Le Crazy's long association with designers, that more recently included burlesque aficionado Christian Louboutin of the red soles and current guest Art Director Chantal Thomass. The Crazy Horse website declares the petite, bobbed-haired lingerie designer created several new acts for her garter-belt wearing dancers. I attended the show "Désirs."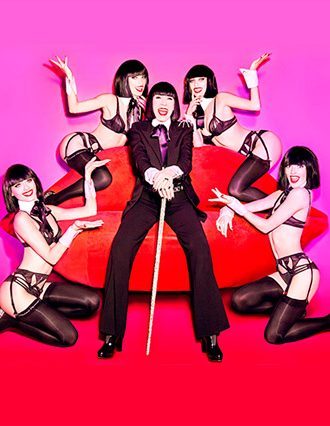 A 1954 newspaper called the cabaret "a take-off on American's" burlesque shows, thus making it true a burlesque. As in a parody. Whether intentional, or not, Bernardin was transforming his idea of sensuality and women for his audiences. The saloon held square dancing, and there was a master of ceremonies, which I personally hope the Crazy Horse implements again. What audience doesn't need a little direction? In 1954 there were other acts besides the MC and girls, there were more variety type performers, with men, singers and magic acts. A true burlesque show. As one of my interviewees explained, "Burlesque was a variety show . . . with a little more spice."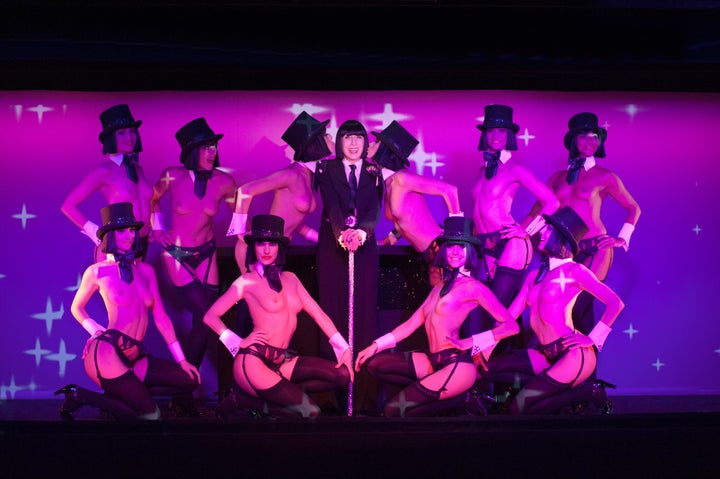 Sipping champagne in unique glass champagne buckets that are lit from below I watched as 12 girls pranced across the stage in the iconic opening number, entitled "God Save our Bearskin" which Bernardin had created in 1989. The Chantal-wearing girls march in precise military step.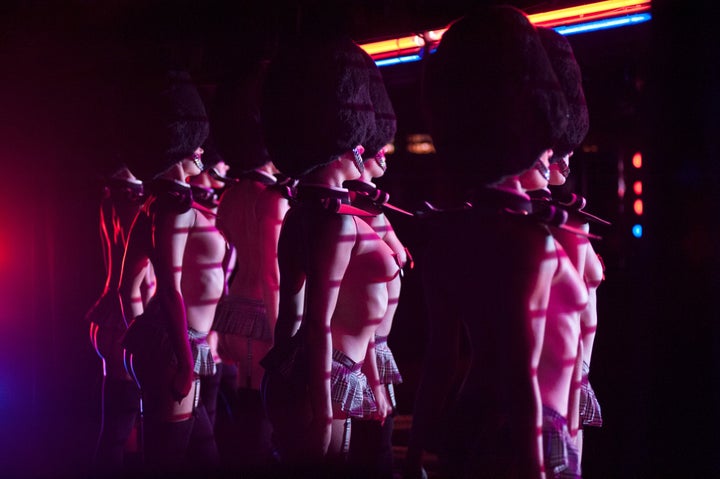 The girls are giving their stage names by management. Names such as Gloria di Parma (an Italian from, yes, Italy) and Enny Gmatic. The show is truly an ensemble. There are 2 shows a night, 365 days out of the year. The girls work between 4-6 nights a week, alternating the casts and numbers. The girls are the same height, weight and breast configuration. I was told no plastic surgery was allowed (except for something one would never notice. But breasts had to be real as they moved when the girls moved.) It is a strict hierarchy, where the girls must establish themselves before being given a solo. The more solos the higher their rank. One stand out star the night I went performed 5 solos. And deserved it. Though highly trained dancers when hired, they still must undergo additional months of training. As is the tradition at the Crazy the girls are strikingly similar, playing a game with the audience of "hide and seek." One minute you spot a particular performer, next she disappears in the line of identically dressed and be-wigged girls. The bodies and breasts are uniform and in fact the girls are weighed weekly and must stay at the preferred weight, or it's off to a nutritionist. The girls are neither tanned or tattooed (or if they are it is covered with body makeup). The girls don't strip down to g-string but instead to a black triangle, rumored to be painted on. The General Manager and Creative Director Andrée Deissenberg would not confirm this, saying it was a "trade secret." But I have it from a trusty source who was backstage with the girls that they do still paint on the merkin.
Each act, à la Lili St. Cyr is a tableaux, a story is being told through dance and disrobing. Lili was most famous for her bath number. At the height of her fame throughout the late '40s and '50s. By at least 1957 Bernardin was featuring a girl in a tub on his stage. Lili towered over most women at 5'10". Le Crazy girls are between 5'5" and 5'7", which is a good thing, as the low ceilings would preclude a Lili from standing up tall with any sort of head piece on.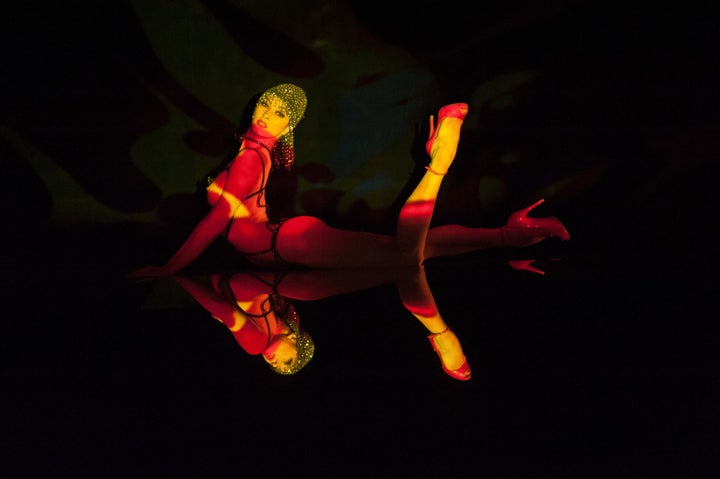 I was happy to see stripping, as not all "burlesque" shows outside of America do. Many merely showcase nude girls, sans the strip, which got me thinking about the differences between French and American burlesque. There are many differences, neither side being better - in my opinion - than the other. Just different.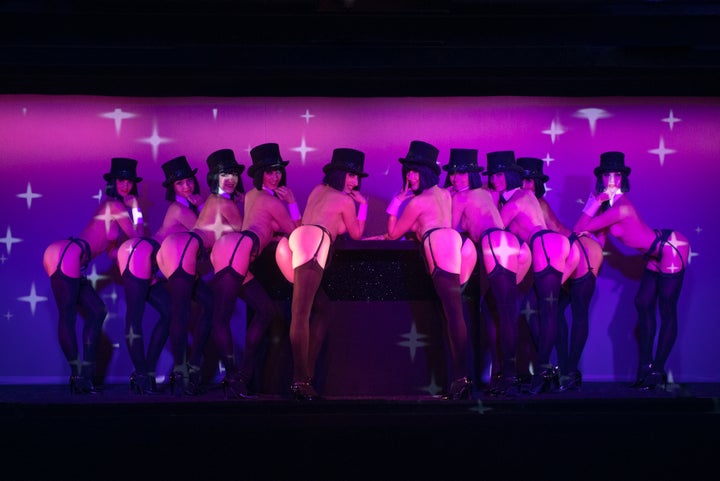 Le Crazy is an ensemble show of dancers performing together under the umbrella of a cohesive theme. In America - usually - shows are comprised of solo acts strung together, independent of each other. American performers are in charge of their own performance, music, costume and props. The Crazy Horse has choreographers, costumers, and the music is, of course, chosen. Some of the songs and numbers are 30 year-old staples, as popular as the American standard "A Pretty Girl Is Like a Melody." Yet, here the numbers don't seem dated. They are sexy, well-performed, elegant.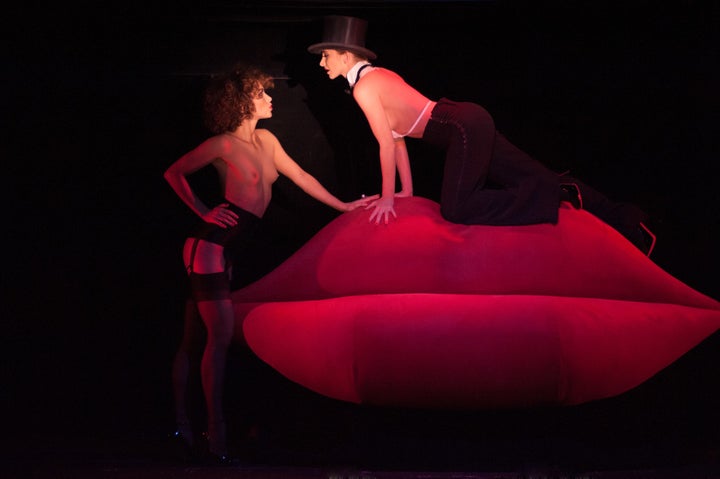 In Bernardin's time it was said the French had more strip and less tease, which is true still. There is more nudity and less peeling. It was described thus, "The French girls . . . unzip already brief costumes . . . they pose or dance wearing only a single triangular patch." The French bragged their girls were "prettier and more petite" than their American counterparts. (Press-Telegram, 5/23/57) Well, they were certainly more petite. In America during the '50s we saw the introduction of the over-the-top buxom burlesque queens, such as Chesty Morgan, Evelyn West (of the Million Dollar Chest), Tempest Storm and Blaze Starr all wildly shaking Double D bosoms.
One aspect of traditional burlesque is an element of discomfort, coming either from the humor or the nudity, or in Le Crazy's case, from the only male in the cast, Robert Muraine aka Mr. Fantastic. The American contortionist had the audience squirming - in delight - as he twisted and rotated his shoulders in and out of joint. Odd body types wasn't only for the sideshow.
Le Crazy makes ample use of inventive lighting, scrims, mirrors, and video, little of which I've seen used to such effect in American clubs. It is spectacular and seductive. There was one number curtained in lace, with only a pair of dancing legs showing. Simply, sexy, astounding.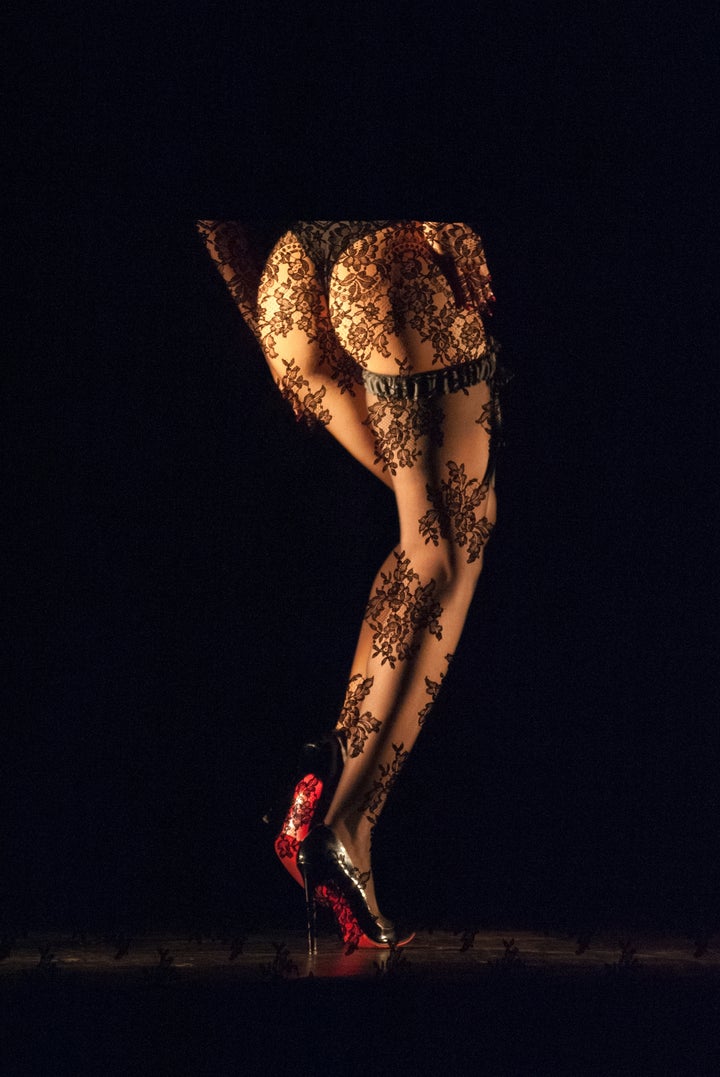 The Crazy Horse girls performance is highly-stylized. They are chic and, unlike American burlesque, the girls show nipples, and not just a flash.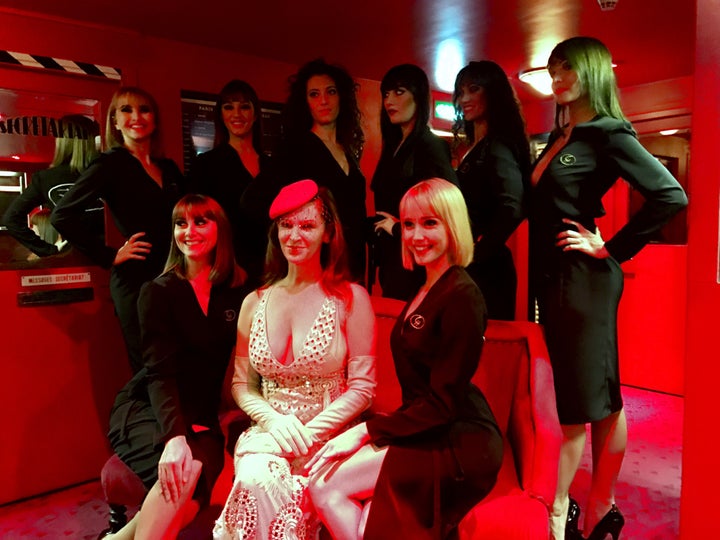 After the show I was invited backstage where, at least in its day, male and female performers were forbidden to co-mingle. Walking past a time clock where the girls punch in, I was told it was implemented after several girls "forgot" to return for their second show. The gregarious and enthusiastic Andrée Deissenberg introduced me to a pair of girls, the only ones comfortable enough to converse in English. They were enchanting, intelligent, charming. The multi-lingual Deissenberg, comes from a Cirque du Soleil background, and is deeply committed to the tradition and history of not only Le Crazy and Bernardin's vision but the history of burlesque, reviving acts and creating new. She is responsible for bringing guests artists to the stage such as Dita Von Teese, Pamela Anderson and Conchita Wurst. She has a deep belief in what she does and what her girls do on stage. It feels like family.
The thrice married Alain Bernardin (who had built a secret passage in his office so he could usher girls in and out without being seen by a wife or two), the man with a passion for women and a dream of how he wanted to present them shot himself in the head in his office at the Crazy Horse in 1994. He was 78 years old.
Comparing the Crazy Horse with an American show is like comparing Lili St. Cyr, known for her elegance and aloofness with, her rival Tempest Storm. One is icy and withholding, the other brasher, wilder. Both tremendously talented and alluring. So weather you prefer a Lili (French) or a Tempest (American) the Crazy Horse Saloon continues to dish up some sophisticated entertainment.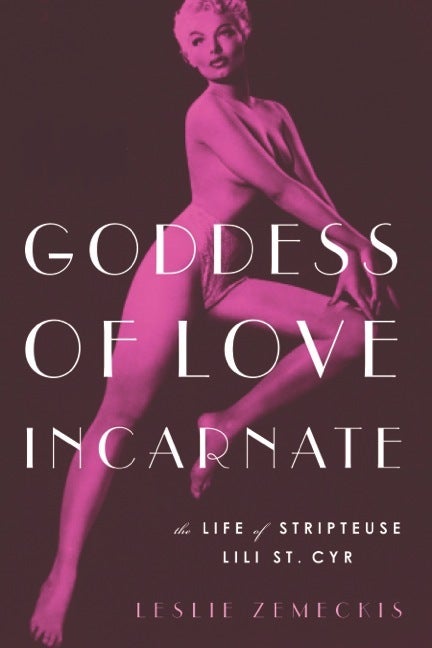 Leslie Zemeckis is the author of "Goddess of Love Incarnate; The Life of Stripteuse Lili St. Cyr," published by Counterpoint Press, out now. Zemeckis wrote "Behind the Burly Q", the book and Showtime documentary which has been hailed as the definitive history of burlesque. She is also the director, writer and producer of the award-winning documentary Bound by Flesh, about Daisy and Violet Hilton of Sideshow fame. Her next film Mabel, Mabel, Tiger Trainer is about the world's first female tiger trainer Mabel Stark, out early 2017. Zemeckis has one of the largest collections of burlesque memorabilia, including items from Gypsy Rose Lee, Mae West and others. Follow her on Twitter, Facebook and Instagram. @Lesliezemeckis, www.lesliezemeckis.com
Related
Popular in the Community