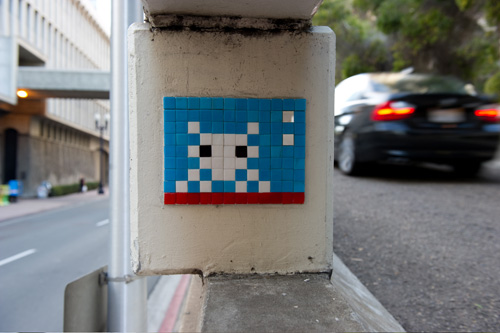 Image of a tile piece by French Street Artist Invader in San Diego. Image © Geoff Hargadon
"Never Trust Your Own Eyes. Believe What You Are Told," says the ironic slogan in the freshly wheat-pasted graphic piece by street artist Shepard Fairey on the side of a clothing store in San Diego, the town that chased him out for doing street art. One may believe Fairey's politics to be Orwellian reference. Just as easily it could be applied to the academics, historians and would-be art critics struggling daily to describe with any authority what street art is and how it should be regarded. Luckily, we have been able to trust our eyes to make this analysis so far.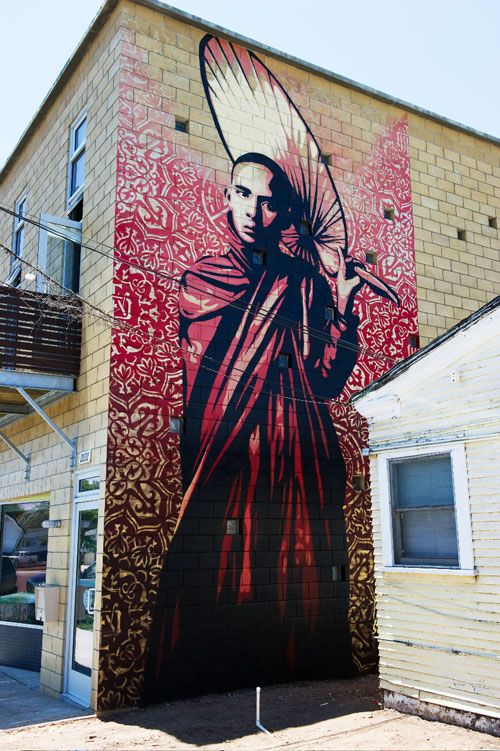 Shepard Fairey Image © Geoff Hargadon
Last weekend, The Museum of Contemporary Art in San Diego (MCASD) courageously opened the dialogue and its arms to embrace the chaos of the evolving street art scene. Smartly and incredibly in this city that has been described by Fairey as conservative, the installation is citywide and outside. It's geographically expansive scope underlines the shows' commitment to street art as a movement and may represent an important turning point in the recognition of it in the American public sphere. Naturally, much art is displayed in doors, which always begs the question, "Is this street art too?". Well, no.
The urban environment of an industrialized world is home to the majority of the planet, so naturally the vernacular of graffiti, advertising, graphic design, photography, signage and all other visual communication has become fair game for the street artist. "Viva la Revolución: A Dialogue with the Urban Landscape" is curated by Pedro Alonzo and MCASD Associate Curator Lucía Sanromán and it's variety of artists well represents a freeze frame in the current scene. Not all of the artists are strictly street artists, and many began in graffiti but few have participated in a group show that has this much sanctioned access to public space.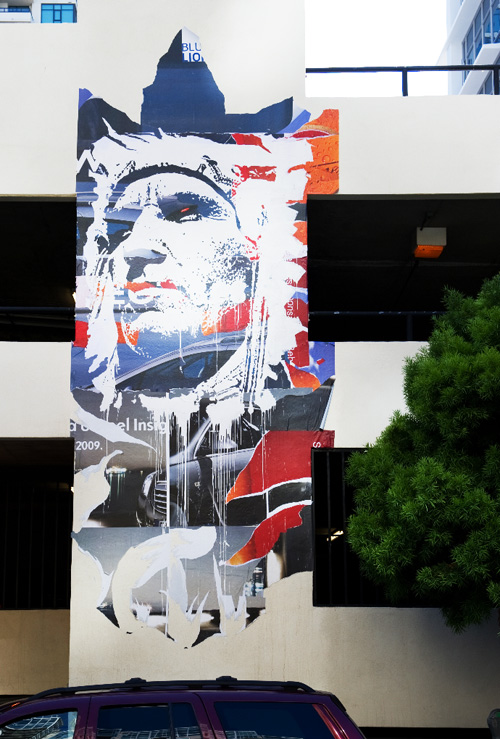 Street Artist Vhils Image © Geoff Hargadon
Because his knowledge of the modern history of street art is sound, Alonzo knows that the artists are really trying to speak directly to the public so he's deliberately set them free in the same locations they would probably have drooled over if they had done it without imprimatur. Thanks to the internet, many of these artist have not had to navigate a clubby arts establishment to reach their current stature rapidly. Thanks to the heft and influence that a cultural cornerstone like a museum still wields, doors and walls are opening to them with ceremony.
French street artist
Invader
produced a GPS inspired video to promote his installations on the streets of San Diego below.
The show features 21 artists from 8 countries including Akay (Sweden), Banksy (U.K.), Blu (Italy), Mark Bradford (U.S.), William Cordova (U.S.), Date Farmers (U.S.), Stephan Doitschinoff [CALMA] (Brazil), Dr. Lakra (Mexico), Dzine (U.S.), David Ellis (U.S.), FAILE (U.S.), Shepard Fairey (U.S.), Invader (France), JR (France), Barry McGee (U.S.), Ryan McGinness (U.S.), Moris (Mexico), Os Gemeos (Brazil), Swoon (U.S.), and Vhils (Portugal).
One half of Os Gemeos putting the their piece up in San Diego
Related
Popular in the Community