"Why is everyone on this fucking island addicted to drama?" the all-knowing Mama (a superb Luis Alberto Garcia) bemoans.
Mama's the owner of a Havana gay bar featuring chintzy drag performers who gesticulate to emotional diva tunes and who, when the show's over, whore a little on the side. That's part of the setting for Viva, Ireland's Spanish-language submission for this year's Oscar for Best Foreign Language Film.
Having strutted its way onto a list of nine finalists--which will eventually be whittled down to a mere five--Viva showcases nothing a bit Irish onscreen, not even a high kick filched from Michael Flatley. And although some of the shooting was done on the Emerald shores, possibly interior shots, all the Erin-Go-Bragh action is off screen: Paddy Breathnach, director; Mark O'Halloran, screenwriter, and so forth and so on. (There's also a dash of Mexican for added excitement: Benicio Del Toro as executive producer.)
The irresistible film, a peep at the Cuban female-impersonator tribal subculture, focuses on an ever-so- slightly effeminate young hairdresser, Jesus (Héctor Medina), who styles the locks of women of a certain age for a few pesos and styles wigs for very demanding prima donnas at the aforementioned club. At night, as the "girls" let loose on stage, Jesus stands a-watching, wishing he had the cojones to be one of them. Then his chance comes when a renegade hussy runs off with Mama's hairpieces. Will the caged canary don some rouge and fly into the spotlight when its cage door is finally open? Of course.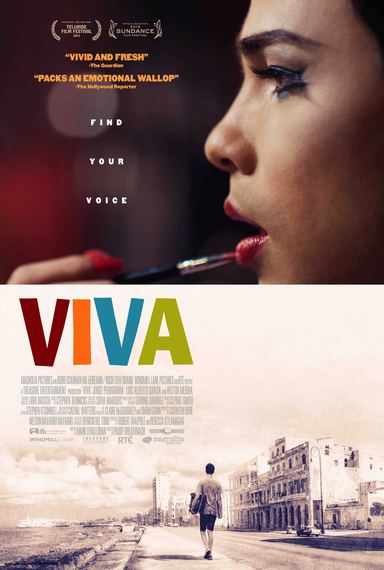 A star is born and her name is Viva. Well, not exactly a star yet. Jesus forgets to tuck in his privates, allowing a bump to show where one is not supposed to. (Testicles apparently break the illusion.) And although he's an expert lip-syncher, Jesus's body doesn't emphasize the more impassioned elements evoked by his chosen tune. Think Celine Dion on Prozac. But there is potential. Just ask Mama. And with the audience seemingly welcoming, Jesus/Viva sashays offstage, manipulating his/her limbs with semi-grace, to the back of the bar as her tune plays on when she comes upon . . . his long-lost dad, Angel (Jorge Perugorria). Oh, no! Homophobia in battered trousers. Bam!!!
The alcoholic, wife-beating, ex-boxer who's been in jail for murder hasn't seen Jesus since he was three. What does the fallen Angel want now? For one thing, his boy isn't going to be prancing around in high heels any more. If that weren't enough, Angel's moving into Jesus's apartment, taking over the lone bed, drinking himself into a violent stupor nightly with rum, and then breaking the diva albums left by the boy's long deceased mom.
Is this a start to a Hallmark father/son relationship? The potent Gun Hill Road (2011) with Esai Morales as the ex-con pop and Harmony Santana as his transgender son covered some similar ground with a very dissimilar finale, and not exactly with the same poetry.
Angel: You never liked pussy?
Jesus: Never ever.
Thanks to Perugorria's performance, Angel is never one-note. He's an aged slum boy with a bloated beauty gone to rot. In his youth, his only escape from poverty was with his fists in the boxing ring, and when they failed him after several years of success, he had nothing to fall back on except drink. Now he has nothing except Jesus.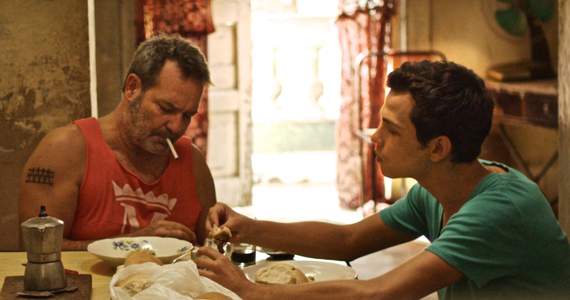 Father (Jorge Perugorría) and son (Héctor Medina) have a power breakfast. Photo courtesy of Magnolia Pictures.
Jesus, who has lived without family and without acting upon his true nature, has to decide whether a rotten father is better than none at all--and whether his "female" essence has to be bottled up a little longer. Medina makes you root for this Jesus, from the moment he applies his first lipstick and then gazes into a mirror with wonderment at his transformation--and he keeps you enthralled while he embodies Massiel's "El Amor" with all the histrionic vigor and joy of someone who's survived the Punic Wars and discovers there are no runs in her nylons and that she has been loved and can still love. Just call it the Healing Power of the Well-Coiffed Wig.
(The fine score by Stephen Rennicks and the lush cinematography by Cathal Waters showcasing a beautiful, yet challenging, Cuba are added bonuses.)
(Opens February 5, 2016, in NY and LA, followed by a national release. Viva will play in the Spotlight section at the 2016 Sundance Film Festival.)
Calling all HuffPost superfans!
Sign up for membership to become a founding member and help shape HuffPost's next chapter