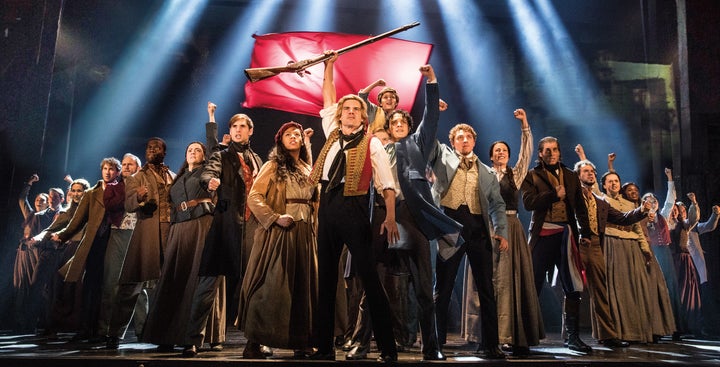 Les Miserable the musical opened in London in 1985 and remains a worldwide theatrical phenom, the latest US tour from the 2014 Broadway dazzling revival is on a yearlong US tour. Victor Hugo's saga of Jean Valjean, his enemy Jalvert and the doomed fate of Fantine forced into prostitution in a world of abject poverty to and brutality in 19th century France. At the poetic heart of Claude Michel Schonberg/Herbert Kretzmer musical heroism and heart of the characters who ignited the French Revolution. The themes are as relevant as ever.
This fine cast and stylish production is back in Philadelphia for a two week run. and played to a sold out audience at the Academy of Music on opening night of a two week run. Directed by Laurence Connor and James Powell, the show is as epic as ever, and clips along at a breakneck pace, as it beefs up the visual impact of the show.
There is so much visually to admire in this production of Les Miz with set and image design by Matt Kinley who used a visual template from Victor Hugo's paintings. The stagecraft is impressive with myriad multi-tier modulating sets, with Paris noir atmospherics in tandem with dimensional film designs conceived by Fifty-Nine Productions that are completely integrated into the live action stage., you feel like you are in those escape tunnels. Paule Constable's lighting design had a wayward follow spot or two in this performance, but also altogether dazzling. The period detail of the costume design by Andreane Neofitou and Christine Rowland all impeccable.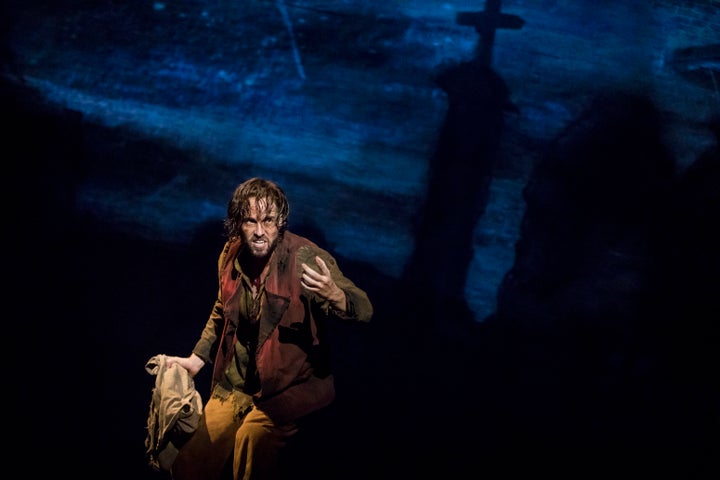 The opening throws us into the venal galley ship with Jean Valjean is serving out his sentence for stealing bread to keep his sister's daughter alive. In a flash he is being beaten and somehow escape, wretched and desperate, swiping silver from a monastery and hauled before an angry mob.
Meanwhile, Fantine is in the workhouse and accused of sidling up to the boss, when the truth is that he is sexually harassing her. She is forced into prostitution to earn money to keep her child alive. Nine years later, Jean Valjean is now a wealthy man, and comes upon this scene and takes her under his guardianship. The characters keep coming in the Inn including the skeevy proprietors, and Sarah Cetrulo and Monte J. Howell are straight out commedia del arte buffoonery, needed comic, if cloying, relief.
The frenzied pace of the lengthy first act, that at key points it strikes too mechanical, there is more balance musically and dramatically in the second. But passed those issues this is an electrifying ensemble cast who brings power and nuance to their performances.
The original orchestrations by John Cameron, have been retooled by ChistopherJahnke, Stephen Metcalfe and Stephen Brooker (with some mixed results) and the amped acoustics in the Academy of Music can have a flat sound. But past that, conductor Brian Eads and the 12- member orchestra achieve full dimension at key moments. Among the many standout players is Eric Ebbenga's fine guitar accompaniment on several of the quieter ballads.
Mostly though, they potently frame the musical's cache of showstoppers and this large cast of fine singer-actors. Nick Cartell's Jean Valjean has such a versatile voice and gives a passionate, altogether mezmerizing performance. Josh David's Javert brings down the house with his soulsearching ballad Stars, his bass baritone engulfing the Academy. Melissa Mitchell brings heroic tenderness to I Dreamed a Dream is rightly, not turning it into the his anthem it has become. Phoenix Best, who grew up in Mr. Airy and studying theater at DeSalles U. as well as being a ticket agent at the Academy, brings the house down with her showstopper 'On My Own.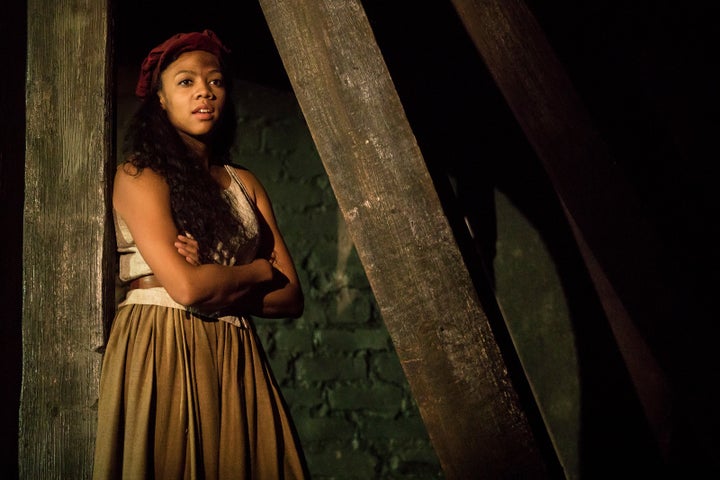 Joshua Grosso's Marius powerfully delivering Empty Chairs and Empty Tables which Grosso sings, arrestingly, as the art song elegy that it is. Nicholas Edward steely baritone perfectly conveying the lionhearted student rebel leader Enjolras the Academy. The child actors in this production are fine indeed starting with Zoe Glick's haunting Little Cosette, and Julian Emile Lerner's fearless littlest revolutionary Gavroche, steals everyone's heart.
As many knockout individual performances there are in this revival with such a strong vocal lead cast, the most stirring moment, musically and dramatically is the ensemble chorus engulfing the Academy of music with the triumphant rallying cry of One Day More.
Les Miserable at the Academy of Music in Philadelphia through Jan. 21. For tour information go to http://lesmiz.com/
Support HuffPost
The Stakes Have Never Been Higher
Related
Popular in the Community