Some folks think that Vivek Pandher passed away last year - no, he still lives, his essence lives on inside of others. Five people are alive because Vivek donated his organs before he crossed to the other side.
To help you learn more about Vivek and his legacy, I'd like to take this opportunity to tell his story.
Who is Vivek? Vivek is (not WAS) a dynamic and youthful spirit and his free- flowing energy endures through my memories of him and through other people's memories of him. In addition, his decision to prolong other's lives by donating his organs underscores his beautiful and unselfish spirit. Vivek was born in India in 1992. His father, Jaswant Zafar, is a famous Punjabi poet and his mother is a teacher.
Highly intelligent and very creative, Vivek completed his first engineering degree in India and then enrolled at the University of British Columbia (UBC) in order to pursue his next degree in engineering.
An avid photographer whose passion for pictures came straight from his heart, Vivek's evocative images helped him to establish his own personal brand. He utilized social media in order to display his works of art. Beloved by those that he knew, Vivek gathered a huge number of followers on social media through his photography.
He was also someone who loved to travel. Soon after coming to Canada, he traveled to many corners of his new country. He went to the Yukon. He rode gondolas in Whistler, he explored the Arctic, he went to the scenic mountains of Washington State and he explored his love for music during his time in Washington State.
In the summer of 2015, he made plans with friends from UBC to attend the Paradiso music festival in Wenatchee, in the mountains of Washington State. Young, excited and willing to explore, Vivek and his group packed up some supplies and headed for the festival. As the festival's musicians began to play, Vivek was energized and inspired. He loved new life and he loved "new blood" and he had so much energy to dance.
Vivek danced with abandon. He continued to dance, letting his creative energy build and swell as the music rose up into the open air. He gazed up at the sky as he moved... dancing and dancing, he looked up to the sky, floated again, felt the sky smiling down at him, inviting him.
All of the dancing left him with a powerful thirst, so he wandered off, searching for water and perhaps a bit of shade which would help to cool his body down. He couldn't find what he needed in order to feel better and he fainted near some bushes close to the festival.
His friends were searching for him. After finding him, they called emergency immediately and Vivek was airlifted to a nearby hospital.
Then, with the help of a doctor from Vancouver, Vivek was transferred to a hospital in Vancouver.
As Vivek was transferred to the Lower Mainland, Vivek's father, mother, and sister were travelling all the way from India in order to see their beloved son.
They find Vivek in a coma in his hospital bed. First, they are in shock to see their golden child in such a condition. Then, they are calm (yet so sad) as they come to accept that this is their beloved son's destiny.
One day, the doctors attending him declare that Vivek will not recover - he is essentially gone in spirit and only life support systems keep his heart beating. The family is in deep shock to see their son go. Soon, a doctor approaches them with a form signed by Vivek himself.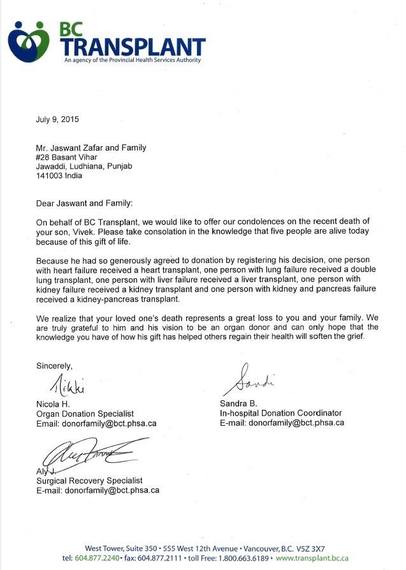 (Photo: Letter by BC (Canada) Transplant Agency thanking Vivek's family about his decision to donate the organs)
The form says that Vivek had agreed to donate all of his organs after his death. It brings the family a ray of positivity and his poet father says, "I am happy that my son has chosen this path to help others. He is going to live in many people". The family bids a final goodbye to Vivek and then humbly surrenders their son's body to the doctors.
The body of Vivek sustains the life of five people.
Vivek still lives. He is alive in 5 people. Five people are alive because of Vivek.
People often donate money and materials; however Vivek is a super-philanthropist who donated every inch of his body.
Vivek Pandher will never grow old. He will always stay young, smiling, and live forever.