Warning: This article contains nudity and may not be appropriate for work.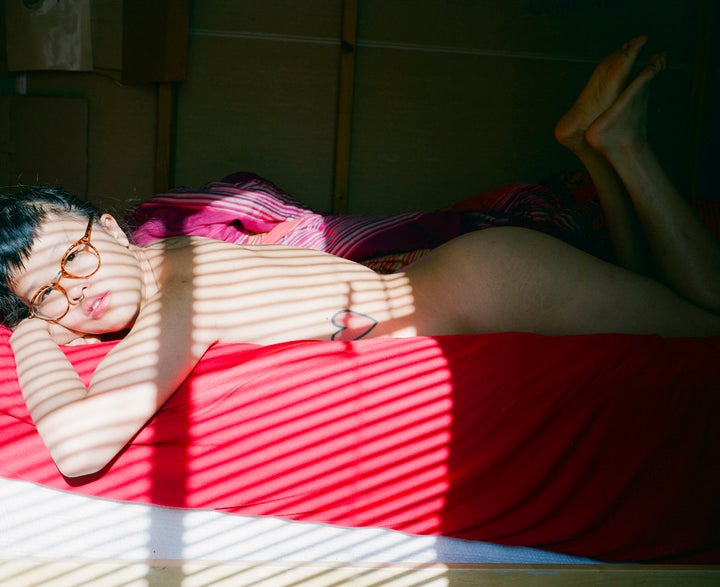 The San Fernando Valley, my homeland, located just north of Los Angeles, isn't exactly known for its cultural influence. Nail salons, bowling alleys, foot spas, coin laundry mats, car washes and the occasional frozen yogurt joint populate the strips, arranged geometrically into vaguely Spanish style cubes. Also, it's hot, really hot. The kind of heat that turns seatbelt buckles into deadly weapons and your underboobs into natural bodies of water.
Bay Area-based photographer Vivian Fu grew up in this sweaty corporate limbo too, and credits much of her aesthetic to its vibes. "The valley is so hot, and heat makes you so aware of your body," she explained to The Huffington Post. "You get sweaty and uncomfortable. The mosquitos are out and you're covered in bites. You're peeling your thighs off of the leather interior of a car. Aside from the heat, the landscape is so bizarre, and filled with beige stucco track housing and strip malls, and within some of those buildings I knew that adult films were being shot."
Fu's photographs most often depict the artist and her partner, Tim. Like the valley, they are a little bit suburban, a lotta bit seedy, and emit heat. The project began with a scenario any born and bred valley girl (or guy) can relate to -- being bored on the Internet. "There was so little to do in the valley, and I spent most of my time at home on the Internet, which is what helped spur my interest in photography. I think that also as a teenager in the valley you want to show off how different you are from the sameness of the entire landscape that you're in, even if your version of showing your uniqueness is the Hot Topic version of it."
LiveJournal, Myspace, Flickr, Tumblr. They all became virtual stages; part-diary, part-soapbox, allowing that contemporary combination of introspection and exhibition to ferment. "These spaces became platforms to share my life and my images and to connect with other people who were interested in similar things," Fu said.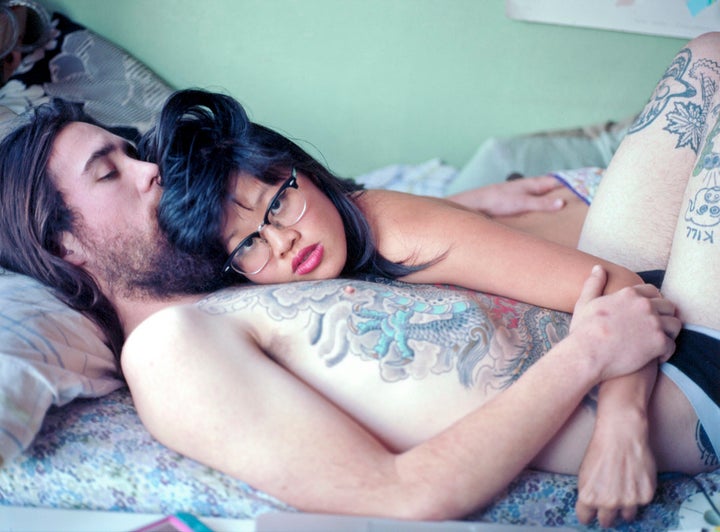 Social media has become a breeding ground for a particular artistic aesthetic, one dominated primarily by young women artists with their raw, self-aware and self-actualized work. They aren't afraid of menstrual blood or the color pink, projecting girl power-inflected teenage dreams. Think Petra Collins, Molly Soda, Mayan Toledano and Grace Miceli, whose viral T-shirt reading, "Girls at night on the Internet," could make a fitting mantra.
While mainstream culture treats feminine and teenage proclivities with disdain, this new guard flaunts its unadulterated passion for selfies, glitter, sex and doodling, recognizing the revolutionary underpinnings of their pastimes.
Fu, whose work is now on view alongside Soda, Toledano and Miceli's in the LA exhibition "hot in here," realizes the selfie's power of subversion. "I'm not sure if weapon is the word that I would use for it, but I do think that people are using the selfie as a means of claiming ownership of their bodies, identities and lives, and also as a means of exploring and celebrating themselves."
The selfie has a rich feminist history. Far before duck faces plastered your newsfeed, artists like Carolee Schneemann, Ana Mendieta, Laurie Simmons, Cindy Sherman and Francesca Woodman broke new ground taking control of their representations, expunging the obligatory mediation of the male gaze. Now, the form is most quickly associated with narcissism and vapidity, and it's being packaged and sold as such. "I don't think that the selfie has lost it's power, but I think that the idea of the selfie is being commodified to sell shit in a similar way that feminism is being commodified to sell shit."
Yes, some of Fu's motivations are political, but sometimes she's just enamored with the light. "When I'm taking pictures it's usually because I feel strongly about the people I'm imaging or because the light was beautiful or because I want to hold onto that moment in some way with this visual document," she said. "This freedom and privilege I have to make photographs combats the feeling I had growing up that I couldn't own my life or that I had to be a certain way or that my life had to turn out a specific way. In making photographs, I have a document of different moments in my life that I literally own."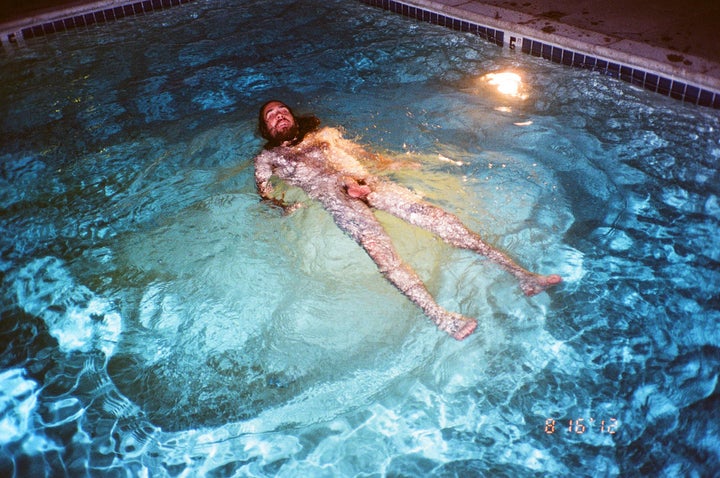 Some of the tensions Fu references stem from growing up in the suburbs, surrounded by blond valley girls and white skater dudes. It didn't help much that most Asian women represented in pop culture played the sidekick or the fetishized love interest -- basically, the supporting character to the white lead.
"Stereotypes of Asian women are prevalent within the American consciousness, and I'm sure that most people are aware of what those stereotypes are," Fu said. "I think that the problem I had with these ideas is that they denied me agency of my life, my choices, and identity. What has been so wonderful about growing up with the Internet is that I had a space where I had control over the narrative that was being created."
In her photos, Fu appears naked lying in bed, draped over her partner, looking in the mirror, lounging in the grass or hunched on the stairs. They are regular moments -- some intimate, some dull, some self-conscious, some sexual -- conjuring that LiveJournal-esque combination of raw vulnerability and performance. While many female artists are fighting the good fight to turn a lazy bedroom into a battleground, at this point, the majority of them are white.
For Fu, this presents both an opportunity and a burden. "Now that I'm a 'grown up' I still feel an immense amount of pressure that I need to be a certain way, especially with my photography," she said. "For example, that me and my photographs are in some way responsible for speaking for all Asian American women or that I am a tour guide of Asian American girl life experience. I feel a pressure that this is my burden to bear, and I resent that."
There are certain moments when, driving through the valley, the dingy commuter belt acquires a strange sort of magic. Grotesquely bright business banners, now sun-bleached and faded, seem to slouch over with an acquired humbleness, perhaps to avoid the blistering heat. Shadows of '70s porn scenes cast a dim shade on the familiar cast of suburban characters: the bickering nuclear family, the rowdy gang of bored middle schoolers, the pack of moms jonesing for a mani-pedi. Or maybe it's just the smog. On the right day it can be gaudier than Vegas, hungrier than Los Angeles, wildly dull and endearingly uncool.
Fu's work feels like the valley -- hot, domestic, restless, boring and bewitching. It's further proof that revolutionary art can happen anywhere, even the dark spirals of Internet stalking that take place in the wee hours of the morning in your childhood bedroom.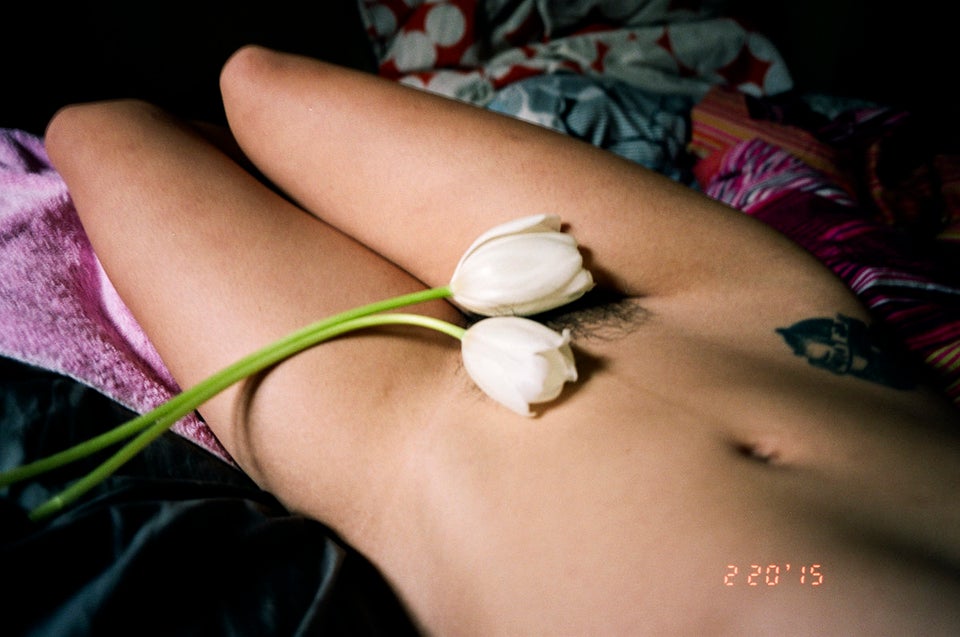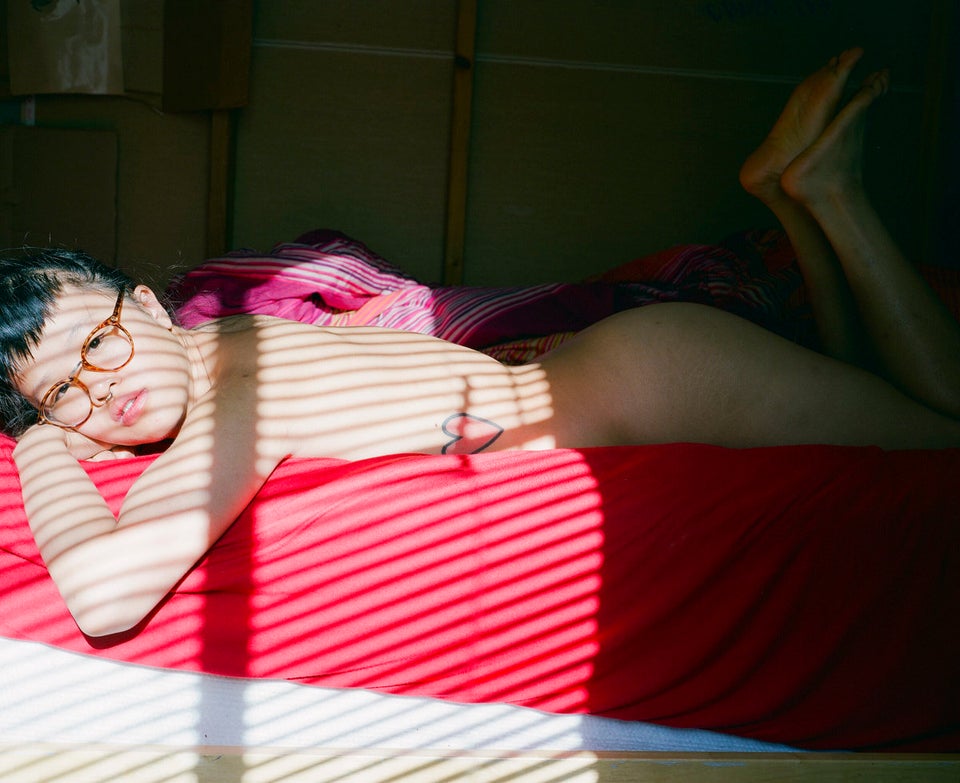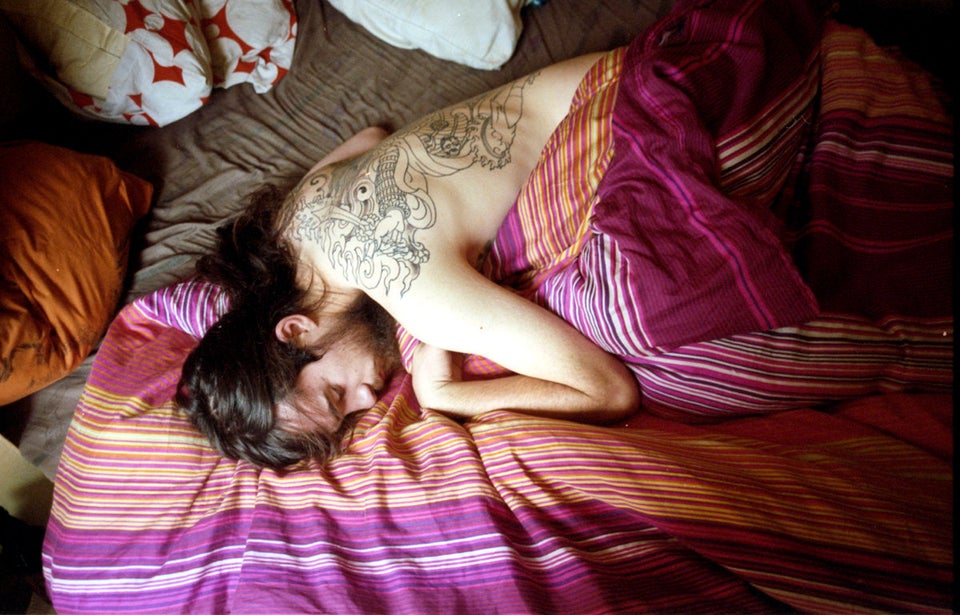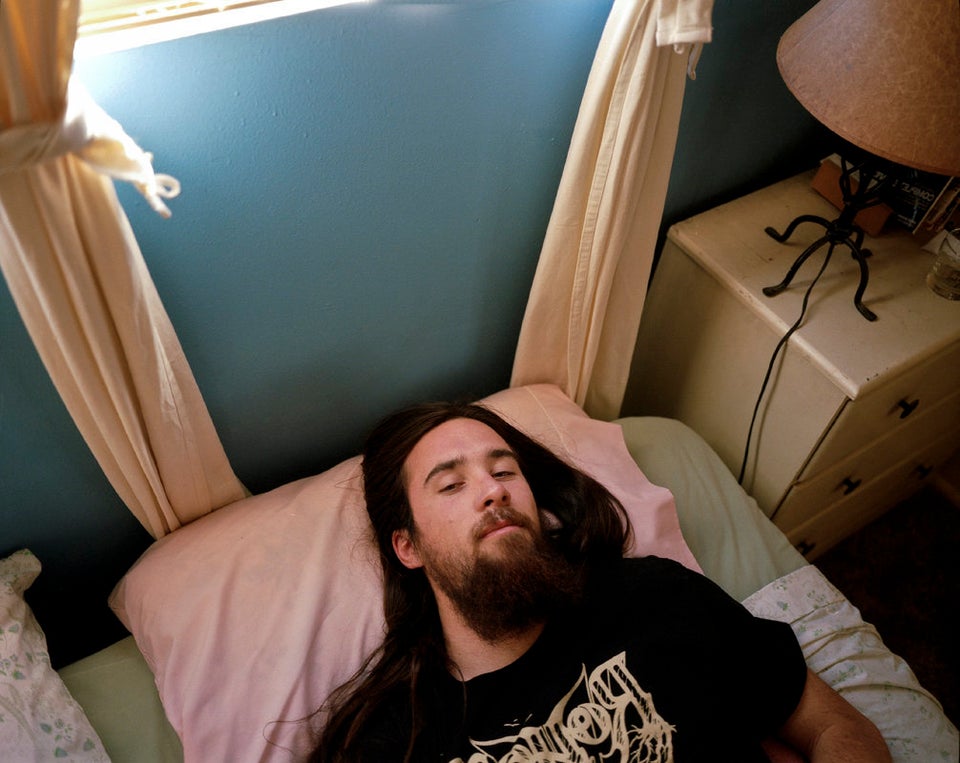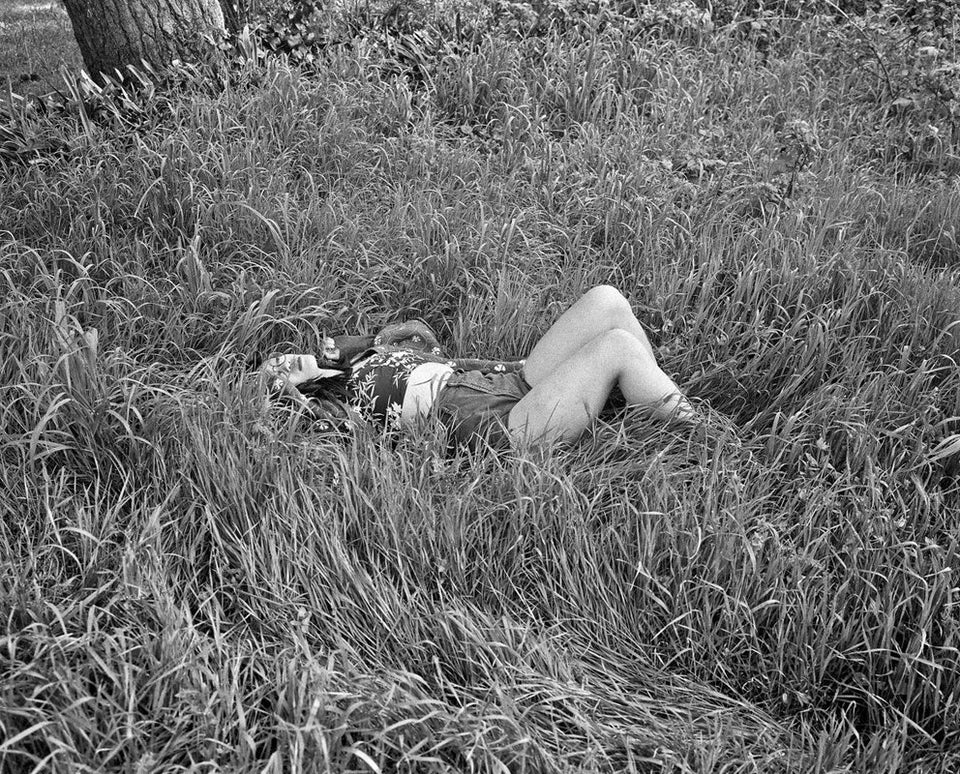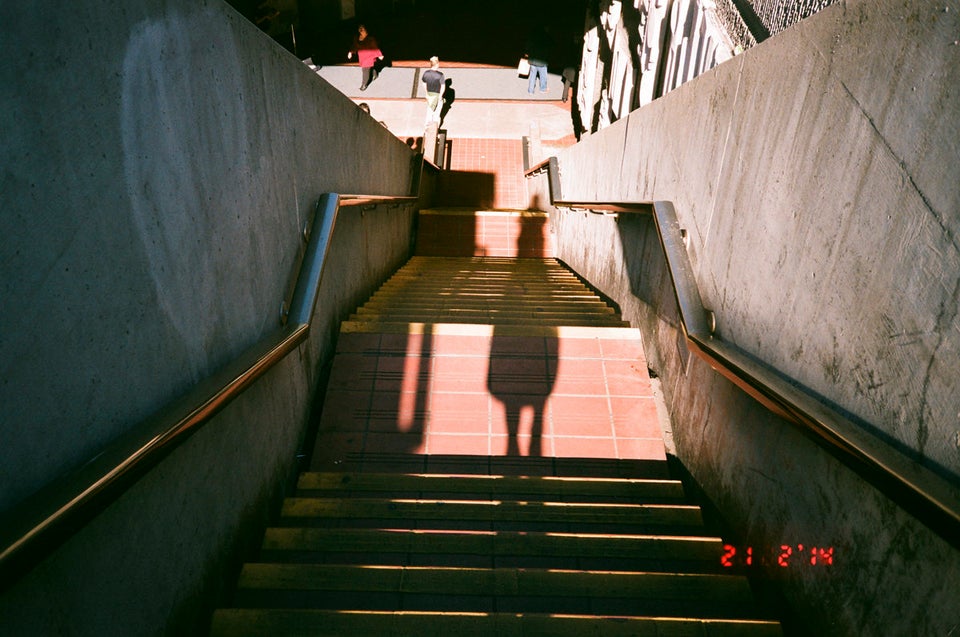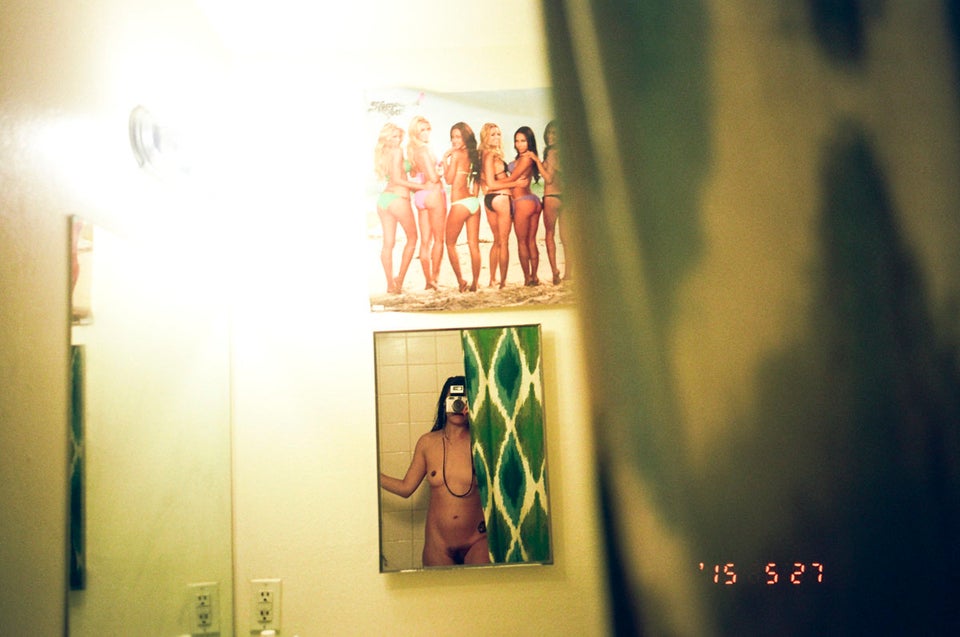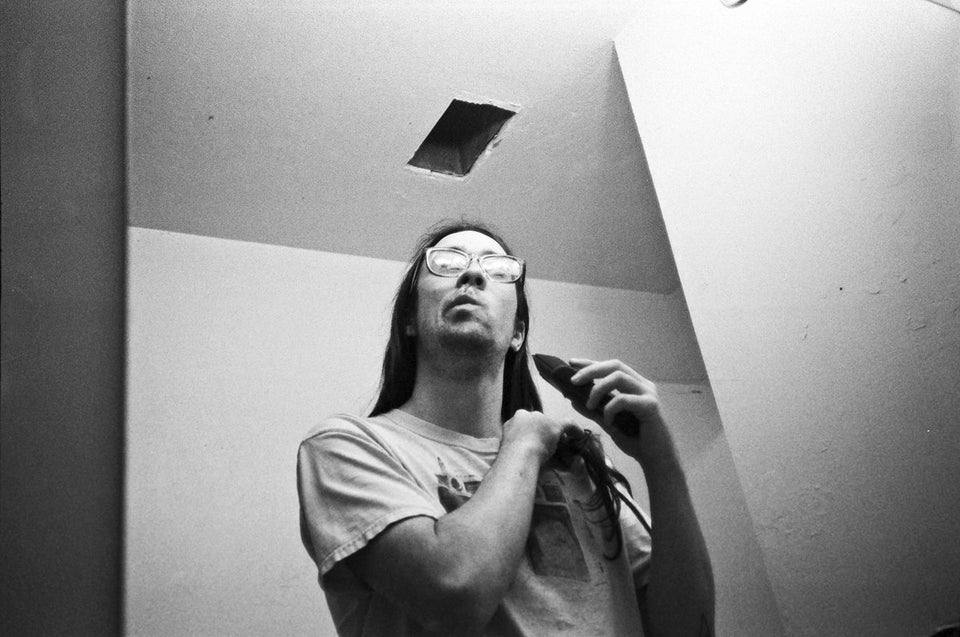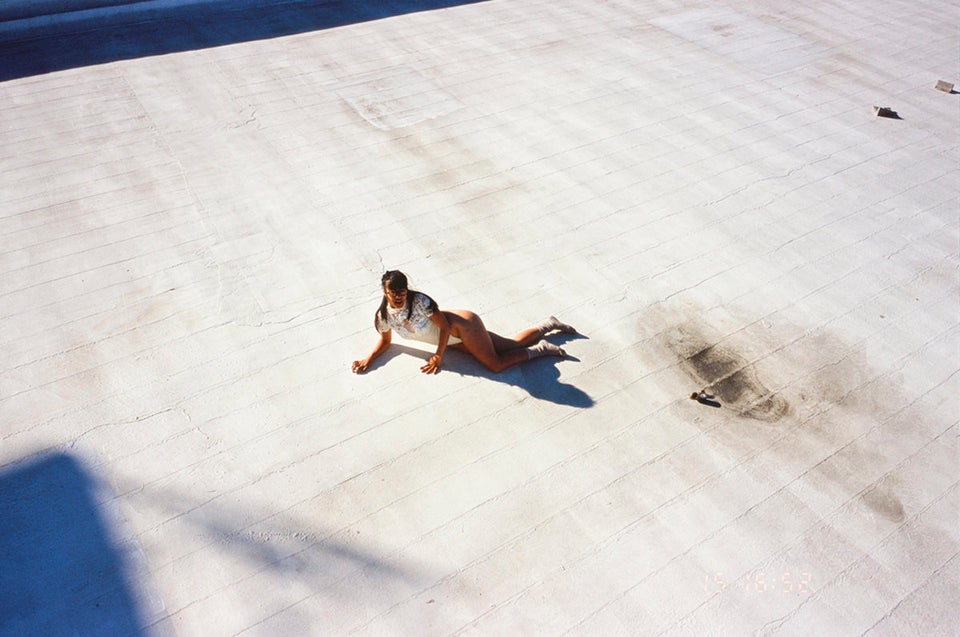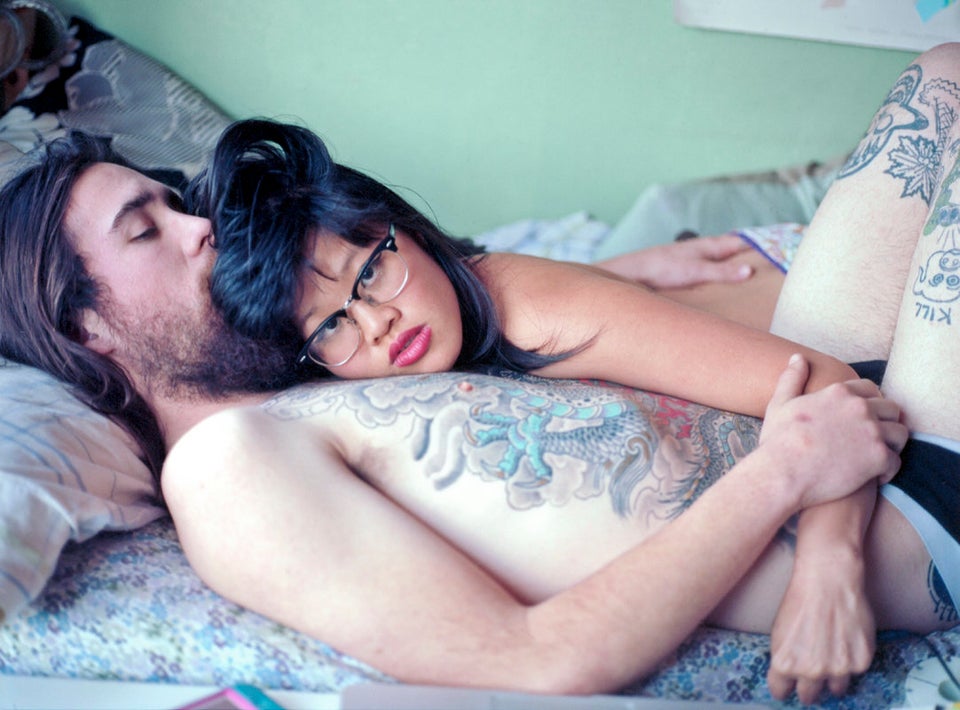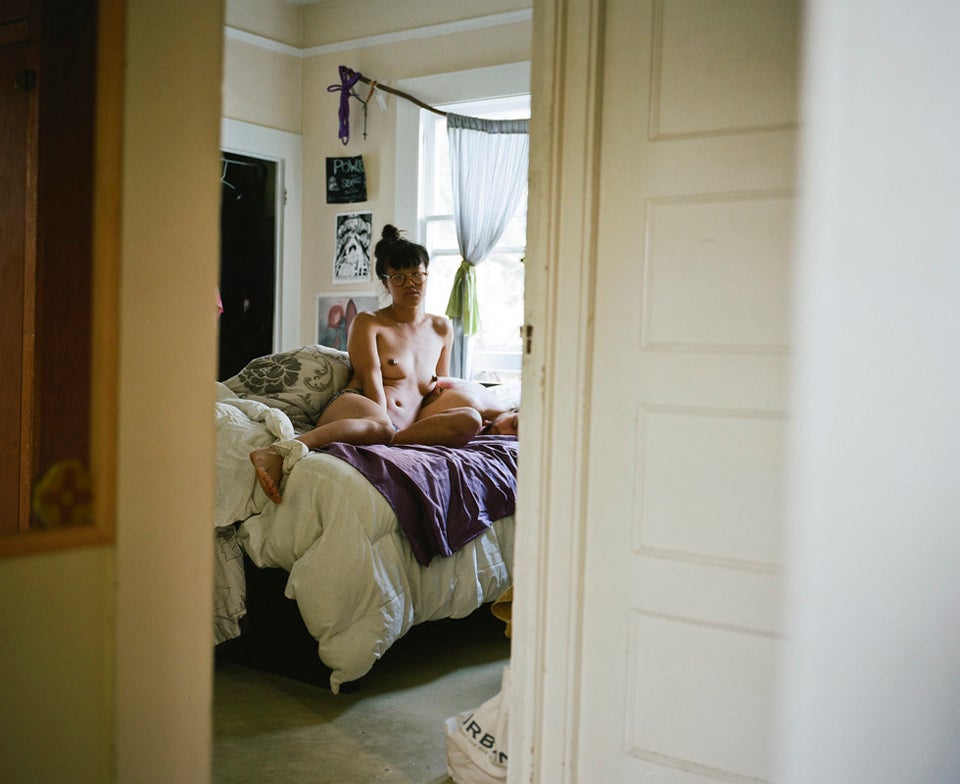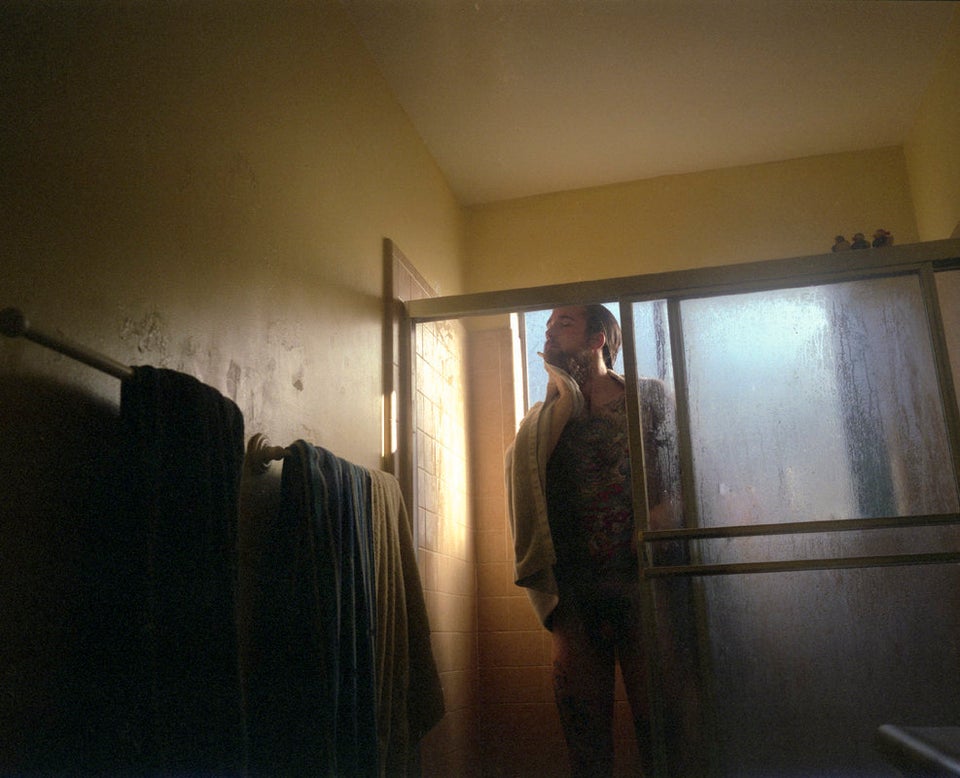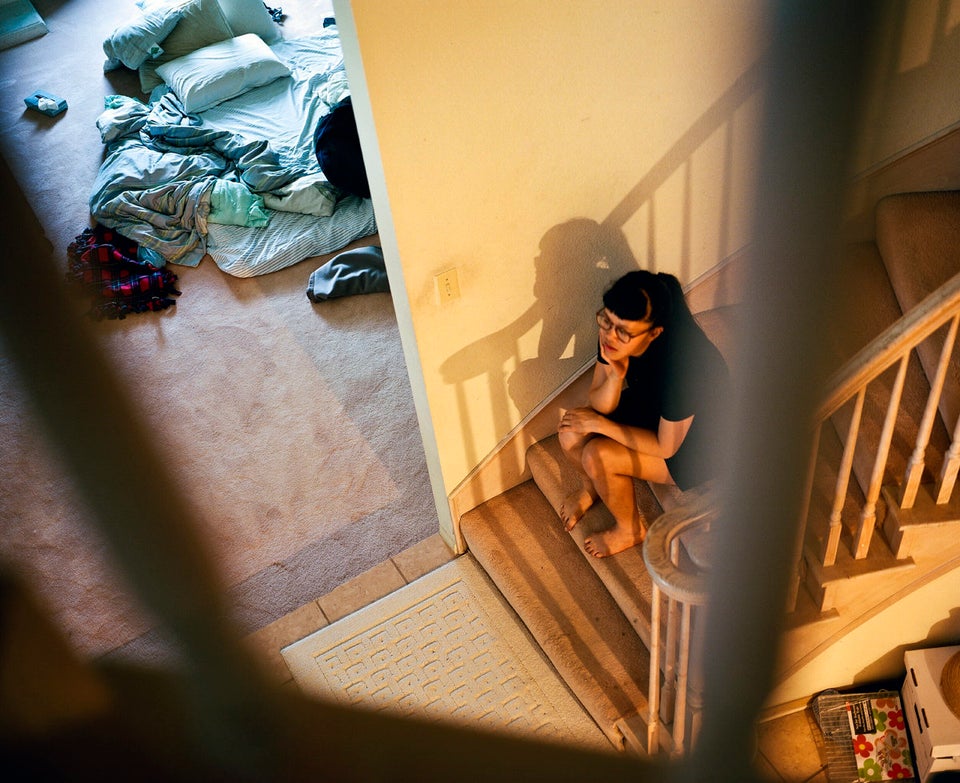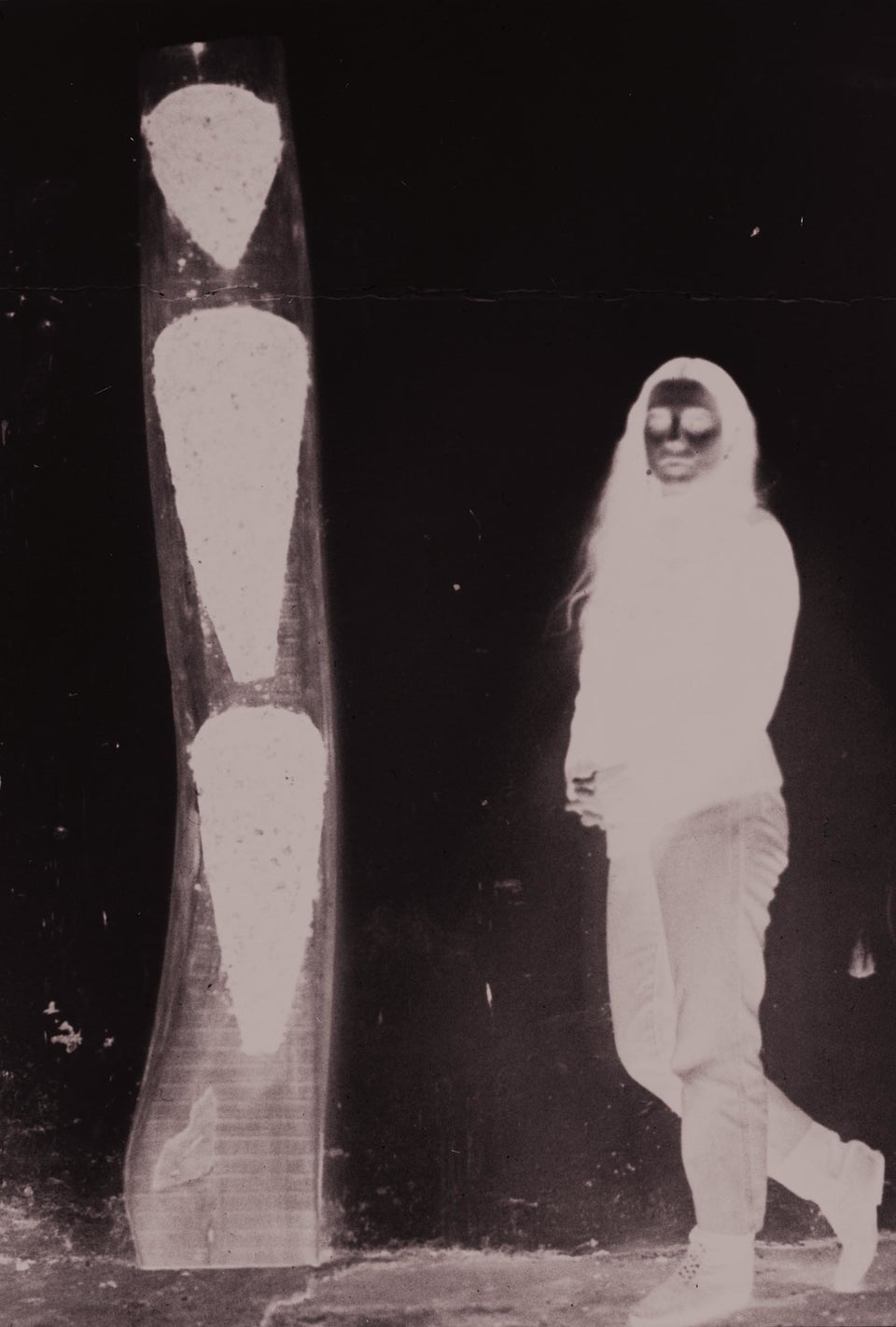 Ana Mendieta
Support HuffPost
The Stakes Have Never Been Higher
Related
Popular in the Community