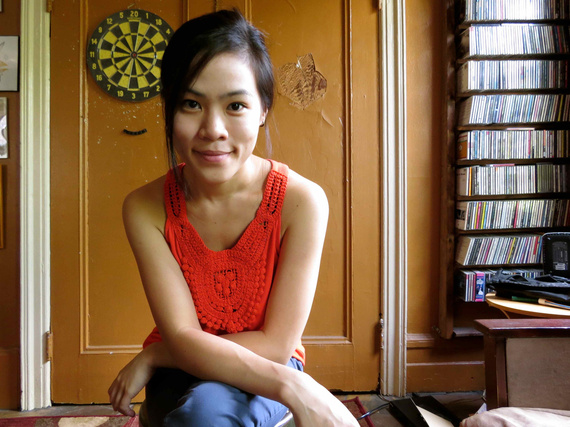 The mandolinist-composer Vivian Li thrives between bluegrass and classical music. No two genres are more hard-set in their ways, but Li and her Pickled Campers apply heat to tradition and the walls come tumbling down; the result is Li's promising debut, Growing in the Cracks.
Li's music was performed for the first time at Carnegie Hall last January. On record, her sound is country-fried or it is cosmopolitan. "Fiddle McGriddle," "Grit," "Lasagna Sky," and "Golden Apple" are down-home ditties, tongue-twisters for fretting fingers; they sound rural and proud of it. By contrast, "Moses," "The Next Tune," "Moth in a Dustpan," and "Trickster" -- using patterns and simultaneity to kaleidoscope through jitters, ennui, and awe -- seem addressed to, or at least from, the big city dweller.
Born and raised in Hong Kong, Li came to the U.S. eight years ago to study economics at Cornell University. The dismal science held little appeal for her. During her sophomore year, after composing a theme and variations that drew notice from the music faculty, Li turned her attention to music full-time. She played piano with the university chamber and wind ensembles, and in her senior year, produced a seven-movement composition based on "The Singing Bone" -- full of fratricide and vengeance from the grave, the Grimm's fairytale bears uncanny resemblance to the murder ballads on heavy rotation in America's high-country south. Which goes some way toward explaining Li's heterodoxy come graduate school: "When I was at Mannes [College The New School for Music], I was the weird person playing mandolin while everyone else was talking about Stockhausen."
In Li's music, one hears the strain and pluck of Bill Monroe, and the melancholy cool of Brad Mehldau's Largo. Her group splits the difference between chamber ensemble and jug band. The roster includes Zach Brock (violin), Todd Grunder (bass), Chris Komer -- a French and alto hornist who blows past decoration, toward perfect pathos -- Ross Martin (guitar), and Darren Ziller (flute).
Li has clearly learned her lessons from the genre-bending mandolin virtuoso Chris Thile. (She is a student of Thile's fellow traveler, the guitarist Michael Daves). At its best, Growing in the Cracks recalls the splendor of 2011's Goat Rodeo Sessions with Thile, Yo-Yo Ma, Edgar Meyer, and Stuart Duncan. But comparison is a disservice to Li's composing, which finds intelligent life in the cracks between genres many say have been preserved to death. Li's music isn't "old timey," "traditional," or "classical." It's new.
Plenty of composer debuts aim for heady interpretations. Li shoots straight for the heart. "It's about how you feel," she says, "not what it means."
Support HuffPost
The Stakes Have Never Been Higher
Related
Popular in the Community