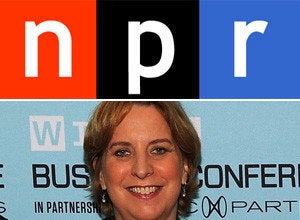 NPR CEO Vivian Schiller was fired on Wednesday morning, one day after another scandal—this time involving a top fundraiser—threw the already-beleaguered network into chaos yet again. It was announced that NPR's chief lawyer, Joyce Slocum, is taking over as interim CEO.
Schiller's resignation was reported first by NPR's media reporter, David Folkenflik. Folkenflik said Schiller had been "ousted" by the board. The board's chairman, Dave Edwards, later confirmed to Folkenflik that Schiller had been fired.
"The Board accepted Vivian's resignation with understanding, genuine regret and great respect for her leadership of NPR these past 2 years," the NPR board said in a statement.
Schiller spoke to the New York Times on Wednesday following her departure. According to the Times' Brian Stelter, Schiller said that the "buck stops with me," and hoped that "my departure from NPR will have the intended effect of easing the defunding pressure on public broadcasting."
The news came after the latest scandal to hit the organization, this one involving one of its top fundraisers, Ron Schiller (no relation), and his comments about the Tea Party.
Schiller's ouster also comes during an intense period of political pressure on NPR. The Republican majority in the House of Representatives has repeatedly called for NPR's government funding to be cut. Just this past Monday, Schiller appeared before the National Press Club and defended NPR's funding, calling it a vital means of support for the organization.
Schiller came to NPR in January 2009 from The New York Times. Under her tenure, NPR embarked on a large expansion of its online presence, even formally changing its name from "National Public Radio" to "NPR" in July of 2010 due to what Schiller saw as its evolving, multiplatform nature.
But the network has weathered several scandals under Schiller's tenure over the past months—most notably the firestorm of controversy surrounding the firing of Juan Williams over comments he made about Muslims. An internal review ultimately criticized Schiller and NPR for the way the firing was handled, and withheld her bonus for 2010. A top executive, Ellen Weiss, was also let go over the incident.

Calling all HuffPost superfans!
Sign up for membership to become a founding member and help shape HuffPost's next chapter