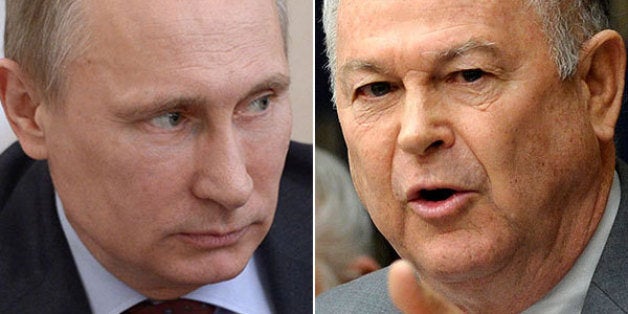 In a Thursday interview with the New York Times, Rep. Dana Rohrabacher (R-Calif.) expressed disappointment with Russia for not recognizing his defense of its annexation of Crimea. Rohrabacher was one of 19 representatives and the lone Californian to vote against aid for Ukraine and sanctions against Russia.
"I kind of wish I would get some sort of word back," Rohrabacher told the New York Times on Thursday. "But I haven't even gotten so much as a thank you."
According to Rohrabacher's account, he did not know Putin at the time, but had the competition at a pub after "having a little bit too much to drink, I guess." Via KPCC:
Anyway, we started arguing about who won the Cold War, etc. And so we decided to settle it like men do when they've had too much to drink in the pub. So we got to these arm wrestling matches, and I ended up being paired off with Putin. He's a little guy, but boy, I'll tell yea. He put me down in a millisecond! He is tough. His muscles are just unbelievable."
BEFORE YOU GO
PHOTO GALLERY
Obama's Handshakes Around The World