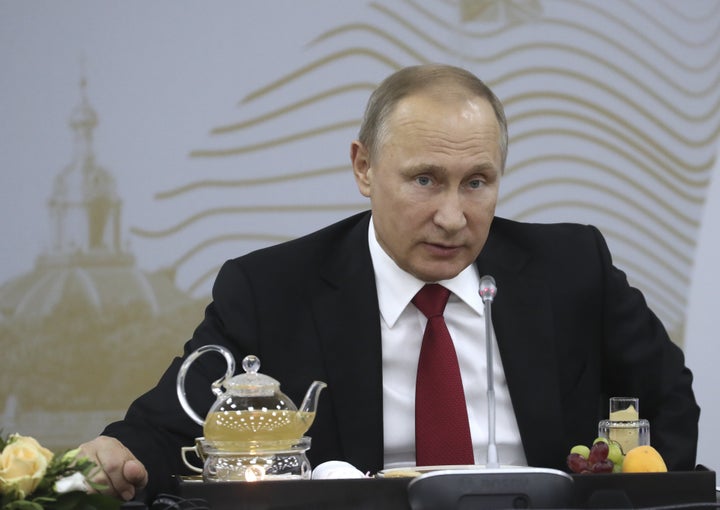 The series features excerpts of conversations Putin had with the Academy Award-winning "Platoon" director between July 2015 and February 2017. (Check out a trailer for the series below). Though "The Putin Interviews" doesn't debut until Monday, a few of the Russian president's reported remarks are already making headlines, including his thoughts on his country's LGBTQ community. 
The Daily Beast's Marlow Stern got an early look at the series, and reports on a scene not shown in the trailer in which Stone and Putin discuss whether or not gay men should be allowed to serve in Russia's military. According to Stern, Stone asks Putin if he'd take a shower in a submarine with a gay man. 
"Well, I prefer not to go to shower with him," Putin explains, according to The Daily Beast. "Why provoke him? But you know, I'm a judo master and a SAMBO master as well." 
He continues, "As head of state today, I believe it's my duty to uphold traditional values and family values. But why? Because same-sex marriages will not produce any children. God has decided, and we have to care about birth rates in our country. We have to reinforce families."
"That doesn't mean," he concludes, "that there should be any persecutions against anyone."
Whether or not "The Putin Interviews" will clarify any of that remains to be seen, but early signs are not good. In his Daily Beast piece, Stern dismisses the series as "nothing short of hero worship" that's "clearly intended to humanize Putin and demonize America." Deadline's Dominic Patten felt similarly, noting, "If nothing else, Stone has shown us that the likely most powerful man in the world is far from the most interesting." 
REAL LIFE. REAL NEWS. REAL VOICES.
Help us tell more of the stories that matter from voices that too often remain unheard.
BEFORE YOU GO