President Donald Trump will soon have the high-profile summit with Russian President Vladimir Putin that he has sought for years. But with days to go until Monday's talks in Helsinki, Finland, the people with the highest stakes in the meeting — an American public still rattled by Russia's 2016 election interference and key U.S. allies wary of Putin's agenda in their neighborhoods — have less to celebrate.
Trump's "natural inclination is to admire Putin and to reach out to him" because of his affinity for autocrats, said Charles Kupchan, the top White House Europe official under former President Barack Obama. Meanwhile, the president is publicly critical of democratically-elected leaders in U.S.-friendly countries.
From Moscow's point of view, exploiting that dynamic is the best way to get something out of the summit.
Putin has already concluded that Trump is too hamstrung by Congress, experienced U.S. officials and the American public's questions about Russia's role in the 2016 elections to deliver any big transformation in U.S.-Russia policy, according to Michael Kofman, a Russia expert at the Center for Naval Analyses.
"The Russians walked away with a clear impression that he does not control Washington, D.C.," Kofman said. He cited Putin's "vicious" remarks last year, when the Russian leader noted, "It's difficult to conduct a dialogue with people who confuse Austria and Australia."
"The Russians walked away with a clear impression that [Trump] does not control Washington, D.C."
But that doesn't mean there's nothing for the Russians to gain. The Russian vision for Monday's meeting, which includes a one-on-one session with no aides present and no formal record of the conversation, features Putin as big burly truth-teller and Trump as overawed listener dissatisfied with the U.S.-dominated global status quo.
"The optics of it are great validation for Vladimir Putin as he starts a fourth term … [and] Putin is a master troll who will use the meeting to troll the hell out of the United States and the U.S. media and the U.S. establishment," Kofman said.
Putin is also likely to exploit Trump's decades-old sympathy for the Russian worldview, one that's skeptical of traditional American allies and the men and women working for the U.S. government. And he'll aim to capitalize on Trump's conviction that America's fraught relationship with Russia is the fault of past U.S. leaders rather than Putin's own belligerent actions.
All the courting and cajoling could result in instant gratification, like Trump saying something directly undermining the U.S.-constructed world order ― for instance, on the Russian invasion of Ukraine or the NATO security alliance ― that would send American officials into a tizzy.
Putin might even offer Trump a win that even Russia skeptics would appreciate by agreeing to extend an Obama-era arms control treaty known as New START to dampen an otherwise growing nuclear arms race between the U.S. and Russia.
But more broadly, Putin will be deftly playing Trump ― insecurities, ego, fact-free opinions and all ― with a long-term goal in mind: reshaping world politics by boosting Russia's stature while cutting America down to size, especially by targeting its unique alliance network.
Through trade fights and other disputes with allies, "Trump is taking off the values element of U.S. foreign policy, the idea of a shared outlook or ideology … he's acting like just another power," Kofman said.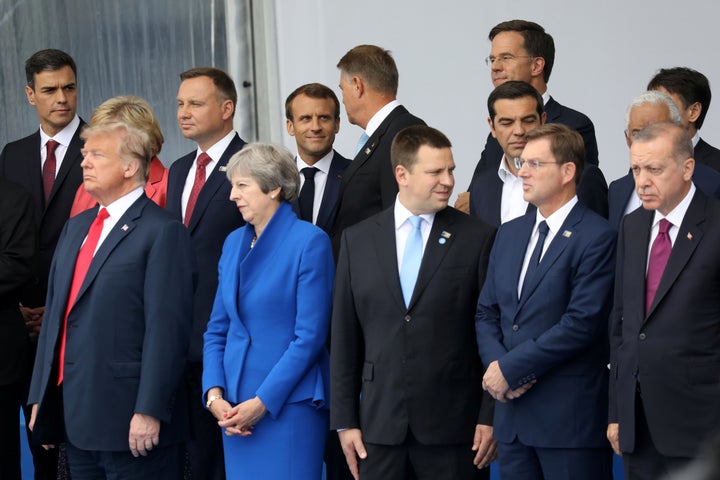 Trump, meanwhile, hasn't described any significant plan for the meeting. He says he will mention election interference, though he still expresses doubts it took place. On Ukraine, the top concern for Europeans, Trump has generally spoken little; most prominently, he has suggested that country might have been interfering in the 2016 elections rather than Russia.
And it seems unlikely the president will resist Putin's narrative on the one issue Trump aides have repeatedly said he will prioritize: Syria, where Russia is shoring up dictator Bashar Assad.
Hawks in the Trump administration and top U.S. Middle East allies are worried about Assad's other patron, Iran, which has deployed significant forces and funded powerful militias to fight an anti-Assad insurgency. With Trump long interested in the idea that Russia and the U.S. can cooperate more closely in Syria, ideally to wind down the American role there altogether, they are now pushing the line that Putin might weed out Iran―and that the two leaders can achieve a landmark agreement on that question.
But while that logic may appeal to a commander in chief looking for a win, other U.S. partners are united in skepticism toward it, officials from two different allied countries told HuffPost.
"We don't believe that they have so much influence on Iran," a European official said, referring to Russia. "Maybe the Americans believe it. It's easier for them to believe it and say let the Russians do the job. But we are quite doubtful."
What matters for U.S. policy, of course, is what Trump wants to believe. Putin's prospects of convincing him look solid, giving him one more fissure of the kind he's working toward.
Slowly encouraging those splits is worth it for the Russians, even if the going is slow.
Russians "feel that they have not only proven to be resilient but an enduring power that, while quite weak compared to the U.S., is willing to sustain a confrontation in an effort to eventually get a settlement," Kofman said. "They understand Donald Trump may not be able to deliver it. That's OK."