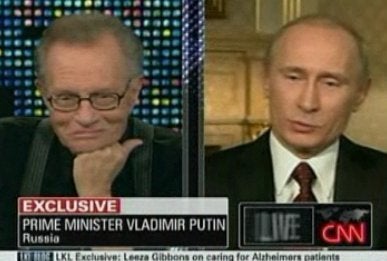 Russian Prime Minister Vladimir Putin told a bemused Larry King that he doesn't want him to leave CNN on Wednesday's "Larry King Live."
King interviewed Putin for the entire hour on the show. The two discussed many different issues, but, as the show was wrapping up, Putin brought up one that had gone unmentioned: King's imminent departure. (King's last day is Dec. 16th.)
"Can I ask you one question?" he said. "I don't know why, but the King leaves the scene at the U.S. stage."
"I sometimes don't know why myself," King cut in.
"At the U.S. stage and the U.S. mass media, there are many talented and interesting people, but still there is just one King there. I don't ask why he is leaving. But, still, what do you think? When shall we have a right to cry out, long live the King, when there will be another man who is as popular in the whole word as you happen to be?"
Watch (comments begin at 13:46):
Related
Popular in the Community