UNITED NATIONS -- The international community must stand behind Syria's government to undermine the Islamic State group, Russian President Vladimir V. Putin said Monday in his first address to the United Nations General Assembly in a decade.
The Islamic State group was "forged" and enabled by the West, Putin argued, because the U.S. and its partners wanted to undermine Syrian President Bashar Assad. The Russian president claimed that by backing the opposition to Assad, the U.S. has effectively trained fighters who are helping the Islamic State group. He also warned the West that the catastrophe of Syria is a sign that it must cease "the export of revolutions, these so-called democratic ones."
Putin's remarks were the most extensive public explanation so far of his military buildup in Syria, where he has sent soldiers, tanks and warplanes over the past few weeks in an ostensible bid to weaken the extremist Islamic State group.
Though the Islamic State, or ISIS, has established a major presence in war-torn Syria and Putin has long prioritized the battle against radical Islam, the president's recent moves are likely more concerned with self-interest than defeating an extremist enemy: Moscow wants to make clear that it continues to back Syrian dictator Bashar Assad and will protect Russian interests in that country, which are intertwined with the Assad regime.
Putin hopes to win international support by projecting himself and Assad as the solution in Syria. He recently crafted an anti-Islamic State agreement, announced Sunday without prior warning to Washington, between Russia, the Assad regime, Iran and Iraq. And he told Charlie Rose in a "60 Minutes" interview aired Sunday that he had a vision for how to end the brutal extremist group's reign over large parts of Syria: by shoring up the country's flailing government.
No one but President Assad's armed forces and Kurd militia are truly fighting the Islamic State and other terrorist organizations in Syria," Putin said at the United Nations Monday.
That posturing may win some support. And the Russian strongman's tactics, which are projecting him as taking the lead on the Syrian crisis at a time when Europe is worried about the flow of refugees out of Syria and the U.S. is embarrassed by its failing effort to train anti-Islamic State fighters in the country, have won Putin the international attention he craves. He even gained a Monday appointment with President Barack Obama. Still, Western diplomats and close observers of the Syrian conflict are skeptical. They warn that the Russian approach will cause even more pain and chaos in Syria.
President Francois Hollande of France told a small group of reporters prior to Putin's speech that he believed Russia was exploiting the Islamic State threat to justify pro-Assad actions. He warned that were his European counterparts to embrace Moscow's argument that the Syrian regime should be bolstered for now so that fewer Syrians would flee, Europe would face continued refugee influxes and a prolonged humanitarian disaster.
The majority of Syrian refugees are fleeing their brutal government, Hollande noted. Millions had already left the country because of Assad before the Islamic State established its caliphate there last summer, and many of the Syrians now coming to Europe are part of that group, he added. These people are coming from refugee camps in Turkey, Jordan, Lebanon and elsewhere, not directly from Syria.
Others note that giving support to the Assad regime the way Putin is doing is not a surefire way to combat extremists like the Islamic State or Syria's al Qaeda branch. They say that, as the U.S. government and multiple outside analyses show, Assad has exploited the extremist presence in Syria to present himself as the only credible option is his country -- sidelining the nationalist Syrian opposition who are close with the U.S. and countries in Europe and the Gulf.
"Amid recent geopolitical machinations, one simple reality appears to have been forgotten or purposefully ignored: Assad is not and should never be seen as a better alternative to [the Islamic State]," wrote Charles Lister, a visiting fellow at the Brookings Doha Center, in a Monday piece for the BBC. Lister noted that Assad released al Qaeda prisoners held in his jails just months after a popular uprising began to threaten his regime, in an apparent bid to present all anti-Assad opposition as radical. He also pointed out that Assad's forces have rarely targeted the Islamic State.
"Meanwhile, the Assad regime has conducted a consistent policy of intentional mass killing of civilians -- first with air strikes and ballistic missiles, then with barrel bombs and widely alleged use of chemical weapons," Lister wrote.
The question these resolutely anti-Assad players have to answer is whom the West should work with in Syria instead.
Moscow and Damascus maintain that the armed opposition to the Assad regime is uniformly radical; to them, even moderate, nationalist rebels are not legitimate partners. That analysis, of course, is convenient because it helps Assad discredit his opposition.
Such thinking gained a boost because of the news earlier this month about the weak rebel-training effort by the United States, and the revelation last week that the latest batch of U.S.-backed Syrian fighters surrendered some equipment to al Qaeda to gain passage into Syria. Now, even members of the Obama administration say that their plan to arm Syrians to combat the Islamic State may need reworking. Rick Stengel, a senior State Department official, conceded as much on "Morning Joe" Monday, and Obama ally Sen. Christopher Murphy (D-Conn.) called for a suspension of the program the same day.
Still, the anti-Assad opposition should not be ignored or neglected, Syria watchers urge.
Courting Sunni Arabs, who form the majority of Syria, is key to keeping Syria together and ending extremist groups' ability to thrive there, Hollande argued Monday. It's one reason, he explained, why France is "not walking towards Assad."
Sam Stein and Jessica Schulberg contributed reporting.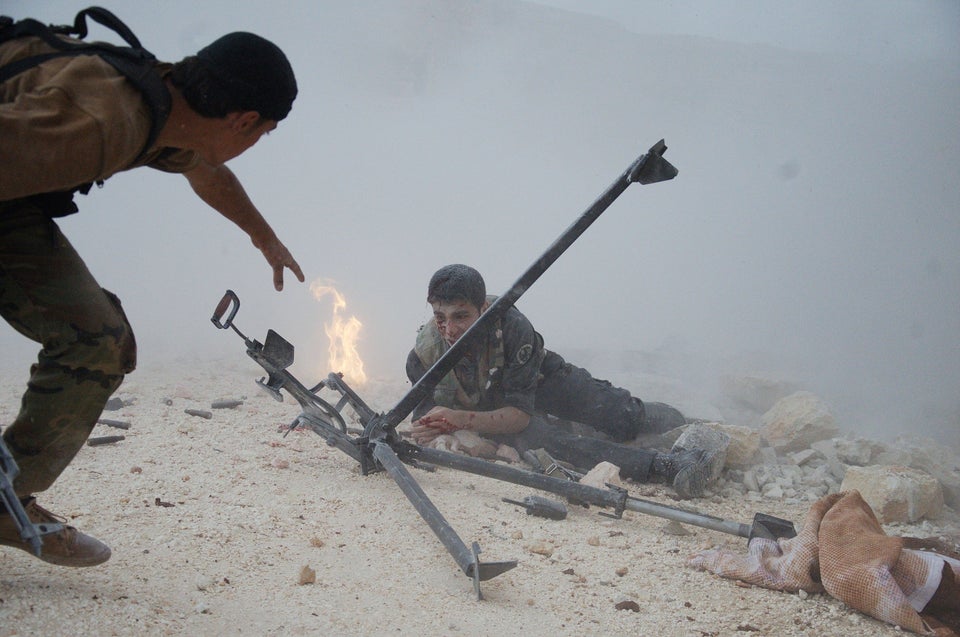 War In Syria
Related
Popular in the Community