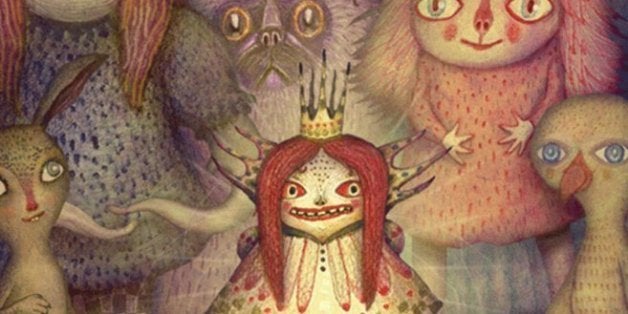 Back when you were ending your long days by being tucked into bed and read a bedtime story, do you remember feeling so moved by the illustrations that graced the pages that they seemed to jump off the page and come to life?
For kids living in this technologically enhanced age, there's a GIF for that.
Serbia-born, Denmark-based artist Vladimir Stankovic crafts enchanting GIFs that don't just capture entire stories in each frame, but entire worlds. Mushrooms with nine eyes and spindly fingers interact with glowing aliens and woodland critter hybrids. The images, reminiscent of creepy-cute artists like Gary Baseman and Mark Ryden, channel an otherworldly sense of mystery inspired by mother nature and what lies beyond it.
"In my work I try to combine my love and passion towards illustration and graphic design, with the use of both traditional and digital mediums," he explains on his website. "My inspiration comes from science and nature on one hand, and fantasy, fairy tales and all sorts of mysteries on the other."
PHOTO GALLERY
Vladimir Stankovic's "Cephalopodoptera"
Calling all HuffPost superfans!
Sign up for membership to become a founding member and help shape HuffPost's next chapter