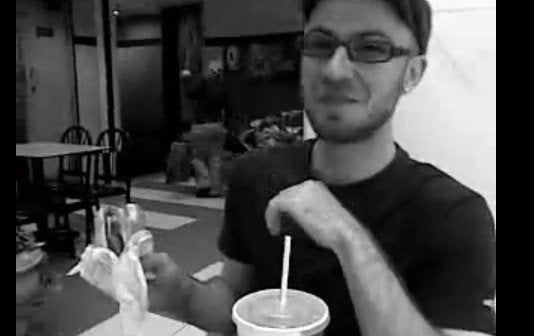 Vladimir Umanets, aka the Rothko vandal, appeared in court yesterday and pled not guilty to criminal damages on the Mark Rothko painting he defaced at the Tate Modern in London, according to the Telegraph. The painting has an estimated worth around $80M, and the unbelievable story of how it got tagged is below. Umanets, whose birth name is Wlodzimierz Umaniec, will next appear in court on October 16 for a second bail application, so stay tuned for more details.
On Sunday, Tate Modern visitor Tim Wright tweeted that a man approached and defaced a Rothko mural before calmly exiting the building. And so began a hunt for clues aggregated by both bloggers and investigative forces, which eventually led to the arrest of artist Umanets/Umaniec.
According to the police statement the 26-year-old man had been arrested about 60 miles south of London, in a small town called Worthing. Prior to his arrest, Umanets spent the day explaining the artistic motivations behind his crime of passion to various media outlets.
The bottom right corner of Rothko's 1958 canvas "Black on Maroon" now read: "VLADIMIR UMANETS '12, A POTENTIAL PIECE OF YELLOWISM," leading interested parties to the online Yellowism manifesto, thisisyellowism.com, which boldly listed Umanets' name and phone number. (The contact information has since been removed.)
When Reuters and ABC News contacted the alleged founder of the movement, Umanets answered and immediately admitted responsibility for the vandalism, though refusing to refer to it as a crime.
"I know what the legal consequences are, but I do not think I committed a crime. On the contrary, I would not like to end up in jail," Umanets told ABC News. Police arrested Umanets late Monday evening and held him on suspicion of criminal damage. A representative from the Metropolitan Police Force told The Huffington Post that Umanets remains in custody and has not yet been charged. The fine and any possible sentencing for Umanets' crime remains unknown, although we doubt the jury will be swayed by his argument that "the value will go higher because of what I did."
To make his troubles worse, the artist is homeless, according to Time. "I am a really poor man, I am homeless, I will never be able to pay for this piece," Umanets said.
Check back in for updates as more information is revealed on the fate of this homeless artist/vandal. On a positive note, Umanets has the artosphere talking about Yellowism, the movement that claims to be "not art or anti-art." Mostly, though, the internet is not impressed.
See other works of art that have been vandalized in the name of art below and let us know if you think there is any artistic merit to Umanets' crime in the comments section.
PHOTO GALLERY
The Art of Vandalism
REAL LIFE. REAL NEWS. REAL VOICES.
Help us tell more of the stories that matter from voices that too often remain unheard.
BEFORE YOU GO