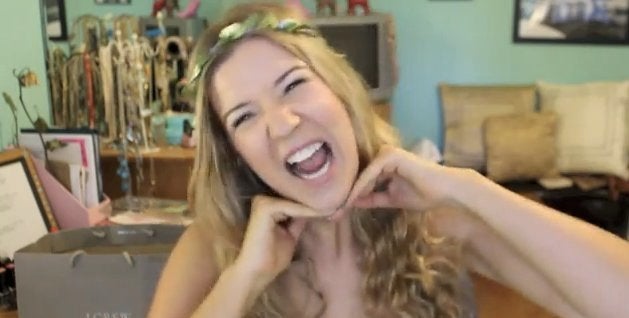 With catchphrases like "Oh my lanta!" and "ZOMG," you know Meghan of MeghanRosette is going to entertain you from the very first minute of her videos. Her beauty tutorials, often based on her favorite shows, like "Pretty Little Liars," are not only inspiring but are fun to follow along. And you'll never catch her emulating another vlogger, though she counts many as close friends. Meghan believes that you'll find your greatest success on the crowded video platform by just being yourself.
Now, she's revealing her number one piece of advice for aspiring YouTubers and opening up her makeup bag to give you a peek at her current favorite products.
When and why did you first decide to start your channel?
I launched my YouTube channel back in June of 2010 when I was only 16. I was diagnosed with mono that month and my doctor put me on bed rest. What better way to spend the summer than making beauty videos? The rest was history! It's funny now, because for how sick I was, and how much I hated having mono, it turned out to be the best thing that has ever happened to me!
What's your beauty philosophy?
Makeup will only get you so far if you've got an ugly heart. There's no concealer that can fix that for you! The most beautiful people on this planet are the kind ones with great hearts. So go ahead and perfect that smoky eye, but don't let the superficial side of beauty cloud your thinking.
Where do you get ideas or inspiration for your tutorials?
A lot of it comes from the TV shows I watch. I always find myself watching Pretty Little Liars and going, 'Wow, Hanna's makeup is on-point. I have to recreate that!' Fashion-wise, I seriously want to sneak into the wardrobe department of that show! I'm also obsessed with Rock What You Got. I always want to try out the ideas on there.
Who are a few of your favorite vloggers and why do you love their channels?
I've actually made a lot of friends from YouTube. One of my best friends (and future roommate) is Glassslipperbeauty. Not that I'm biased because she's my BFF, but I love her fashion videos! My current obsession is Icallitambrosia. She's like Adele with Rebel Wilson's Pitch Perfect character Fat Amy's sense of humor, and she's amazing at doing makeup. I also adore NikkieTutorials. She's younger than me, but her makeup skills are flawless! Personality is a huge factor for me in whose videos I'll watch. I like girls who don't take themselves too seriously.
What's in your makeup bag right now?
Benefit Boi-ing Concealer, some new Maybelline Color Whispers, Revlon Nearly Naked Powder, Urban Decay 24/7 Glide-On Eyeliner, in Zero, tweezers, a mini brush, and a ton of lipsticks! I'm not one to reapply eye makeup during the day, but I love changing up my lip color from day to night. Right now, I'm really into MAC Rebel.
What three beauty products do you find yourself buying over and over again?
Benefit They're Real Mascara is my holy grail product. I have stumpy, pathetic little eyelashes and this really makes my eyes pop! Urban Decay Primer Potion is always in my makeup collection. It makes your eyshadows last all day! And lastly, Bare Minerals Powder Foundation is my go-to for those lazy days when I don't want to wear a full face of makeup.
What's your favorite hairstyle to create?
Surprisingly enough, I'm pretty low maintenance. You won't see me heat styling my hair too often. Piling all my hair on my head in a birds nest bun has to be my favorite because it's so simple!
What was the hardest tutorial you've ever filmed?
My Taylor Swift Swifty Style video. First of all, it was pretty ambitious of me to do makeup and fashion in one video, but on top of that, the day I filmed that my contacts ripped. I filmed the entire video totally blind. It's a miracle the video is in focus at all!
Do you have advice for a reader who wants to start a channel?
Be yourself! There are so many girls who create channels and say they want to be the next Elle or Blair Fowler, but those girls already exist! You have to find your niche, what makes you special, and zone in on that! It's all about staying true to yourself and letting your personality shine through.
REAL LIFE. REAL NEWS. REAL VOICES.
Help us tell more of the stories that matter from voices that too often remain unheard.
BEFORE YOU GO
PHOTO GALLERY
Best Red Carpet Moments From The Kids Choice Awards 2013