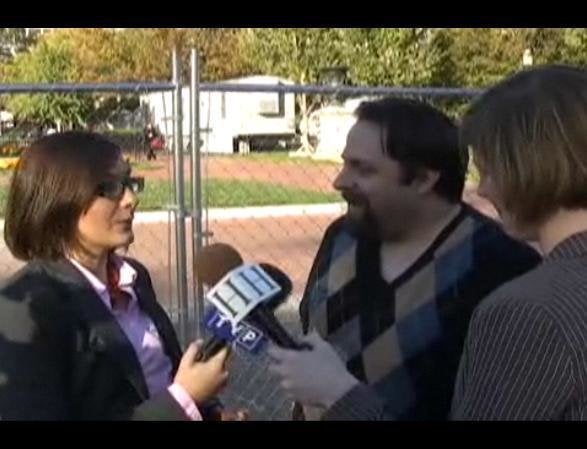 For this installment of Vlogorrhea, we were bereft of Ana Marie Cox, whom through her successful pledge drive, has rejoined the McCain campaign on the trail. But that wasn't going to prevent Liz Glover and I from going on our own on-location report! So, with Nikolas Schiller manning the camera, we went down to the White House, in search of tourists. Instead, we found many European journalists, who we then plied with daffy questions.
In this first video, we encounter a pair of German journalists. Liz and I were all: GLUCKLICH ZU SEHEN! Ultimately, however, our efforts foundered in translation. Still! They were very good sports. One suggested that I learn some new languages, and I was forced to confess my shame: five years of learning Latin, which only the Pope speaks.
The best part of our afternoon was spent talking with Paulina Drapala of Telewizja Polska, who interviewed Liz and I as we interviewed her. She was really great and we are all BFFs on Facebook now. Paulina had bobblehead dolls of Obama and McCain, which was a pretty good hook to get people to talk to her. Liz and I have already appeared on Polish National Television as a result of this exchange, totally embarassing America.
Liz and I want to thank all the foreign journalists we spoke to, who made it pretty clear that they think that the 2008 Election was pretty hilarious.
Popular in the Community