In today's edition of being a celebrity has its perks: A lot of stuff goes into the official MTV Video Music Awards gift bag. And the not everything fit in one photo. Reality check: if you're going as a seat-filler, don't get too haughty. These gifts are only for attending nominees, presenters and performers.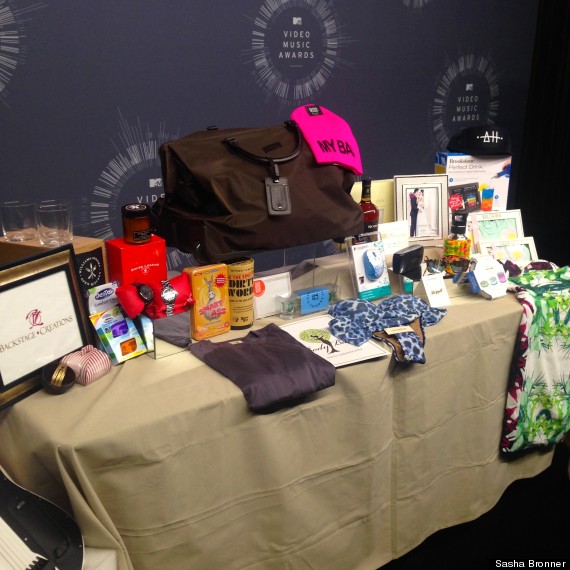 Scroll down for photos and breakdowns of the items in the gift bag: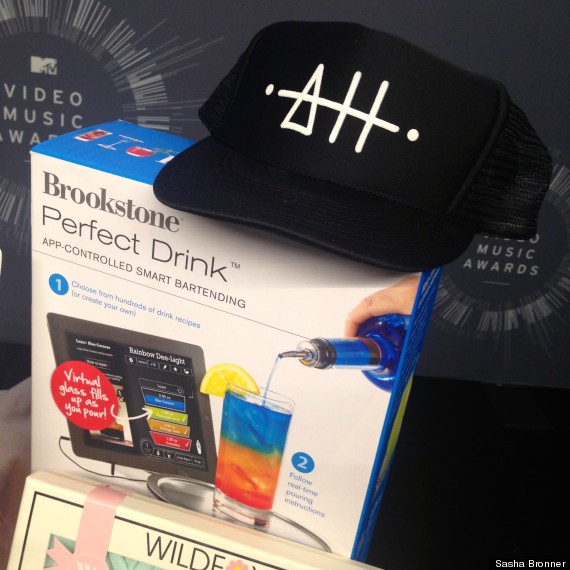 1. Ascot + Hart Trucker Hat
2. Brookstone Perfect Drink: "A revolution in home bartending, Perfect Drink's smart scale and free app let you choose from hundreds of drink recipes, follow real-time pouring instructions, and watch as a virtual glass fills on your smartphone or tablet."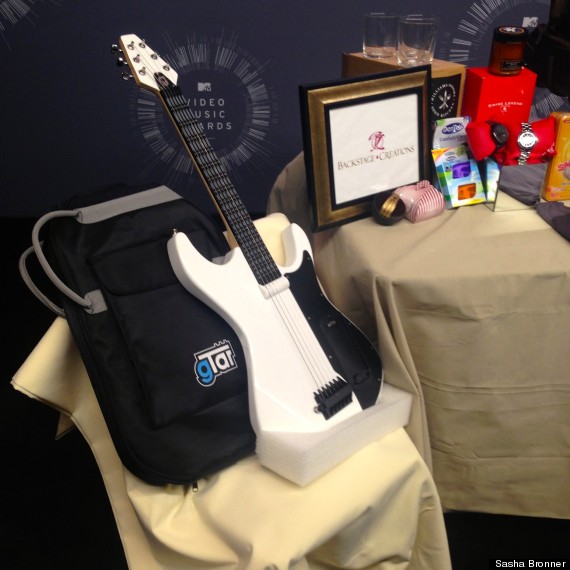 3. gTar Smart Guitar: "The gTar is an app-enabled smart guitar that can teach you how to play, make music and then share it with your friends."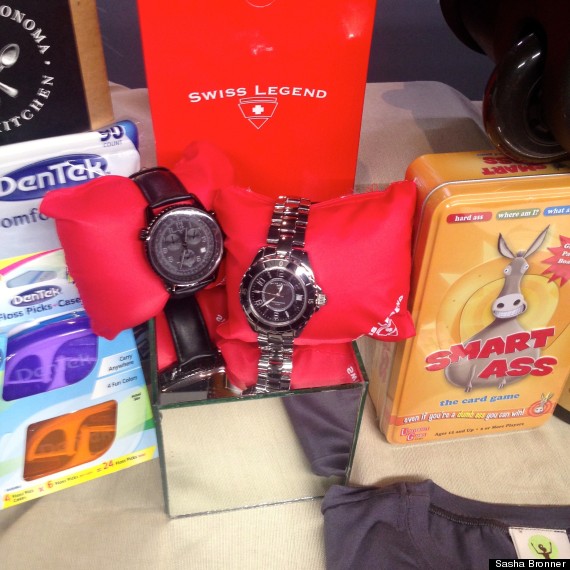 4. DenTek Oral Care Floss Picks
5. Swiss Legend Wristwatches: "The Swiss Legend Skyline chronograph for men features a slide-rule bezel to calculate rate, time and distance as well as a striking coin-edge detail on the outer rim of the bezel that adds distinction. The Swiss Legend Titanio wristwatch makes a high-fashion statement in titanium-finished ceramic."
6. Smart Ass Game: "The ultimate trivia card game where you can win even if you're a dumb ass."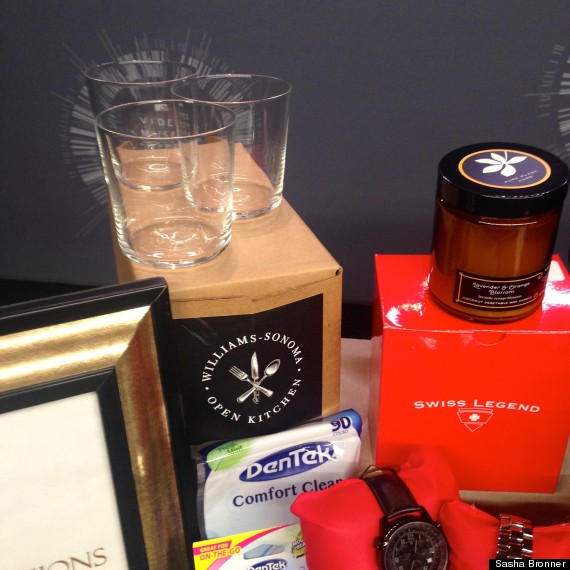 7. Williams-Sonoma Open Kitchen Tumblers: "Set of six."
8. Pure Plant Home Candles: "Coconut wax candles with real essential oil aromas for conscious living."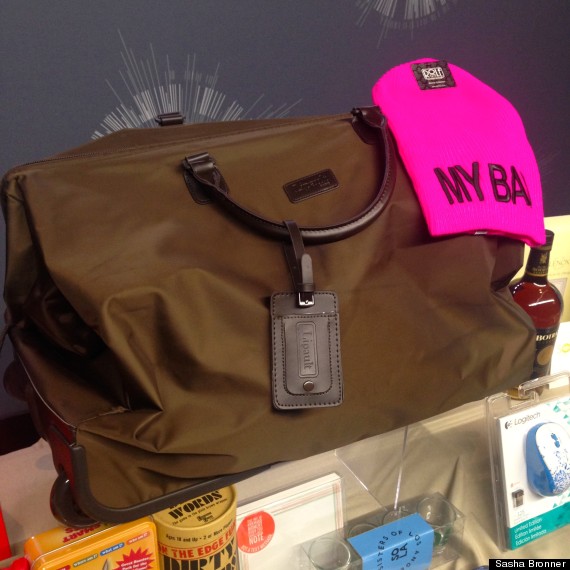 9. Lipault Paris Satchel: "24-inch 2-wheeled satchel."
10. Rolf Bleu Slouch Beanie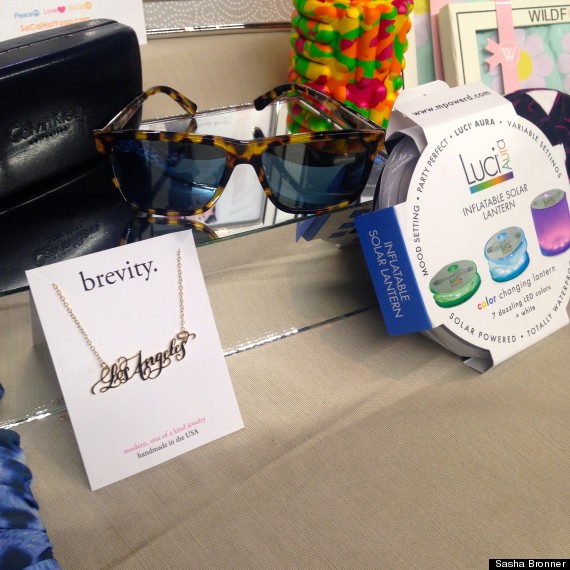 11. Brevity Necklace
12. Calvin Klein Eyewear by Marchon
13. MPOWERD Luci Aura Light: "An inflatable, color-changing solar lantern with a frosted body. A sustainable light that is perfect for celebrations, pool parties and home decor. Cycles through colors like a lava lamp, floats on water and lasts all night."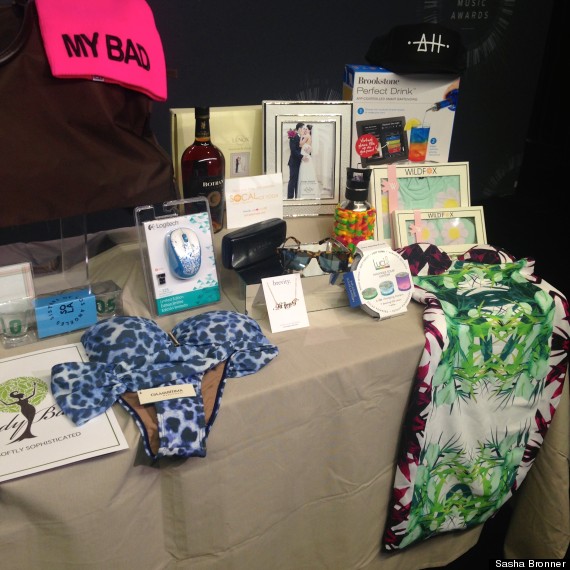 14. Botran Rum: "The Botran family has been the creator of premium rum from Guatemala for more than six decades. Rums are aged for up to 15 year in oaken barrels, which yield the rum's polished mahogany color."
15. SoCal Hot Yoga Studio membership
16. Lenox Picture Frame: "Hundreds of raised beads grace the frame. White beads form a swirled motif against a pearlescent background. Borders of shimmering platinum the design and photo."
17. Sisters of Los Angeles Freeway Shot Glasses: "The set of four includes the 101, the 10, the 405 & the 5."
18. Logitech Computer Mouse
19. MOBOT Bottle: "Handcrafted designer bottle and is the world's first and only travel foam-roller and water bottle in one package."
20. Wildfox Couture Cami Set & Eye Mask
21. Body Bark: "A luxurious line of sophisticated tops and lounge wear that is made in the USA from sustainable fiber."
22. CM Cia Maritima Beachwear Bikini: "Leading high-end brand of swimwear in Brazil."
23. House of CB Dresses
Not pictured:
24. Invitation Consultants Note Cards
25. Nomination Italy jewelry: "Collection comprises necklaces, rings, earrings and bracelets available in 18k gold and stainless steel."
26. Dirty Words: "Roll the dice and create sentences based on the words showing."