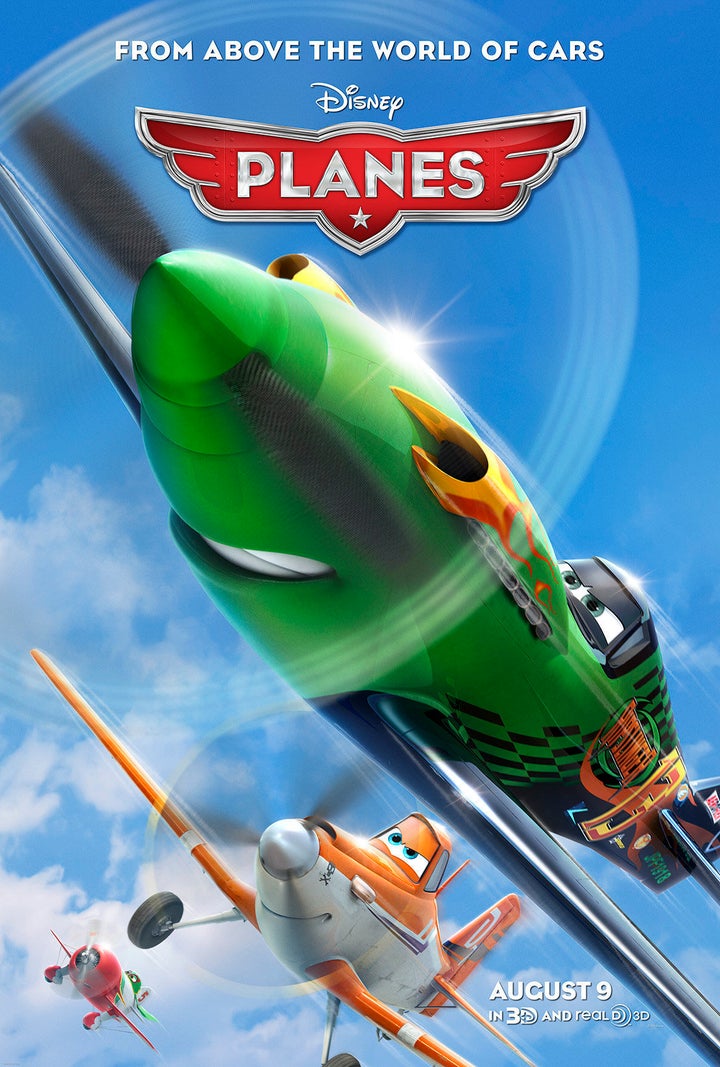 Or should I say: First an earlier project that Hall was going to helm -- one built around a talking steam train -- got derailed.
"This must have been June or July of 2009. I was just finishing up directing Tinker Bell and the Lost Treasure. And John Lasseter asked me what I wanted to do next," Klay remembered. "As it turns out, John and I are both big train buffs. So for a while there, we knocked around an idea for a movie that would kind of built off of the steam train from Dumbo.'Where this train would transport animals that could talk, and you'd only see the people who ran this steam train in shadow. It was a fun sounding concept, but the overall story never really jelled. So our steam train movie idea eventually wound up getting shelved."
Still, Lasseter had so enjoyed doing story development with Hall that he immediately offered this CalArts alumni another project.
"John said, 'We're thinking of doing this movie which is set in the world above Cars. Something that involves planes,' " Klay continued. "And for someone like me -- who grew up in Dayton, Ohio, the birthplace of flight -- who had a father that flew and a grandfather that flew, to be offered the opportunity to direct a film like this was a dream come true."
Which isn't to say that -- during the four years that Hall worked with the story artists and animators at DisneyToon Studios on Planes -- this production team didn't experience a few nightmarish moments.
"When the people at Pixar were developing Cars, at least they were working with vehicles that could easily be transformed into appealing characters. You just put the mouth where the car's bumper & grill are, the eyes where the windshield is, and you've then got a character that an audience can immediately relate to," Klay explained. "But when you try and do the same thing with a plane, you suddenly run into all sorts of weird design challenges. Given that the windscreens on airplanes are so much smaller than the windshields on cars, proper eye placement becomes a problem. And then there are all of these issues related to the propeller. Where do you place your character's mouth so that they can then talk without the propeller getting in the way."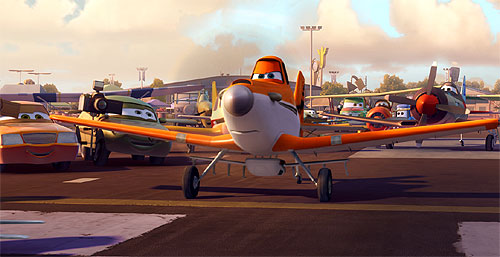 Well, it took a little doing. But Hall and his Planes production team did eventually come up with an appealing aerodynamic cast for this animated feature. But then the question became, who would Disney recruit to come voice this new set of characters?
"Me personally, I've always been a huge fan of stand-up comedy. And I was kind of hoping that we'd be able to get some of those guys to come do voice work on Planes. But never in my wildest dreams did I think that we'd be able to get stand-up comedians of the caliber of Dane Cook, Brad Garrett, Cedric the Entertainer, Gabriel Iglesias and Sinbad," Klay enthused. "And on top of that, to get the chance to work with Julia Louis-Dreyfus and John Cleese, it just doesn't get any better than that."
But that said, were you to ask Hall if there was one specific piece of vocal casting on this project that he was most proud of, this veteran animation director would immediately point to Echo & Bravo, the two F-18s that Dusty (i.e. the single-propeller crop-duster who serves as "Planes" central character) winds up befriending over the course of this movie.
"When these two fighter jet characters were initially proposed for this new animated feature, I said 'Wouldn't it be great if we could get Anthony Edwards and Val Kilmer -- the actors who played navy pilots Goose and Iceman in Top Gun -- to come voice Echo and Bravo?,' " Klay stated. "And as it turned out, Anthony and Val were not only available but were very enthusiastic about getting the chance to work together again."
Kilmer confirmed this in a comment to me: "Anthony and I were such great rivals in Top Gun, we always had so much fun on set. And I've always thought so highly of Anthony, especially with his success on ER. So it was really great to find out that we would work together again on Planes."
And Anthony echoed Val's statement (which is entirely appropriate. Given that Edwards voices the character of Echo, a McDonnell Douglas F/A-18 Hornet, in Planes): "When you think of movies with planes, Top Gun usually comes up. It is fun to be part of this film [Planes] as an old trusted hand who will help protect our hero, our naval aviators are some of the best pilots In the world. Val and I are lucky enough to get to play them twice!"
And to have this "Top Gun" reunion happening just weeks after the 3D IMAX version of this Tony Scott film hit theaters (not to mention being released on Blu-ray & Blu-ray 3D) is just icing on the cake for Hall.
"I mean, who's not a Top Gun fan?" Klay concluded. "When you see these F-18s flying together in our movie and you get to hear Val and Anthony's voices again, it's really going to take your breath away."
And if you'd like to check out even more members of the cast of this DisneyToon Studios production, check out this Huffington Post / Movieline exclusive: The world premiere of the Planes poster.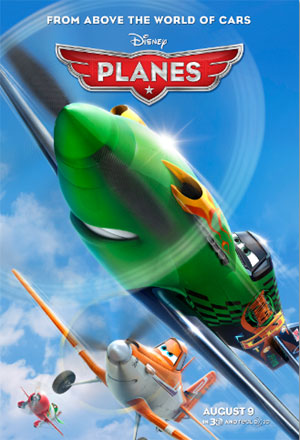 Disney's Planes flies into theater on August 9th.
Jim Hill is an award-winning entertainment writer who lives in New Boston, NH. Over the past 30 years, he has interviewed hundreds of veterans of the animation & themed entertainment industry and written extensively about The Walt Disney Company.
Jim is currently working on a behind-the-scene history of the development & construction of Disneyland. For his more immediate musings on movies, TV shows, books and theme parks, please check out his blog, jimhillmedia.com.
Calling all HuffPost superfans!
Sign up for membership to become a founding member and help shape HuffPost's next chapter