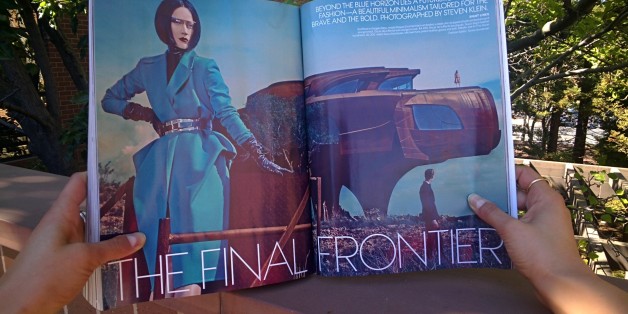 The most iconic photo of a Glass-wearer to-date is a picture of a 48-year-old man in the shower, naked save for a pair of Google's high-tech specs.
It's a hard photo to forget, and one that didn't seem to help Glass' image problem ("I really didn't appreciate the shower photo," Google's CEO informed the tech blogger who shared it). For the non-Silicon Valley crowd, the snapshot only confirmed that Google's wearable computer was probably just some newfangled novelty for sci-fi nerds.
But then Glass showed up in Vogue.
Next month's Vogue -- the vaunted September issue, no less -- carries a 12-page spread showing models prominently wearing color-coordinated pairs of Glass. Titled "The Final Frontier," the shoot showcases a "futuristic vision of fashion" that's "tailored for the brave and the bold." Think "Metropolis" meets "Gattica," set in a technicolor Martian landscape.
Though neither Vogue nor Google would confirm who first proposed featuring Glass in the glossy, the fashion shoot marks the latest boost to Google's mission to portray Glass wearers as fashionable futurists, not geeks. Success in doing so would go a long way toward helping Glass become a mainstream hit when it finally launches.
Every photo in Vogue's September spread features Glass as the ultimate fashion accessory for the Space Age stylista. Architect Robert Bruno's UFO-shaped house made of rusted steel serves as the backdrop for models decked out in minimalist Bottega Veneta, Gucci, Balenciaga and Google. In other words, it couldn't be less like a guy photographing himself in the shower. According to Chris Dale, a Google spokesman, the artistic direction was entirely up to Vogue. The tech giant had someone on hand at the fashion shoot to ensure the devices were charged and to provide technical support, but "that's about it," Dale noted in an email.
Although Glass isn't yet available to the public, Google has been making a concerted effort to convince people it's cool -- or, at the very least, socially acceptable -- to wear the funny-looking device. The company has made a point of planting Glass with people outside the tech crowd. Designer Diane von Furstenberg and a cadre of runway models were among the first public figures to give Glass a go, and Google's Glass Explorer program invited "bold, creative individuals" to apply to be among the first allowed to buy a beta version of Glass.
The Vogue spread marks the highest-profile instance yet of Glass being showcased as an aesthetic object. Google has told us Glass is functional. Vogue now shows us how it can be fashionable.
"Having Glass in the Vogue issue is fantastic as it really shows the beauty and simplicity of the device's design," Dale said. "Everyone on the Glass team is over the moon with the issue."
But featuring Glass in Vogue does more than make it look lovely. It makes it look even more elite, high-end and upper class than the device (with its $1,500 pricetag) already is. Its placement in a high-fashion magazine alongside a $1,545 mohair sweater, $2,300 turtleneck and $4,490 teal coat is a step toward positioning the wearable device as a status symbol.
Apple pioneered the idea of gadget as fashion accessory, transforming smartphones and MP3 players from something you had to use into something you had to have. Though Glass might still look strange to some, Google may be embracing that same model.
Some who leaf through the Vogue spread might come away thinking that Glass is the new black -- the perfect companion to that Celine bag or Michael Kors gloves. But to others, it risks seeming even more science fiction or theoretical.
As my HuffPostTech colleague Alexis Kleinman mused as she flipped through the pages, "It just looks even more out of reach than it already is."
This story appears in Issue 66 of our weekly iPad magazine, Huffington, in the iTunes App store, available Friday, Sept. 13.
REAL LIFE. REAL NEWS. REAL VOICES.
Help us tell more of the stories that matter from voices that too often remain unheard.