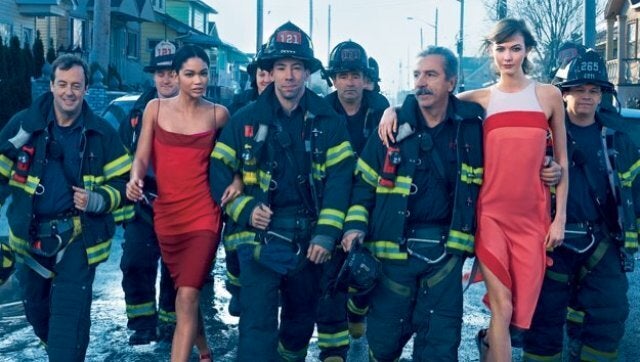 In one corner of the striking image, ConEd employees who worked feverishly in the wake of Hurricane Sandy to restore power to a disaster-slammed New York. In the other: leggy supermodel Karlie Kloss posing in a glamorous Oscar de la Renta couture gown.
Wait, what? It's a real photo spread called "Storm Troupers" gracing the posh pages of February's Vogue and lensed by none other than Annie Leibovitz.
The shoot, of course, was intended as tribute to Sandy's first responders -- as Vogue's website explains: "When Hurricane Sandy hit, the city's bravest and brightest punched back. With the area now on the mend, we paid these stalwart souls a visit, dressed up in the best of the New York collections. Call them New York's other finest." That's surely a noble effort.
But that hasn't quelled outrage from commenters saying that Vogue's spread crosses the line in nestling $3,000 gowns amidst some of Sandy's most hard-hit neighborhoods, giving them the effect of bizarre ornaments.
In one image, Joan Smalls, Arizona Muse and Liu Wen do their best Blue Steel amidst members of the National Guard's 69th Infantry, who are seen in fatigues delivering food to the Lexington Armory. (Clothing by Rag & Bone and Alexander Wang.) In another, Kloss and Chanel Iman strut through the Rockaways with some of the FDNY's finest. (Dresses by Narciso Rodriguez and Diane von Furstenberg.)
Backlash has already arrived: Slate ponders wryly, "Is this what happens when Anna Wintour feels emotion?" Kottke.org levels,"I guess they were going for inappropriate & provocative but hit inappropriate & idiotic instead?"
The spread surely feels incongruous. If a fashion magazine wanted to honor Sandy's heroes in an editorial, then we'd prefer to see, say, Smalls and Muse wearing military fatigues and pitching in with food delivery. Or, what if Vogue had given some of the first responders -- like the nurses who transported babies from a powerless NYU hospital -- the glam treatment and let THEM wear the Rodarte? Instead, a photo shoot intended to celebrate Sandy's heroes ends up paying tribute to the same pouty models -- and high-fashion ideals -- that does every other issue of Vogue.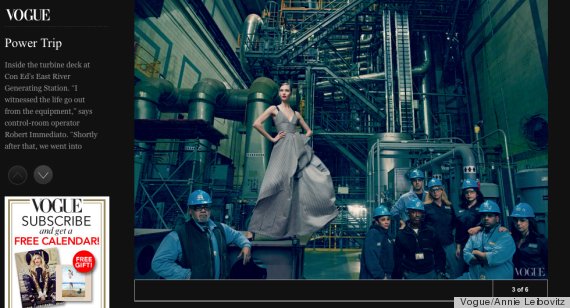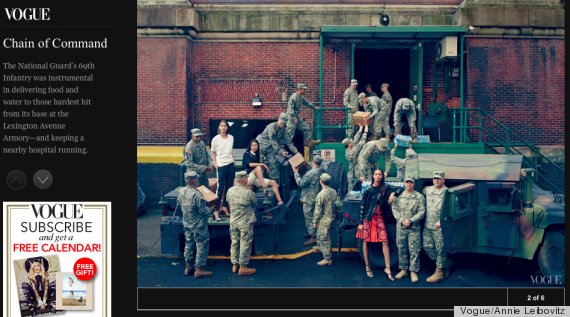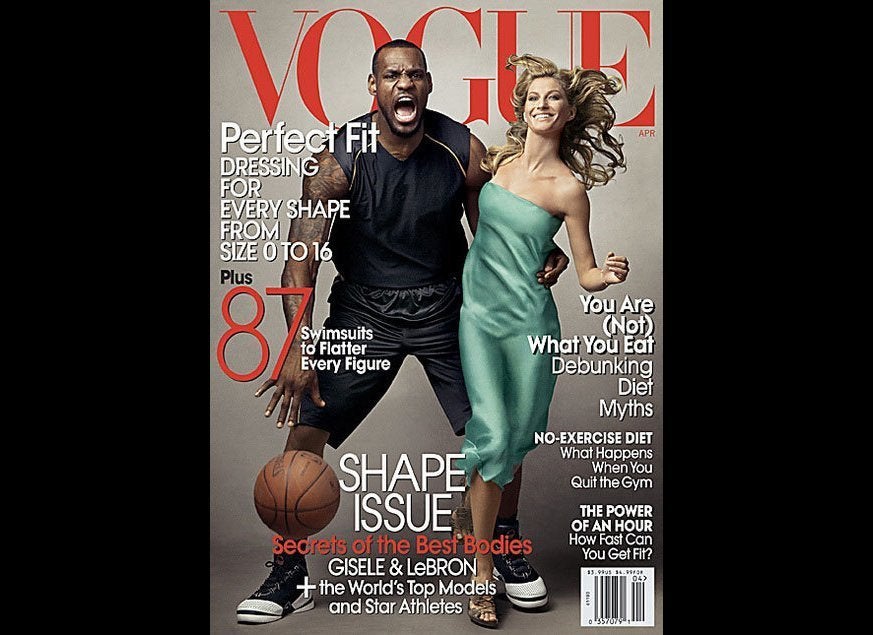 Magazine Covers That Got People Talking