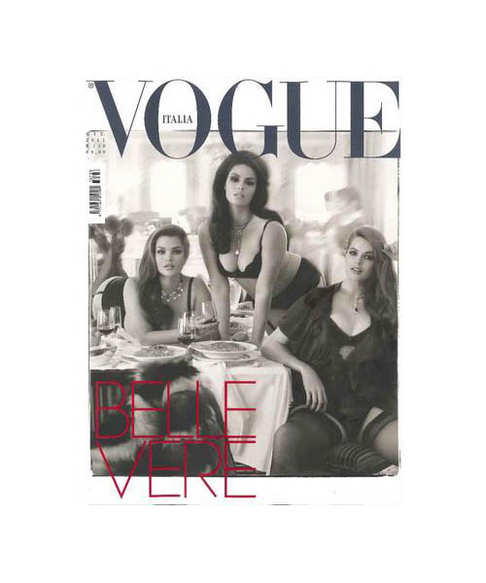 While I personally think Vogue Italia's editor, Franca Sozzani, genuinely tries her absolute best to make her contribution to the Vogue franchise a bit more inclusive and groundbreaking -- I must admit there is always something about the cramming together of a minority group or body size into one issue that never truly sits well with me. For all of the magazine's noble intentions, I am often left with the same feeling after attending a colorful and fantastical three ring circus -- awe inspiring, but temporary.
This month Vogue Italia has decided to celebrate plus-size women by literally stripping them down for the cover. The cover photographed by the legendary Steven Meisel features plus-sized models Candice Huffine, Robyn Lawley, and Tara Lynn all wearing nothing but skimpy lingerie. One of the voluptuous stunners has, for some unapparent reason, been strategically posed, legs-a-kimbo, to really give circus goers something to marvel and gasp at. However, all it took was one quick pan across the page before I was asking myself, "Where's the fashion?" This is a fashion magazine? Right? Or has Vogue Italia become a modern controversy peddler or cultural manifesto? Either way, I am not quite sure if this is a hit or a miss.
I will also admit that I have only seen the cover at this point, but it would be extremely interesting, if this issue is similar to the previous issues featuring Black and Asian models. Each issue featured stunning and striking pages of gorgeous ethnic models along with poetic waxing about the contributions of models of all races, blah, blah, blah. However, in each of these groundbreaking and death-defying issues, in between the provocative pages, lies the biggest disappearing act of them all -- the elusive advertising pages.
It is a marvelous thing for magazines to feature girls of all races, sizes and shapes in a periodic homage issue, but until publication leaders seriously sit down with their advertisers to bring them on board with this movement, things will continue to move at a snails pace. And sadly, young girls and women will continue to look into their metaphoric "funhouse" mirror and find they still don't look at all like the celebrated, often emaciated, Nordic Glamazons favored by advertisers and most fashion mags.
I must once again applaud Ms. Sozzani on her well-intended tight-rope act of pushing the conversation forward as well as satisfying the magazine's advertisers. However, I do believe in the future, fashion magazines must find a way to allow these beautiful and curvaceous women more than just a chance to appear as a side show act, but an opportunity to share their ample assets (pun intended) on the center stage.
Now I ask you, hit or miss?