My friend Lia Chavez once told me about a quadriplegic yogi who became an expert at describing the vivid shades and textures of the black space we see when we close our eyes. This space is literally behind the viewing plane, meaning it's behind our eyes, and this one man spent a lot of time meditating on the shapes, lines, and tones that made up this internal landscape.

This story inspired me to pay more attention to my own black space, and one of the things I have noticed is the way music produces colors when I listen with my eyes closed.

This stroboscopic effect only happens when my eyes are closed and when the music is unaccompanied by lyrics. Yoga music, jazz, and violin concertos create a particularly vibrant black space, but until recently, I have never experienced this biochemical reaction when music includes the human voice.

As part of Performa 13, Mark Beasley has curated a program on the voice. The first of these concerts took place on Saturday, November 2. It was called Voice is the Original Instrument, and featured Maja Ratkje, Joan La Barbara, and M6: Meredith Monk Music Third Generation. These performers use the human voice to create sound (like a piano) rather than language (like lyrics). Historically, this has been referred to as extended vocal technique.

I closed my eyes during the performance and my viewing plane was illuminated with a pas de deux between warm gem tones. These musicians were using their voice to communicate nonverbally, and I have never heard the voice used this way before. It was a completely virgin experience, and I think that's part of what we hope for when we see performance -- to feel something new.

Of course, Joan La Barbara and Meredith Monk have been playing in this arena for years, but for a younger generation of art explorers, it's a concept well worth revisiting, especially now that the voice is being manipulated digitally in the recording studio. It's this constant toggling with the voice to create "perfect sound" that sends a message that the voice does not naturally contain incredible power in its more raw form.

There are unorthodox conduits with the power to heighten sensorial experience and with the potential to expose feelings we don't even know exist -- and your voice is one of them. The success of The Voice As the Original Instrument was how it illuminated the power of the voice when it's stripped of language in its vernacular form. Truly the power of performance at large is the heightened sense of reality the stage creates. Live performance adds a particularly visceral experience.

The third and final installment of The Voice will take place this Saturday, November 16 with To Breathe is Not Enoughhttp://13.performa-arts.org/event/to-breathe-is-not-enough, featuring Karl Holmqvist, Will Holder, and Angie Keefer.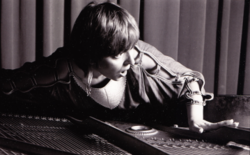 REAL LIFE. REAL NEWS. REAL VOICES.
Help us tell more of the stories that matter from voices that too often remain unheard.