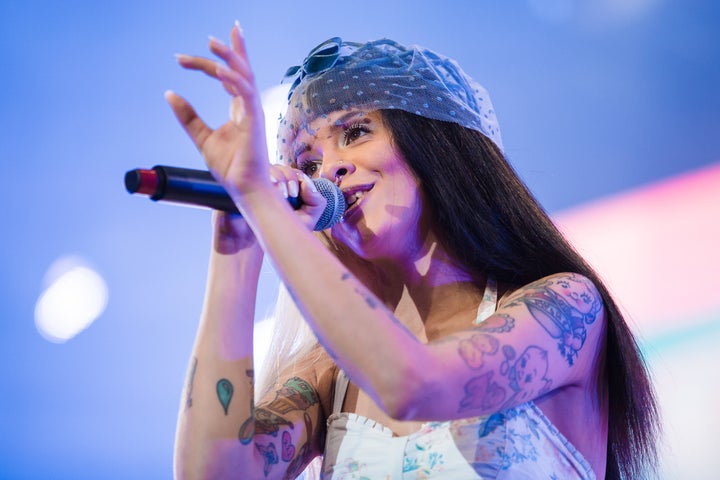 "The Voice" alum Melanie Martinez's former best friend says the singer sexually assaulted her.
Timothy Heller, who is also a musician, detailed the alleged incident on Twitter, writing Monday that Martinez "performed oral sex" and penetrated her with a sex toy without her consent.
Heller described the two as having an intense co-dependent relationship that took a turn over the course of a two-night sleep over.
"I never said yes. I said no, repeatedly," wrote Heller, who says she previously suffered from sexual abuse. "But she used her power over me, and broke me down. Just so there is no confusion, I was molested by my best friend."
She said they never spoke of the night again and their friendship ended sometime after.
Heller's former band Dresses performed with Martinez in 2014 at a show in Nashville. She's since become a solo artist, dropping her first single in October.
Martinez is one of the few success stories from the NBC reality singing competition, placing in the Top 6 during the series' third season. She went on to release her debut studio album, "Cry Baby," in 2015, which spawned the hit single "Pity Party."
The singer responded to Heller's account early Tuesday morning, saying that she is "horrified and saddened" by her statements.
"What she and I shared was a close friendship for a period of time. We came into each other's lives as we were both starting our careers as artists, and we tried to help each other," Martinez wrote on Twitter. "We both had pain in dealing with our individual demons and the new paths we were forging, but I truly felt we were trying to lift each other up. She never said no to what we chose to do together. And although we parted ways, I am sending her love and light always."
Heller said she initially didn't intend to name her alleged abuser, but chose to come forward in the wake of the sexual assault stories that have come to light over the past few months.
"The only reason I do this now is because I'm hoping because of recent events, people will believe me," she wrote. "Friendship does not equal consent. Silence doesn't equal consent. I wish it wasn't so hard for me to convince myself of these things."