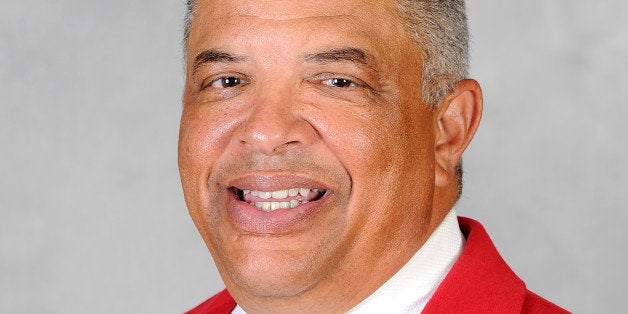 Each month Athlete Ally and Huffington Post will feature a new Voice to Voice segment featuring LGBT and ally people of color leading the movement to end homophobia, biphobia, sexism and transphobia in athletics. The discussions will focus on the interplays of race, ethnicity, sexual orientation and gender identity, and how those relationships affect LGBT inclusion and allyship in sports. Topics may include faith, family, health, body, immigration, community, stigma, visibility, economic status, violence, masculinities and femininities, language and more. Kye Allums, Ashland Johnson and Akil Patterson, all active and accomplished LGBTQ advocates, will act as lead moderators for the initiative. They will be joined by guest moderators Katheryn King and Alyssa Puno.
Kevin Anderson is the Athletic Director of the University of Maryland College Park where he is in charge of over 22 athletic teams. Maryland will soon join the Big Ten Conference beginning on July 1, 2014. Anderson places a strong importance on commitment to the community and has brought that approach to College Park. In May 2012 he was named to the Y of Central Maryland's Board of Directors. In July 2012, Anderson announced the Terrapin athletics family would partner with Casey Cares, a foundation that provides uplifting programs to critically ill children. Recently, the foundation honored the University of Maryland Athletics Department with the prestigious Champions of Children Award for 2013. Anderson is also a board member of the Baltimore Leadership School for Young Women. For his entrepreneurial drive, creativity and success in his position, Anderson was recognized by the Washington Business Journal as one of the top 25 minority business leaders in the region in 2013. He was also recognized as one of the Top 13 Sports Power Players in Maryland by Press Box magazine.

Over the past four years I have gotten to know Kevin for the great man that he is and the support that he has shown me in my many years at Maryland College Park as an openly gay man of color. I have also had the honor to work with all of the Maryland teams in some form. This is a conversation between Kevin and I where we discuss diversity in sports and the impact that being a man of color has had on his career in the athletic world. -- Akil Patterson
Akil Patterson: Kevin, when trying to do some background on you I found very little. Can you tell me about yourself and maybe your early career?
Kevin Anderson: I attended Abraham Lincoln High School in San Francisco and I played just about every sport available. Our high school's most famous alum is golf legend Johnny Miller. I had been recruited to play football in college. Unfortunately, I suffered a knee injury during my junior year. I was presented with a pair of scholarship offers to attend Brown University and San Francisco State. I elected to stay closer to home and chose San Francisco State. I suffered another knee injury and decided not to play football. I, however, earned a degree in political science and followed my passion, beginning my career as a high school football coach and educator. Later on, I was presented with an opportunity to work at Xerox in its management track program.
After a few outstanding years with the Xerox, I found that I was passionate about working in college athletics. Prior to leaving Xerox, I was blessed with an opportunity to take a year off and work with a community service project in East Oakland, California. The project involved inner city youth with Dr. Ann Bowie at the Allan Temple Baptist Church. We were able to provide a computer lab for the youth participating in the program. I then began to explore new opportunities in college athletics.
Patterson: How did you get into college athletics at that mid-point in your career? You were around 32 years old?
Anderson: I was given an informational interview with the Vice President at UC Berkley who told me I needed to gain experience in fundraising. I took his advice and began working with the United Negro College Fund in a fundraising capacity for their department.
Patterson: It seems like you took a different track all together from where you had been going.
Anderson: For me, it was really that year of service working with the Allan Temple Baptist Church where I was enlightened spiritually and discovered what service is truly about.

Patterson: You go from Xerox to the United Negro College Fund and then on to UC Berkley. So around 1997 you came into a position of senior leadership in college athletics where diversity and inclusion were not such hot topics in the LGBT space, yet you have always been very supportive. Can you tell me where that came from?
Anderson: You have to remember that I grew up in San Francisco. I was exposed to many different people of different orientations and identities. I have been very blessed growing up around diversity and people who were active in the civil rights movement, including my father and uncles.
Patterson: That's really amazing because my family had links to Malcolm X and so I really value that legacy. It's good to know where you come from. For me, being a gay coach, administrator and athlete I have to remember that I am still black and this isn't about just me. I have to remember that I am black and reflect on how I have been able to get to this point of being open and honest. It is because of the people who came before me. As a top level athletic director, who, if any, were the people you looked up to coming into this as you started a career in college athletics later in life?
Anderson: I have to say I am blessed that I had some great people in my life. As I got older, I was able to learn and gain invaluable knowledge and life experiences. Ada Cole, the president of the Kaiser Foundation, took a great interest in me as an aspiring administrator. She once said to me, "Whatever you think that I have done for you, I want you to do for others."
That first day at Westpoint was very important because I had learned that you always need to be able to adapt to your environment. So during my first 30–120 days I was told never to change too much because you have to learn the culture of the environment that you're in.
Patterson: The old policy for the military was "don't ask, don't tell." As the AD at that time when this was in effect, did you ever have an issue with LGBT students or staff? Maybe someone using sexual orientation to threaten or sabotage someone or try to get someone fired?
Anderson: We never have had to deal with that specific situation. Although, we did have to talk about the "what if" scenarios. We didn't ever really have to deal with an administrator or an athlete, but we did have a coach who had used some homophobic language. He said so and I was informed of the situation and I immediately took action and made it very clear that he would be dismissed if any such bullying or unacceptable behavior was to occur again.
Patterson: So as an AD you follow very close to what the NCAA policy is on bullying and abuse with coaches and athletes. I remember that any time a coach was seen to be abusive or demeaning to an athlete it was to be reported, although I know many athletes don't always tell because of fear. So the fact that you approached the situation in the way that you did was great.

Anderson: So let me ask you a question if I may?
Patterson: Sure
Anderson: How many hats do you wear?
Patterson: I work on a lot of different things. As you know, since I have been over here at the University of Maryland, I was the Director of Programs with the Terrapin Wrestling Club. Plus I work with the University of Maryland Academic Support staff. I also run study hall on weekends here, I help coach the upper weights and I'm also heading youth programming for Athlete Ally. So, yeah, I do wear a lot of hats.
Anderson: So what hats do you plan to get rid of?
Patterson: Well, I plan to drop any of my jobs that keep me working 90 hours a week, but what I really love working with youth. I have been working in addictions for the past few years. I am now moving into the mentoring side of things through Athlete Ally. I think it is important to provide mentoring to all athletes around the country. I also do that by speaking to students around the country about inclusion and sports. I recently started a keynote address on linking "Criminal Thinking to Sports."
Anderson: Linking criminal thinking to sports? Share a little more about that?
Patterson: Well in the space of "criminal thinking" there are patterns that most people have that most criminals tend to follow. These six main ideas are based on TCU research on behavior. They include:

Entitlement (feeling of privilege)
Personal irresponsibility (blaming others/external factors for criminal behavior) Power Orientation (the need for power/control over others)
Justification (minimization of seriousness of antisocial acts)
Cold Heartedness (callousness) Criminal Rationalization (negative attitude toward law and authority figures)
So through these six main points I am able to relate these patterns to sports. I am really excited because my team and I have been selected to present at this year's National Gay and Lesbian Task force event "Creating Change." It is the largest LGBT conference in the world.
Anderson: Very interesting I would love to hear more.
Patterson: One day, one day.
Getting back on track, there has been a culture in sports that allows people to attack people because they aren't seen as tough enough. I talked to people in the football world who told me they are upset that Jonathan Martin was being soft. It's as if they expected him to ignore the bullying because of his size. Yet the idea of bullying being present in sports is everywhere. Where are you with the idea that this happens in sports today? What are your views on bullying in sports?
Anderson: I grew up in a different era of sports. Back then people would never question a coach. The idea that someone is being treated as "less than" is never part of a good sports culture. We are looking to create good citizens on the university level. Although football can be a violent sport, no individual should have to fight someone to earn respect in this day and age.
Patterson: I feel like I was one of those guys who was applauded for being violent in sports. It even gave me an edge. The coaches never asked about my aggression. The Martin incident seemed to me to be about who was aggressive and who "fit in," especially since Incognito was a team leader. The issue I had was turning the aggression off. Our coaches who once praised me started to fear the man I was off the field.
Anderson: All people deserve respect regardless of identity or orientation. We are very capable of establishing a culture of acceptance at our schools and universities. We must continue to strive in developing young men and women to be our future leaders.
Patterson: You're planning to work with Athlete Ally in the future-- are you ever worried about backlash from the community?
Anderson: In my three years at Maryland, I have been a part of some major changes. I think that I have a developed a good sense of what is going on. When I first arrived at Maryland, I saw a campus rich with diversity. The Maryland community is outstanding. I am proud to raise my family here. Our goal is to continue to work and support ALL young men and women in their pursuit to become outstanding citizens in their community. That is why I am here and what I am passionate about it.
So what made you want to get into this kind of service work? You have been here for many years -- why is this your passion?
Patterson: Well, my parents made me want to do this kind of work. They were huge role models for my siblings and me. My mom worked very hard, was able to raise a family and earn two degrees here in College Park. As a matter of fact, she used to come to my dorm room when I was a freshman to drop off food before she had a test. My mom was [a big influence] but my father Keith also had a profound impact on me. At one point he was named one of the top 25 most influential black men in his community. It was important to me to see that my dad had time for all the kids who he impacted over the years to give to them and help them whenever he could.
Patterson: Kevin, this has been great and I know you have to run but I have one last question? Would you ever hire an openly gay coach?
Anderson: Yes, I would hire the best coach. Their sexual orientation doesn't matter. All that matters is that as long as they are able to uphold the values and the mission of the University of Maryland. We would not be doing our jobs if we didn't put the right people in place to help our student athletes achieve optimal success in the classroom and on the field.
Patterson: Thanks for taking the time to talk.
REAL LIFE. REAL NEWS. REAL VOICES.
Help us tell more of the stories that matter from voices that too often remain unheard.