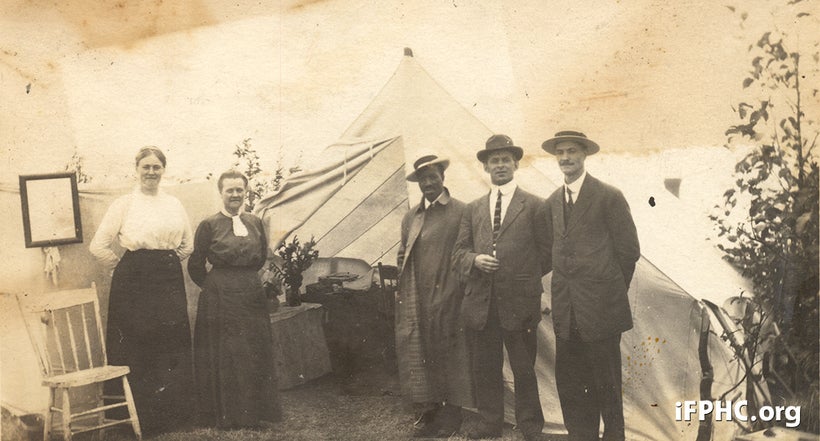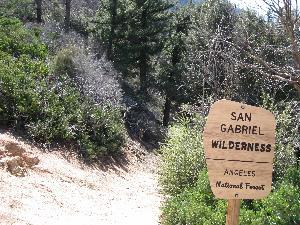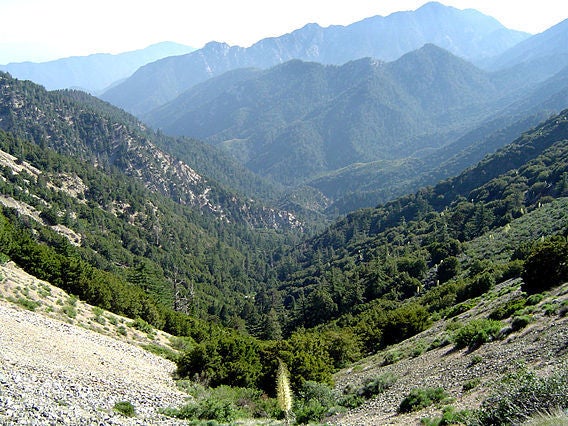 Deep in the foothills of the San Gabriel Wilderness, light is shining in the evening time. It is April of 1913 and the first worldwide pentecostal camp meeting is unfolding at Arroyo Seco. You could not have fictionalized a more fitting setting to launch the Name of Jesus movement. Named by the settlers, Arroyo Seco literally means "Dry Streams." At the narrowest point of the Arroyo Seco river is a rock outcropping which resembles the face of a devil, called the Devil's Gate gorgee. Now remember "Jesus was led out to the wilderness to pray, and Satan came also." The lesson is clear, whenever you enter the wilderness the devil is there, but Jesus is an ever present being with you. Although the Arroyo Seco River meant a "Dry Stream" to the Spanish Settlers, to the Natives of the wilderness, the Hahamongna Indians, the Arroyo Seco River means, in their native language, "Flowing Waters, Fruitful Valley." It is not lost on Oneness Pentecostal's that God chose the Arroyo Seco wilderness to launch the Jesus name movement and to show his power over the works of Satan; "God moves in mysterious ways." 
As providence would have it, three important men were in attendance at the Arroyo Seco camp meeting, these were Frank Ewart, G.T.Haywood, Glenn Cook. They would hear a revelation that, since the time of Christ on earth, had largely been silent in the annals of Christian history. Noted preacher R.E. McAlister, one of the chosen speakers for the April 1913 camp meeting, suddenly and unexpectantly announced that the disciples baptized in the Name of Jesus, and that the Name of the Father, Son and Holyghost had never been used or uttered in the bible. He also proclaimed that the bible taught that the "All" of God was in Christ Jesus as he walked the earth. This was a volcanic revelation to the hearers and the announcement caused more than an eruption among the attendees. One man, now known to be John Schepe, after hearing the announcement, spent the camp evening praying and seeking God regarding this new enlightment, and while in the midst of prayer he got a glimpse of a glorius Jesus sitting on his throne, he leaped from his knees and began running through the camp, awakening those that slept, shouting,"It is all in the name of Jesus, there is power in the name" 
As a result of this revelatory word revealed at Arroyo Seco many Christian were re-baptized in the Name of Jesus. J. Ewart a powerful baptist preacher, attending the camp meeting, accepted the message of the Name and began to preach Jesus among the Baptist churches.
Ewart who became the pastor of the renowned Seventh Street Mission church in Los Angeles, founded by William H. Durham, the prominent Oneness preacher and who received the revelation of the "Finished Work" began to spread the revelation. The Baptism in Jesus Name took off like a chariot of fire in the west. G.T. Haywood returned to Indianapolois and began advancing the revelatory knowledge in the east, and fresh from his Arroyo Seco Wilderness experience founded the "Voice in the Wilderness" magazine expousing the Jesus name message. The "Voice in the Wilderness" publication is still in print, as the Arroyo Seco Holy Spirit wilderness eruption is stilling being felt around the globe today.
Wikipedia contributors. "Arroyo Seco (Los Angeles County)." Wikipedia, The Free Encyclopedia. Wikipedia, The Free Encyclopedia, 18 Oct. 2016. Web. 18 Oct. 2016. Garrett, Gary (2016, September) Retrieved from apostolic archives.com. Ellis, E. n.d., 'Haywood Beyond Comprehension', unpublished draft
REAL LIFE. REAL NEWS. REAL VOICES.
Help us tell more of the stories that matter from voices that too often remain unheard.
This post was published on the now-closed HuffPost Contributor platform. Contributors control their own work and posted freely to our site. If you need to flag this entry as abusive,
send us an email
.