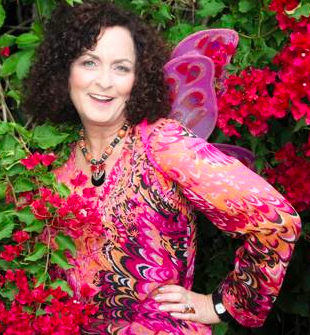 Turning 50 is challenging enough.
But losing a job at 50 in the youth-obsessed world of advertising, well, that was a crisis.
For me, it wasn't just a job. It was the culmination of a 25-year career.
I started out writing copy for noodle packages and worked my way up to creating award-winning advertising campaigns for some of the biggest brands in America.
I was the only female Senior Vice-President/Creative Director at one of the largest ad agencies in Los Angeles. (Kinda like Don Draper without the suits, cigarettes or booze.)
After a long career of job-jumping, I had found an unusually humane "home" for over 12 years.
Believe me, it was the last place on earth where I expected to be "laid off."
I was shocked and shaken to my core.
Especially since I was the steady breadwinner in our family. My husband happens to be an "entrepreneur" (which is French for "no health plan").
I had a young son to support and parents who needed financial help.
Fortunately, my severance gave me a little time to grieve, breathe and try to figure out who I was without my big, fat Execu-woman job.
I managed to scrounge up some freelance projects. But was too traumatized to pursue another full-time position.
Now that I had some breathing room, I realized that my Execu-woman life, with all its "shoulds" and "have-tos" had left no room for my own dreams.
I had almost forgotten how, as a little girl, I dreamed of using my words and art to touch hearts and make a difference in the world.
I knew that this was the time.
In the agency, I had teams of people to collaborate with.
In my new life, it was just Me, Myself and I. And all three of us were terrorized by the tick-tick-tick of time and the fear that it was too late to start over.
One morning, stuck in the muck of severe self-doubt, I cried out to The Universe, my dog or anyone who'd listen:
"AM I TOO OLD TO REINVENT MYSELF? PLEASE GIVE ME A SIGN."
Well, that afternoon, I got a sign all right. Right in my own backyard.
I came home from a walk to find a swarm of red dragonflies (hundreds of them), whirling and swirling over our patio umbrella.
To my amazement, the magical "fetch" (that's the dragonfly equivalent of a "gaggle" of geese) stayed four mesmerizing hours the first day. And came back three more days.
Well, here's a little Dragonfly 101:
Dragonflies are born in the water and spend most of their lives crawling around the bottom of a pond in a larvae-like state. (Up to four years.)
Then, one seemingly random day, the dragonfly crawls up onto a leaf or stem, and out into the sunlight.
And that's when her wings magically unfurl. (It turns out they had been growing all along.)
I'M A DRAGONFLY. AND I'M FLYING LATER IN LIFE, TOO.
And all that grief and fear I've been crawling through has actually been growing my wings.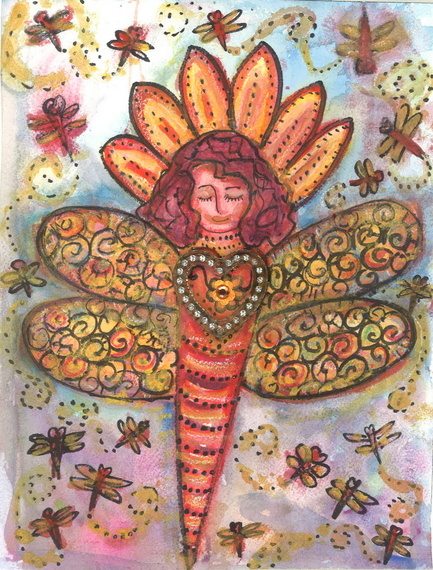 After that, I started seeing dragonflies everywhere. On the 405 and 101 Freeways. On Hollywood and Sunset Boulevards. I even saw one en route to an appointment in Beverly Hills. (What was it doing -- getting a facial?)
I know this sounds crazy, but I think those dragonflies were recruiting me to tell their story.
And now, that's exactly what I'm doing.
As the official "Flight Instructor" for The Dragonfly Movement, I'm on a mission to remind women of the gifts and passions hidden deep down in their souls. And to inspire them to bring out their true colors at any age.
And instead of presenting car commercials to boardrooms full of men, I now have the honor of speaking to rooms full of women, sharing my art, my heart and the message that "it's never too late to soar."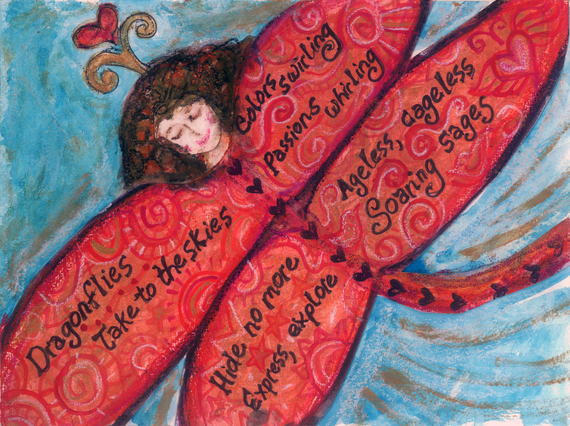 Of course, it hasn't all been blue skies. There's been a lot of "oy" mixed in with my joy as I've found myself stuck in the muck and trauma of a loved one's addiction.
But fortunately, the dragonflies keep inspiring me. They've taught me to be "one with the muck," to celebrate the process and to trust that miracles happen.
No matter what age or stage you're at in your life, I hope that my story gives you a lift.
And that the next time you're stuck in the muck of your own private pond, you'll remember those glorious wings that you're growing.
Related