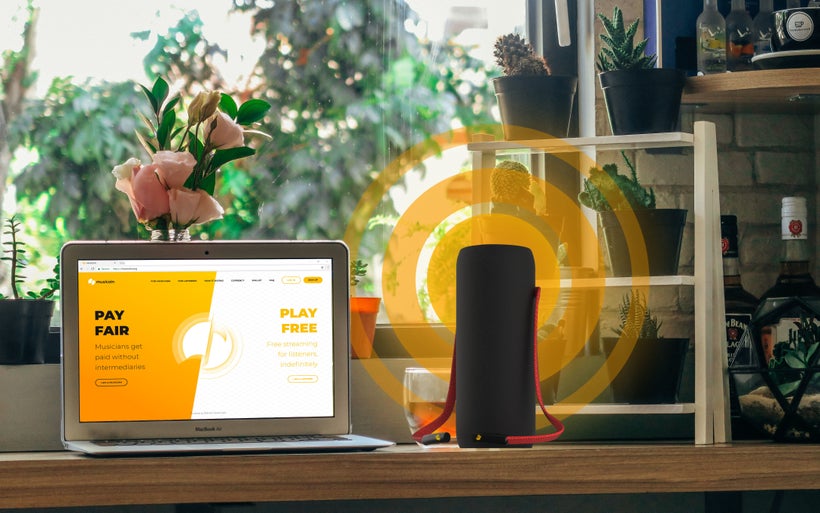 The battle for smart speakers has begun. Google just declared war on Amazon, and Apple wants in too. Sales of voice controlled smart speakers have rocketed. 33.2 million speakers were shipped in 2017. Seventy percent growth is expected for 2018. Even more encouraging is that people are continuing to use them beyond the first weeks of novelty, often as smart home hubs. That's a lot of growth opportunity to be harvested.
What if someone kicked that up a notch by adding blockchain and cryptocurrency to the smart speaker? The people at ROCKI and Musicoin have just announced a collaboration that aims to do just that - Volareo, the world's first blockchain-enabled music speaker.
Volareo could be a new disruptor to the music industry: the way we listen to music and the way appreciate musicians. What iPod did for digital music, Sonos did for music streaming, Volareo will finally do for musicians: make them money. Why? Because the Musicoin blockchain pays some of the highest streaming rates in the world and delivers cryptocurrency to artists just seconds after you press "play". Even more astounding though is that this is all free for the listener. Musicoin enables this feat with an innovative economic model tied to its cryptocurrency. Consequently, Volareo will come with a lifetime of free music.
Appreciate your musician with a tip
The "Clap to Tip" feature the partnership designed will be the first of its kind and could open cause a paradigm shift in how the pubic engages with music. When a user claps, the musician will get a tip (1 Musicoin), and gets the good feelings associated with having rewarded the musician.
The relationship between musicians and music lovers has been strained over the decades because online music services typically pay artists very little. Volareo wants you to recapture the magic between you and your favorite musicians. We tip our favorite bartenders, why not our musicians?
Musicoin was not an ICO, it's a mineable coin
With so many ICOs every day, it's refreshing for the Musicoin team to skip it. They went heads down to build and deliver a live, running system. It takes guts, vision, and ability. In fact, Musicoin is the only live music streaming system with a blockchain.
Musicoin and ROCKI have found a totally whole new way to reinvent the music industry. With the Volareo speaker announcement, it's coming right into your home. Watch out Spotify, Apple, Google and Amazon, the blockchain and crypto guys are hitting play on their music.
Calling all HuffPost superfans!
Sign up for membership to become a founding member and help shape HuffPost's next chapter
This post was published on the now-closed HuffPost Contributor platform. Contributors control their own work and posted freely to our site. If you need to flag this entry as abusive,
send us an email
.