WASHINGTON -- House Republicans, dealt a surprising defeat Wednesday evening in their effort to roll back Wall Street reform, decided Thursday to make another run at relaxing regulations on banks.
Republicans brought the bill, which would delay the so-called Volcker Rule, to the House floor under a suspension of normal rules, which means a bill needs a two-thirds majority in order to pass. Dozens of Democrats who supported the bill last session, however, flipped on it this time, and the bill failed.
"It's disappointing so many Democrats who voted for these provisions just four months ago suddenly switched their votes in a transparent ploy to appease their far left-wing base," said Rep. Jeb Hensarling (R-Texas), chairman of the House Financial Services Committee.
Rep. Jim Himes, a Democrat from a Connecticut district that is home to many financial industry elites, is a strong backer of the bill. "There were some folks who looked at the same thing this Congress and thought that they felt differently about it," he observed on CSPAN Thursday morning. "There is a very strong movement out there that any adjustments to Dodd-Frank of any variety is quote unquote gutting Dodd-Frank, that it's a bad idea."
Despite the win for Sen. Elizabeth Warren's (D-Mass.) wing of the Democratic Party, the House Rules Committee announced Thursday evening that the lower chamber would take another crack at the bill, HR 37. Without two-thirds, however, Republicans will be unable to overcome the veto President Barack Obama promised Wednesday night.
The House Rules Committee will take up the bill Monday night, and it's expected to go to the floor under normal rules.
The willingness to bring the bill back to the floor is a sign Republicans have not been scared off of attempts to chip away at Wall Street reform by the populist mood Himes described.
The bill would allow banks to hold onto billions of dollars in risky collateralized loan obligations for two additional years by amending the Volcker Rule, which is part of the 2010 Dodd-Frank financial reform law. The rule bans banks from speculating in securities markets with taxpayer funds, requiring them to dump their CLO holdings. A Volcker Rule delay would be a major boon to the nation's largest banks. Between 94 percent and 96 percent of the domestic CLO market is held by banks with at least $50 billion in assets, according to federal regulators, who value the market at between $80 billion and $105 billion. Of that total, about half is owned by just two banks: JPMorgan Chase and Citigroup.
CLOs are similar to the complex mortgage securities that banks binged on during the housing bubble, only they pool together loads of corporate debt instead of mortgages. After the loans are packaged together, banks slice off pieces for sale to investors. Federal regulators at the Office of the Comptroller of the Currency warned banks last month that the corporate debt market is overheating, making complex packages of corporate debt risky business in the current economy.
Former Fed Chairman Paul Volcker, in an email to HuffPost, mocked the effort to repeal the rule that bears his name. "It is striking that the world's leading investment bankers, noted for their cleverness and agility in advising clients on how to restructure companies and even industries however complicated, apparently can't manage the orderly reorganization of their own activities in more than five years," Volcker said.
Rep. Maxine Waters (D-Calif.), the lead Democrat on the Financial Services Committee, who, along with Minority Leader Nancy Pelosi (D-Calif.), organized the opposition to the bill, immediately denounced the attempt to bring it back to life.
Before You Go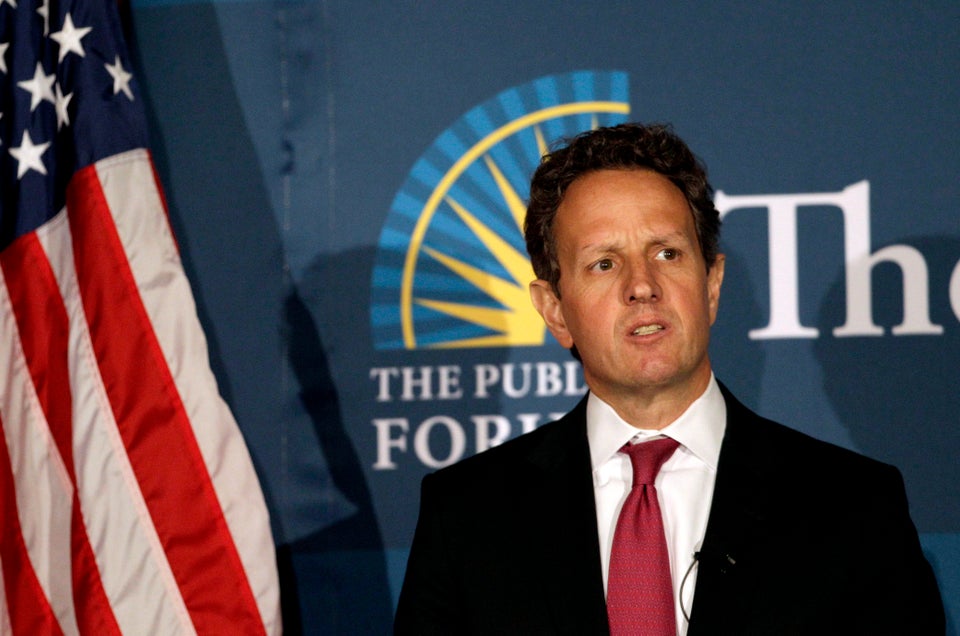 Political Figures Who Moved On To Wall Street
Popular in the Community