In September 2015, Volkswagen Group admitted to fitting 11 million vehicles worldwide with software to cheat on government tests for diesel pollution. A month later, a team of scientists estimated that excess emissions from 482,000 of those cars sold in the United States would cause about 60 premature deaths across the country.
Now, those same researchers project the death toll from 2.6 million affected cars sold in Germany between 2008 and 2015 to be 20 times higher, with at least 1,200 lives cut up to a decade short, according to a study published Friday in Environmental Research Letters. That number would have ballooned to 2,700 if German authorities hadn't ordered the world's biggest automaker to recall and repair every automobile. The affected vehicles ― sold under the Wolfsburg, Germany-based Volkswagen Group brands Audi, Skoda and Seat, as well as VW ― drove roughly 220 billion miles between 2008 and 2015, spewing 240,000 tons of nitrogen oxide, the source of smog and acid rain, into the air.
Most of the people killed early won't be Germans, according to the researchers. Emissions swept over the border by winds could cause 700 early deaths, the study estimated, including 160 in Poland, 84 in France and 72 in the Czech Republic. Even the United Kingdom could suffer 30 casualties.
"It's entirely because of transboundary air pollution," Steven Barrett, an associate professor of aeronautics and astronautics who co-authored the study at the Massachusetts Institute of Technology, told The Huffington Post by phone. "We didn't even account for German vehicles driving outside Germany."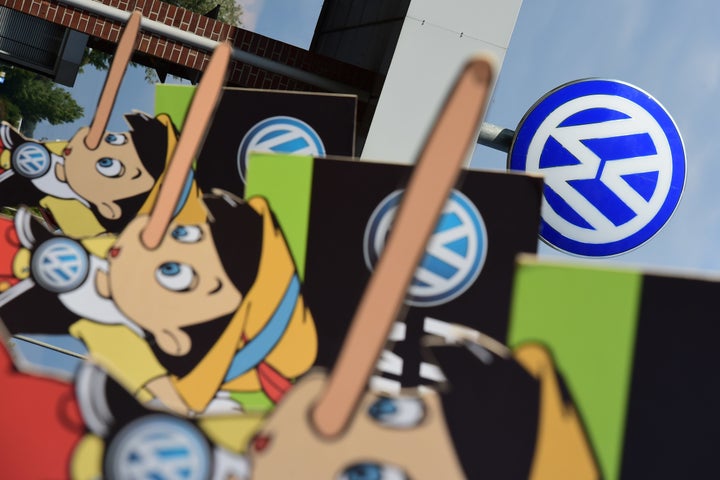 The team, composed of researchers from MIT and Harvard University, buttressed data used to study public health effects of the Volkswagen scandal with new information collected by Germany's Federal Motor Transport Authority. The scientists determined their findings by applying widely accepted epidemiological techniques, gleaned from decades-long studies tracking the effects of exposure to pollution on large populations over time. The original data set came from the West Virginia University study that first uncovered Volkswagen cheating on U.S. tests, with emissions 20 times above the legal limit. In Germany, the vehicles exceeded the legal limit by a factor of five.
The new research widens the fallout of an affair so widely condemned it became known as "Dieselgate." Unlike other incidents of corporate malfeasance in the auto industry, at least one former employee blamed for designing the so-called "defeat devices" to cheat on emissions tests faces jail time. In January, Volkswagen agreed to pay $4.3 billion to U.S. regulators, a settlement negotiated down from $17.5 billion. The company set aside an additional $19.2 billion to deal with the issue.
Volkswagen said it has completed repairs on more than 3 million vehicles in Europe, including 1.5 million in Germany, at a weekly rate of 250,000 automobiles.
"We do not have a comment on this study," Jeannine Ginivan, a Volkswagen spokeswoman, wrote in an email to HuffPost. "Volkswagen is committed to resolving the diesel matter as quickly as possible."
The problem isn't Volkswagen's alone. In the wake of the scandal, the Environmental Protection Agency vowed to step up its compliance testing. In January, the agency said it nailed a violator when it accused Fiat Chrysler Automobiles of using software to manipulate diesel emissions tests in about 104,000 vehicles. Barrett said he expects more companies to be implicated in the future.
"Volkswagen were found out, but many diesel vehicles will be emitting above what people thought they'd emit, so it's going to be a much wider-spread problem," he said. "There may not be other 'defeat devices' in the same way, but very likely other manufacturers emit much higher on the road than when being certified."
In Germany, lawmakers began pushing for higher standards on emissions tests soon after the scandal broke. In the U.S., where tests are already more stringent, preventing future incidents may require stricter enforcement, Barrett said.
That could be an issue. President Donald Trump proposed slashing one-quarter off the EPA's budget and laying off 1 in 5 employees, virtually crippling the already hamstrung agency's enforcement. EPA Administrator Scott Pruitt, who has deep ties to the fossil fuel industry, has said he wants to overhaul the agency to focus on strict interpretation of regulations, vowing to rein in what he saw as federal overreach by his predecessor.
As the costs of getting caught add up for Volkswagen, that could be welcome news to rivals.
This article was updated with Volkswagen's comment.
Popular in the Community