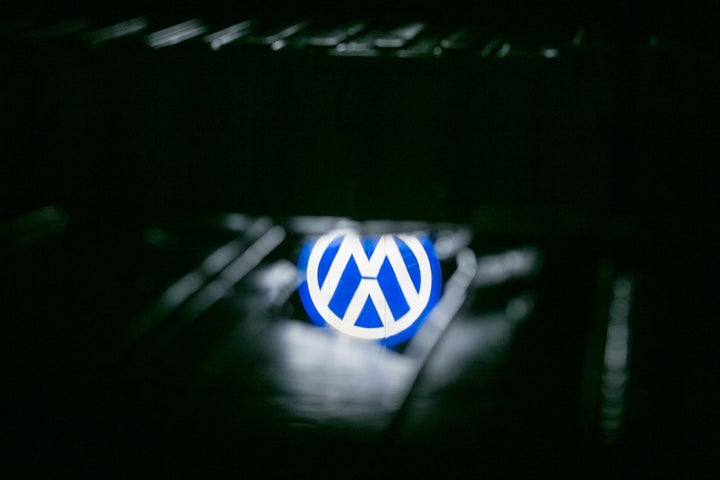 BERLIN, Sept 24 (Reuters) - Volkswagen will fire three top executives on Friday, a senior source said, as the German carmaker tries to recover from a scandal over its rigging of U.S. vehicle emissions tests.
One day after chief executive Martin Winterkorn quit, the source said the head of the company's U.S. operations and top engineers at premium VW brands Audi and Porsche would be dismissed, regardless of whether they knew about the cheating.
But the worst scandal in the company's 78-year history showed no sign of abating as Germany's transport minister said on Thursday it had manipulated tests in Europe as well as the United States.
VW is under pressure to act decisively, with its shares plunging since the crisis broke and German Chancellor Angela Merkel urging it to quickly restore confidence in a company held up for generations as a paragon of German engineering prowess.
Winterkorn stepped down on Wednesday, saying Volkswagen needed a fresh start. The company now looks set to fire executives across its multi-brand group to weed out the source of the manipulations.
"There will be further personnel consequences in the next days and we are calling for those consequences," Volkswagen board member Olaf Lies told the Bavarian broadcasting network.
The research and development chiefs of Audi and Porsche, Ulrich Hackenberg and Wolfgang Hatz, will be removed by the supervisory board, as will VW's top executive in the United States, Michael Horn, the senior source told Reuters.
Hackenberg and Hatz had both held senior posts at VW in development, including of engines, before they switched to Audi and Porsche. They are among VW's highest-ranking engineers.
Horn acknowledged this week that the company had "totally screwed up" by deceiving U.S. regulators about how much its diesel cars pollute.
The supervisory board is also due to announce a successor as chief executive.
The chief executives of Porsche, Matthias Mueller, and Audi, Rupert Stadler, as well as VW brand, Herbert Diess, are seen as the front-runners, three people familiar with the matter told Reuters on Wednesday, with Mueller viewed as the favorite.
VW said on Tuesday about 11 million of its cars worldwide were fitted with the software that was found to be cheating emissions in the United States. The U.S. Environmental Protection Agency has said Volkswagen could face penalties of up to $18 billion.
In a potential setback to the company's attempts to move on, German Transport Minister Alexander Dobrindt suggested tests had also been rigged in Europe.
"We have been informed that also in Europe, vehicles with 1.6 and 2.0 liter diesel engines are affected by the manipulations that are being talked about," he told reporters, though he did not say how many vehicles were affected.
Shares in the German company have sunk by as much as 40 percent since U.S. regulators said on Friday it had admitted to rigging emissions tests on hundreds of thousands of diesel cars.
Regulators in Europe and Asia had already said they would investigate Volkswagen and other carmakers, and Volkswagen also faces criminal inquiries and lawsuits from cheated customers.
Italian prosecutors have opened a preliminary probe, a judicial source said, and the executive European Commission urged all member states on Thursday to investigate how many cars use illegal "defeat" devices in emissions tests.
The scandal has sent shockwaves through the car market, with manufacturers fearing a drop in demand for diesel cars and tougher regulations and customers worrying about the performance and re-sale value of their cars.
Dobrindt said Europe would agree new emissions tests in coming months that should take place on roads, rather than in laboratories, and that random checks would be made on all manufacturers.
So far, no other carmaker has been found to have used the same so-called "defeat devices" employed by Volkswagen. German rival BMW said on Thursday it had not manipulated emissions tests, after a magazine reported some of its diesel cars were found to exceed emissions standards.
DIESEL CAR DRIVERS WORRIED
Friday's board meeting had originally been due to extend the contract of Winterkorn and set out a new management structure.
Though Winterkorn oversaw a doubling in sales and a near tripling in profit in his eight year rein, he faced criticism for the company's underperformance in the United States and for a micro-managing style that critics say delayed model launches and hampered its ability to adapt to local markets.
Analysts said a new management structure, possibly more decentralized but also with a clearer system of checks, was all the more urgent, with top executives apparently unaware of the emissions test cheating despite a tight control on decisions.
However, the new CEO will also need to act quickly to win back the confidence of dealers and customers frustrated with the lack of information from the company so far.
The company has yet to announce which cars and construction years are affected, and whether they will have to be refitted.
A women at the reception desk of a Volkswagen dealership in Frankfurt, who declined to give her name, said she had received many queries from diesel car drivers.
"But we haven't got the ultimate answer because we haven't got much information from Volkswagen," she said.
Volkswagen said in a statement on its website it was working to answer these questions as quickly as possible. "It goes without saying that we will take full responsibility and cover costs for the necessary arrangements and measures," it said.
Evercore ISI analyst Arndt Ellinghorst said all was not lost for Volkswagen shareholders, saying the costs of fixing its problems would probably not top the huge sums already wiped off its market value
"Does all this add up to 25 billion euros? Even if it does, the fact that VW will have a new CEO who will very likely push for more restructuring is great news," he said.
At 1355 GMT, the stock was up 1.4 percent at 112.8 euros following its decline in previous days.
(Additional reporting by Reuters bureaus in Europe, Asia and Americas, Writing by Mark Potter, Editing by Timothy Heritage)
Calling all HuffPost superfans!
Sign up for membership to become a founding member and help shape HuffPost's next chapter