It took Volkswagen years to build its reputation in the United States as a hip, countercultural brand -- so cool that an ad for the company is used in an episode of "Mad Men" to signal the fast-changing advertising landscape.
That carefully cultivated brand quickly lost its magic after the Environmental Protection Agency charged the automaker with purposefully designing software for Volkswagen diesel vehicles that skirted environmental regulations.
On Wednesday, chief executive Martin Winterkorn announced he would step down from the company in the wake of the scandal. "As CEO I accept responsibility for the irregularities that have been found in diesel engines," he said in a statement. "Volkswagen needs a fresh start -- also in terms of personnel. I am clearing the way for this fresh start with my resignation."
Volkswagen's brand perception plummeted into negative territory this week -- meaning more people are hearing bad things about the automaker than good things -- for the first time in six years, according to new data from YouGov's BrandIndex, which tracks consumers views on various companies.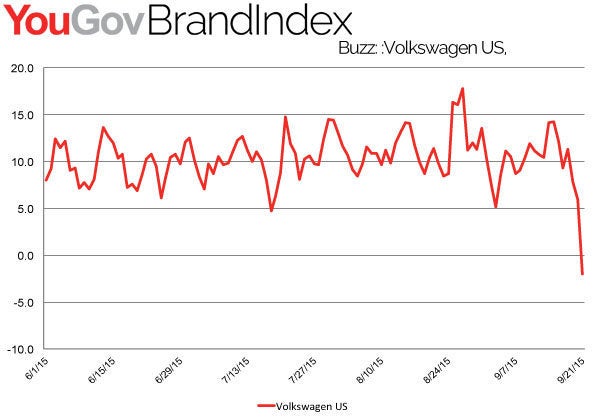 Though automakers have a long history of trying to skirt environmental regulations -- indeed, VW was fined in 1973 for installing cheat devices, notes The New York Times -- the large scale of the issue this time and the brazen failure of the company to live up to its environmentally savvy reputation could be devastating.
"If VW gets its reputation back, it will be clawing up the side of a very high mountain," said Thomas Donaldson, a professor of business ethics at the University of Pennsylvania's Wharton School, referring to the scandal as a "corporate Watergate." When a company openly admits to the buying public -- a group it is trying to build trust with -- that it's been cheating, that's difficult to come back from.
The costs to the company may far exceed the approximately $7 billion its set aside to pay for its mistake. So far, its stock price has plummeted. But the big issue is future sales. VW just this year surpassed Toyota as the world's largest automaker by sales -- but this scandal is clearly going to cost them customers.
"I'll never entertain another Volkswagen again," said Tom Farmer, who lives in the Seattle area and leases a diesel Jetta partly because of its environmental credentials. He's counting down the months until his lease runs out, he told The Huffington Post, echoing a chorus of betrayed VW owners.
Kevin Foster loved his 2013 Beetle, his first diesel, so much that he named it Beatrice. "I believe in global warming and I thought I was doing my part to help succeeding generations," Foster, an engineer who lives in northern Tennessee, told HuffPost. "And it has all been a lie."
It's not clear if the automaker will ever recover its good name. A longtime company insider and the highest-paid CEO in Germany, the 68-year-old Winterkorn is known to be extremely attentive to details; his organization was run in a very top-down, centralized manner.
"I am not aware of any wrongdoing on my part," Winterkorn said during his statement on Wednesday.
We don't know if that's true or if he knew about the cheat devices -- but in the end, it did not matter.
"You may not have known about the iceberg, but you still need to be looking for it," Donaldson said.
Winterkorn dutifully delivered his apology the day before he stepped down. "I'm very sorry, I'm utterly sorry," he said in a video statement, a stunning acknowledgement that the automaker had knowingly cheated its customers.
"Manipulation at VW must never happen again," Winterkorn said on Tuesday. "I am endlessly sorry that we betrayed the trust. I apologize profusely to our clients, to the authorities and the entire public for the wrongdoing."
Volkswagen said on Tuesday that as many as 11 million vehicles were installed with the cheat software. The program was engineered to sense when emissions were being tested. When there was no testing going on, emissions of nitrogen oxide were 40 times the legal limit. The chemical leads to smog, which is connected with asthma and other respiratory illnesses, as HuffPost's Jo Confino reported Monday.
For much of 2014, VW officials told regulators that the emissions issues with the diesel cars were just a glitch, according to The Wall Street Journal.
A New York Times graphic explains how it worked:
The device appears to be relatively simple, but the fallout is going to be exceedingly complex. The New York State attorney general, along with his peers in other states, are investigating; the Federal Trade Commission, too, may begin an inquiry. Customers are looking for payback.
The German government has also launched an investigation into VW, and YouGov found that the company's perception has suffered even more in its home country.
A task force led by an external investigator is also prepared to look into the case, VW announced Wednesday.
Still, automakers have proven to be a resilient group. It took Toyota a little more than a year to recover its brand perception after it faced a huge cover-up scandal over cars that suddenly accelerated, killing passengers, said a representative from YouGov.
In the end, the VW situation may actually be worse than Toyota's, which didn't intentionally design vehicles to fail, Donaldson said.
But buyers have been through this before, and some won't be put off by this scandal -- sticking by a company with a reputation for making safe, quality cars.
"When a company says to the people it is trying to build trust with that it's been cheating," that's particularly egregious, Donaldson said. "What takes years to cultivate can be destroyed in the blink of an eye."
Popular in the Community