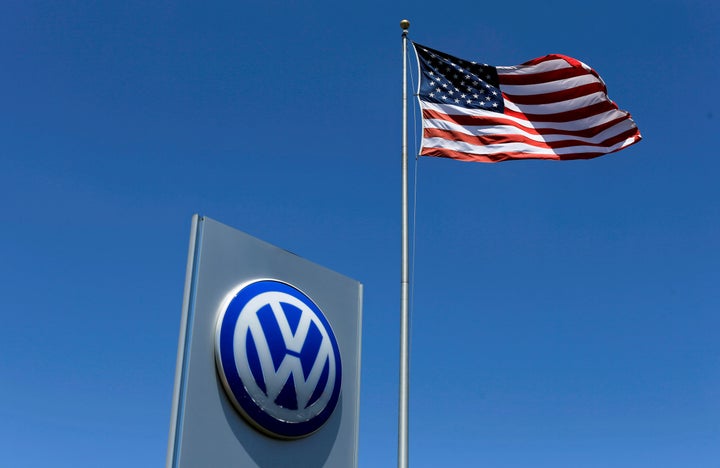 WASHINGTON, Jan 11 (Reuters) - Volkswagen AG has agreed to plead guilty to U.S. charges it cheated on diesel emissions tests for a decade, accepting the largest fine on an automaker ever, while a federal grand jury indicted six former VW executives for involvement in the conspiracy.
Five of the six former Volkswagen executives are in Germany and it is unclear if they will come to the United States to face charges. One of the six, Oliver Schmidt, who was a manager in charge of VW's environmental and engineering office in Michigan, was arrested in Florida on Saturday.
The six held "positions of significant responsibility at VW, including overseeing the company's engine development division and serving on the company's management board," U.S. Attorney General Loretta Lynch said, declining to say if any higher level executives could face charges. "Over the course of a conspiracy that lasted for nearly a decade, they seriously abused those positions."
On Monday, Schmidt was accused of conspiracy to defraud the United States over the company's emissions cheating and the automaker was charged with concealing the cheating from regulators.
According to documents filed in U.S. District Court in Detroit, VW will pay a $1.5-billion civil fine and $2.8-billion criminal fine. It would have faced higher fines if it hadn't agreed to spend an estimated $11 billion to address consumer vehicles.
After the company pleads guilty to the three-count felony criminal information - conspiracy to commit fraud, obstruction of justice and entry of goods by false statement - it will be formally sentenced.
VW admitted that six unnamed supervisors between 2006 and 2016 agreed to mislead regulators and customers about the standards. The Justice Department said VW officials told engineers in 2012 to destroy a document that detailed the cheating and that lawyers prodded employees to destroy documents.
VW will face oversight by an independent monitor for three years and has agreed to make significant reforms. The company agreed to fire six employees, suspend eight and discipline three who participated in diesel misconduct. The agreement still must be approved by U.S. District Judge Sean Cox in Detroit.
The world's second-largest automaker confirmed Tuesday it had negotiated a $4.3-billion concrete draft settlement with U.S. regulators to resolve its diesel emissions issues and plans to plead guilty to criminal misconduct as part of the civil and criminal settlement.
The VW plea agreement says the automaker could have been fined as much as $34.1 billion for its criminal conduct.
Volkswagen had previously agreed to spend up to $17.5 billion in the United States to resolve claims by U.S. regulators, owners and dealers and offered to buy back nearly 500,000 polluting vehicles. The automaker was in intensive talks with regulators in recent weeks in an effort to reach a deal before the end of the Obama administration.
Without a deal by next week, a final resolution could have been delayed by months until the Trump EPA and Justice Department teams are in place.
VW admitted in September 2015 to installing secret software in hundreds of thousands of U.S. diesel cars to cheat exhaust emissions tests and make them appear cleaner than they were on the road, and that as many as 11 million vehicles could have similar software installed worldwide.
Much of the company's senior management departed following the scandal, including chief executive Martin Winterkorn.
(Reporting by David Shepardson in Washington and Andreas Cremer in Berlin; Writing by Doina Chiacu; Editing by Chizu Nomiyama and Nick Zieminski)
Related
Popular in the Community