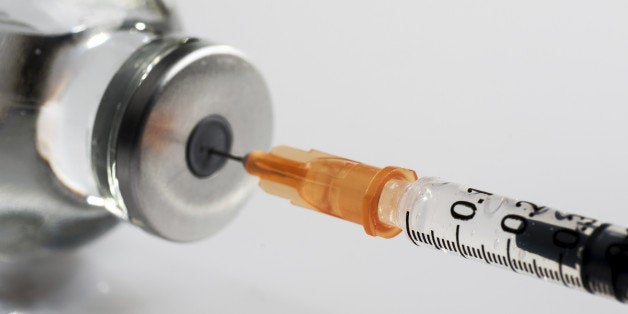 A 48-year-old communications and engagement manager in the UK's National Health Service became the first volunteer to receive a candidate Ebola vaccine today in a safety trial. The vaccine is currently being developed by GlaxoSmithKline and the U.S. National Institutes of Health.
The woman, Ruth Atkins, is one of 60 volunteers to participate in the trial, which is being conducted by researchers at the University of Oxford. She received the vaccine this morning (Sept. 17).
"I feel absolutely fine, it felt no different to being vaccinated before going on holiday," said Atkins about an hour after receiving the vaccine, according to a statement.
The vaccine Atkins received works against the Zaire strain of the Ebola virus, which is the strain currently affecting West Africa. This particular vaccine contains a single protein of Ebola virus, which is used to goad an immune response. However, the vaccine is not able to give someone Ebola because it does not contain infectious virus material.
The vaccine was administered as part of a safety trial, meaning its purpose is to make sure there are not unknown side effects and that the vaccine spurs an adequate immune response (the vaccine had already been shown previously to work in primates). Other trials are also running at the same time through the National Institute of Allergy and Infectious Diseases.
According to the most recent case counts, there have been nearly 5,000 cases and nearly 2,500 deaths from this Ebola outbreak, with most cases and deaths occurring in Guinea, Liberia and Sierra Leone (though there have also been cases in Nigeria and Senegal).
For a look at how Ebola has spread throughout West Africa so far, check out the interactive graphic below:
Source: World Health Organization