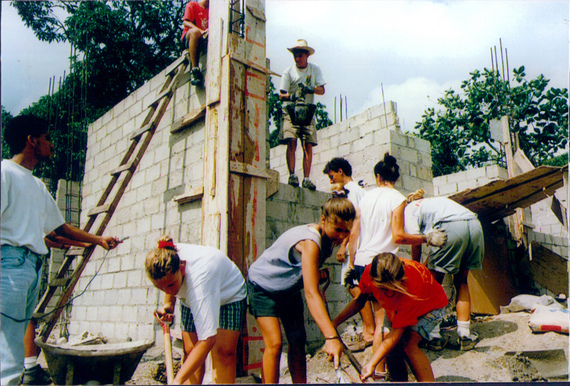 Credit: Visions Service Adventures
Voluntourism needs introverts
Voluntourism has a bad reputation. It's supposed to help vulnerable communities, but often it seems like the only people to benefit are the volunteers, who get new content for their resume and photos for their Instagram. When it comes to making a difference, voluntourists are accused of only having shallow impact.
Introverts don't do shallow. They're bad at small talk and thinking on the spot. They're good at putting thought into work and getting to know the people we're doing it for. Voluntourism could do with more introverts, but the intense, constant proximity to other humans can be a real nightmare.

An introvert's nightmare
You meet your team members for the first time. The team leader, a bouncy twenty-something, has planned a day of team-building exercises for you all. You wonder what you've gotten yourself into as you soldier through a day of introductions, ice-breakers, role-playing, and competitions.
Work hasn't even begun yet and you're already exhausted. Unfortunately, you're staying in dorms with all the team members you've just spent the day with, most of whom seem eager to stay up all night getting to know each other even further. Or, perhaps you're staying with a local host family, and now you have to go and begin the introduction process all over again.
The next day is the start of your project. The rest of your team seem bright-eyed and bushy-tailed, while you're still feeling drained from yesterday. You want to do your best, but the local project team have arrived - yet more people you have to introduce yourself to!
Construction and teaching are two of the most popular ways to volunteer abroad. Either way, alone time is looking like an impossibility. As you fight to get your students to pay attention, or try to make yourself useful as your team scurries about with building materials, you start to feel too drained to function.
Volunteering abroad can be an introvert's nightmare. Intense teamwork, shared living spaces, and people-heavy projects, all in a foreign land without a familiar hideaway to escape to, may leave you feeling trapped in an energy-sapping vortex.
I'm speaking from experience as a volunteer and as an introvert. I once faked sickness to have a day off from a team of fellow volunteers. On a teach English program I had a minor breakdown from the routine of talking to classrooms full of unruly students for hours on end.
Yet I still want to volunteer - I'm just a bit smarter about how I do it. I'm picky about living arrangements, I keep boundaries with teammates, and, most importantly, I pick a role that's right for me.
Most of the organizations that run volunteer programs are looking to save money, so shared accommodation is the norm. If the idea of living, eating, and sleeping with the same people you work with sounds hellish, there's always living with a nurturing, inseparable host family. Actually, that must sound pretty hellish too.
It was only when I arrived at my volunteer placement in Chile that I found out about Chilean family culture, which expects relatives and guests to spend all their spare time together. You can imagine how cloying that was. I spent a lot of time on the sofa hiding behind my laptop in an attempt to be social without actually socializing with my hosts. I might have been better off in a country with a more private family culture. It's something that's worth Googling before you agree to move in with a family.
I've never been on a placement without a bedroom to myself, and in an unfamiliar culture surrounded by new people I don't think I could survive without one for more than a week. Luckily, even in dorms and host houses you might get a private room to recharge in, but check whether the organization you volunteer with guarantees this before signing the next year of your life away.
There are a few ways to survive volunteering in a team as an introvert. Remember that first impressions don't count for much. Just because you didn't make the biggest impact during ice-breaking doesn't mean you won't have a good relationship with your teammates. Volunteer placements tend to be short, so it can be extremely frustrating feeling like you're being drowned out by more outgoing volunteers and not getting to make the most of your time. Talk to a team leader privately if you feel you're not contributing as much as you want to.
The most crucial thing is the volunteering itself. The images that spring to mind when you think of volunteering abroad tend towards teams of students digging wells, or teaching English to kids, but there's a wealth of different projects out there, plenty of which are better suited to introverts than extroverts.
Local projects and international organizations all need social media, graphic design, writing, research, data entry, and admin. Spending three months in Uganda doing data entry might not look as good on Instagram as building a school, but then introverts tend to be less concerned about selfies than about doing a good job. That's a quality that the disreputable voluntourism industry crucially needs at a time when volunteers are often accused of putting their own experiences before the good of the community they're supposed to be helping.
My first volunteer abroad project was in a small team doing research in a university basement, and I loved it. That doesn't mean you have to be confined to a basement or even a desk job just because you're an introvert. WWOOF and WorkAway are two networks that allow individuals and small businesses to connect with volunteers around the globe. Accommodation is usually with a host family, although I've seen quite a few offering volunteers their own little caravan to sleep in.
Spending a day working on a farm with just nature and your own thoughts, a caravan to yourself, and with your hosts nearby for when you feel like socialising, sounds more like an introvert's dream than a nightmare. With a bit of research you can find a project like that, or another that's a good fit for you, and help make life a little better for someone.
Related