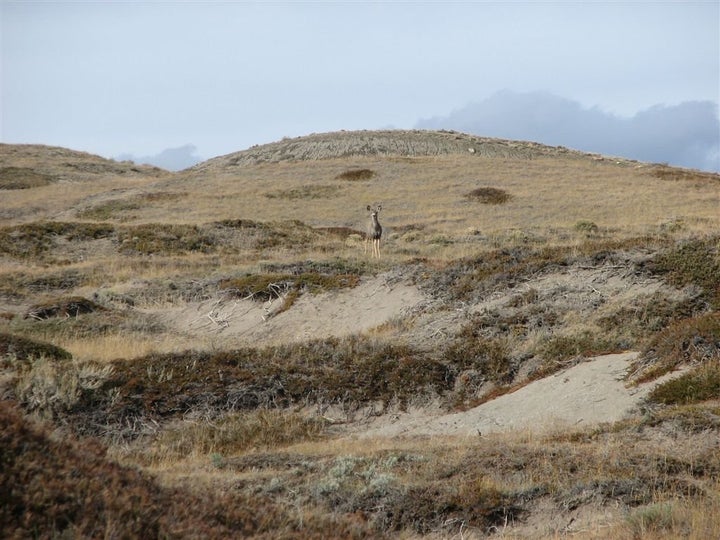 The warning signs about bears in Glacier National Park were enough to scare my seven-year-old daughter into the next state.
To calm her nerves, I had to promise the equivalent of a whole candy store of booty if she actually saw a bear. I figured our chances were next to none of sighting one. When we did shockingly run smack up against a bear cub, we had to move her from elation at her candy-filled future to the appropriate back-stepping distance. "Let's back away from the bear, honey."
Bears and cavities were hardly the only dangers we faced this summer as my husband and I packed up our kids for a seven-week, 5,500-mile trek across the country. Beyond mere survival, what did we hope to accomplish and what did we learn?
First, my somewhat idealistic purpose in taking the trip: I work at Points of Light, the nation's largest volunteer network, and I'm passionate about my job. But it's hard to explain to my kids exactly what I do and why it matters. Maybe it was a crazy idea, but my husband and I decided to share the country with the kids and introduce them to my work, one volunteer at a time.
From Buffalo, N.Y., to Portland, Ore., I had 64 meetings with volunteers, leaders, partners and funders in 12 cities. My husband and kids joined me for occasional volunteer service projects or meetings with inspirational volunteers, but they had a parallel journey visiting zoos and science centers and swimming pools across the country. We met up for barbecue, deep-dish pizza and other regional specialties with high fat and carbohydrate counts. During the weekends and my days off, we went to parks, lakes and famous landmarks together.
Before you get the wrong idea, let me confess a few things. Our minivan had a video player. And we used it. Generously. My kids watched the Harry Potter series through Pennsylvania farmland and the Cascade Mountains. In fact, I think they watched it twice. We did not sing road songs together or play travel bingo. We argued about how many minutes of reading they had completed. And we made promises of ice cream to get through meetings and long drives.
While we were great students of all the museum and national park introductory videos, our factual acquisition of American history, geography and culture was... marginal. Instead, here's what we learned (or re-learned) together.
We live in a magnificent and enormous country. When you are doused with the mist of Niagara Falls, plunge into Crater Lake, climb buttes in the Badlands and hang out the window to catch melting snow on Glacier's Going-to-the-Sun Road, you really can't help but be impressed. I believe that my children now understand at a level that you can only get by driving and driving and driving, how big our nation is and how physically grand.
Our country is rich with regional diversity. Going to a game at Cincinnati's Great American Ball Park and Chicago's Wrigley Field are different experiences -- both fun, by the way. People in Wisconsin eat cheese curds and really, really good custard. When you swim in a stream in Montana, it can be so cold it actually hurts. The lakes where we canoed and swam in Minnesota will freeze so hard that trucks will drive on them in just a few months. Being from Georgia, my kids found this particularly hard to fathom.
Americans are gracious and hospitable. When you travel across the country, you experience the warmth of Americans who love where they live and want to show you why. We were hosted on a moonlit canoe paddle in Minnesota, an afternoon of fly fishing in the Bighorn Mountains and a hike through a family cherry orchard in Washington.
My greatest hope is that my kids will have been deeply impressed by the generosity, kindness and optimism of Americans. We met Dani Swope and repaired books at The Children's Book Bank she started with gifts of her own children's books. She and other volunteers give away 96,000 books a year. We tromped with Margie Taylor and 150 volunteers in Wyoming to create a new 12-mile trail in the valley of the Bighorn Mountains. We talked with Russ Porter, a retired GE executive, who told my kids how he bathed the feet and cut the toenails of 1,000 homeless men and women every year and that it is the best "job" he ever had.
It will likely be 20 years before we know what our kids really got from their summer vacation. But I can only hope that their understanding of our family as a mobile, traveling unit seeking adventure and meaning will take root along with little seeds of wanderlust, and that the bounty and generosity of our country will make a lasting impression.
Popular in the Community