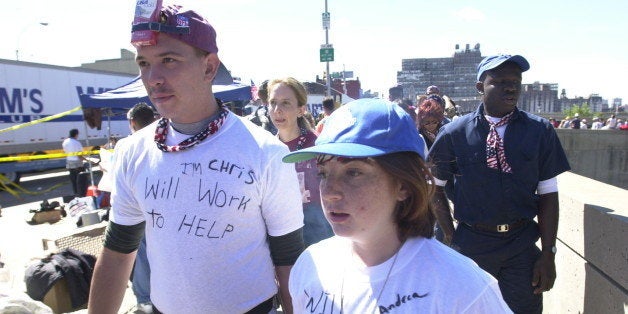 We know that national tragedies have the power to unify a diverse country. WWII, 9/11, and Hurricane Sandy have revealed that reality. In the aftermath of 9/11, we saw the volunteerism rate in the U.S. jump to 28.8 percent, support of governmental institutions was higher than at any time in decades, and many Americans felt connected to one another. But, moments of national unity can be transient. They sometimes arrive like an unexpected gust of wind in the night, rushing in, only to dissipate just as quickly.
Today, the volunteerism rate has dropped to 25.4 percent, the federal government has ground to a halt, and the Millennial generation has the least trust in their neighbors of any other generation currently living. As we look back during the 9/11 National Day of Service and Remembrance, it's clear that we have not fully lived up to the ideals we so loudly proclaimed after that tragedy.
But, we can be a nation more unified and connected if we commit to those goals in the calm times between tragedies when lasting societal change takes root.
To turn the tide, each of us can begin taking small actions that have significant returns for us individually and for our country. A good place to start is by volunteering or by committing to a Service Year should a full year of national service be possible.
Volunteers and service members are critical to connecting people and strengthening communities. They are the lifeblood of our schools and shelters, hospitals and hotlines, and nonprofit and civic groups. They do hard but necessary work: helping students stay in school, rebuilding communities after disasters, connecting veterans to services, bringing life back to forgotten neighborhoods, and much more. AmeriCorps programs like City Year, Habitat for Humanity, Play Works, and countless others foster individual connections that are powerful and important.
Over the past two decades, a growing body of research has also established a strong relationship between volunteering and physical health. Those who volunteer have greater longevity, higher functional ability, and lower rates of depression because they feel more connected to their community. The power of this connection cannot be underestimated.
Indeed, the impact of volunteering and national service goes far beyond those benefits. Volunteering and other forms of civic engagement improve our communities. For example, we know that the ten states with the highest social cohesion and nonprofit density had unemployment rates four percent lower during the recent Great Recession than the bottom ten states. And, the nonprofit groups that mattered the most in those states where those with strong memberships like faith-based groups, sports clubs, PTAs and others. These types of groups create community connections that provide us with the networks and services that are critical during difficult times.
As Americans take this week to reflect on 9/11, let's also remember that each of us has the power to help our communities thrive. By being more active citizens, we can ensure that the United States remains a nation constantly striving for greater unity and civic health.
This post is part of a series produced by The Huffington Post and The Franklin Project at the Aspen Institute, in conjunction with both 9/11 (designated a national day of service & remembrance) and the 20th anniversary of AmeriCorps (9/12). The Franklin Project envisions a future in which a year of full-time national service -- a service year -- is a cultural expectation, a common opportunity, and a civic rite of passage for every young American. The Franklin Project is chaired by General Stanley McChrystal. To learn more about The Franklin Project, watch this video.
Calling all HuffPost superfans!
Sign up for membership to become a founding member and help shape HuffPost's next chapter