I have never done anything like this in my life. On a whim, I decided to defer my MD/PhD program to volunteer in Bolivia. I was hoping to make at least a small difference in someone's life. Moreover, I aspired to acquire skills available only to those who explore less conventional paths.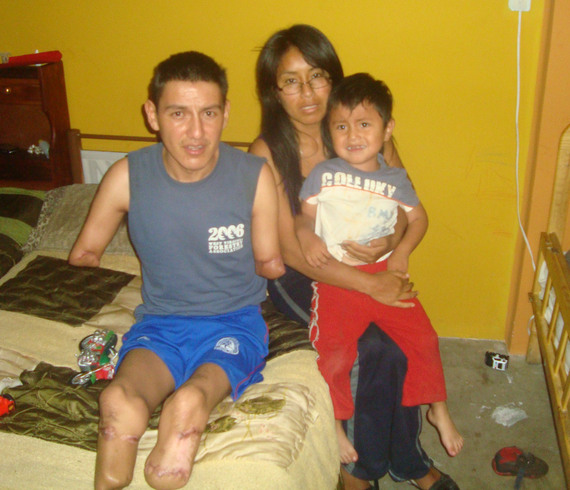 With a little of my own savings and the help of a crowd-funding campaign, I bought my ticket to South America and landed in my new home mid-October last year.
When I arrived at the prosthetics clinic in La Paz, Bolivia, there was only a cluttered, scanty assortment of tables and equipment. The clinic, Centro de Miembro Artificiales (CMA), lost their prior location and was forced to move; the workshop had to be entirely rebuilt.
November and December were frustrating. CMA did not have the funds to buy many materials, so there were often boring leisure days. I had to use my visa time as effectively as possible so I decided to leave Bolivia in mid-December.
As luck would have it, another volunteer project found me that required travelling around South America. Good friends of mine, Sadegh and David, had brought an adjustable glasses project to my attention. They wanted to spearhead distribution somewhere in the continent. My job was to find suitable locations to disperse and test the technology.
The glasses are truly revolutionary. They are cheap and adjustable, allowing users to continuously refine their prescriptions simply by rotating knobs on either side of the frame. They are ideal for people in remote locations, eliminating their need to travel many hours -- or days -- to the nearest optometrist.
Shortly after beginning the project, I befriended a doctor in La Paz who helped me interview patients at a public eye-health center. Profoundly humbling stories were commonplace. Many had travelled hundreds of kilometers just to reach La Paz in hopes of finding eyeglasses. One man broke down in tears. He said he could not get glasses for his little girl. We wanted to help him but he was too distraught to complete the interview. We ended up having to use his 7 year-old daughter to finish the interview and get his contact information.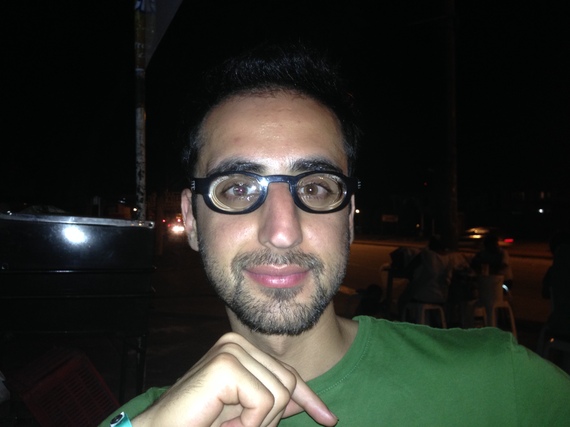 We then trekked to various towns in of northern Bolivia and Southern Peru, seeking reactions to the technology and local officials who could help us run distribution campaigns. Many of the reactions to our glasses were nothing short of astounding.
At a restaurant in the country town of Chivay, Peru, I gave a demonstration to our waiter.
"Esto es una maravilla! (This is a marvel!)" It was clear this man had not worn glasses for many years.
"Completamente claro! (Completely clear!)" he exclaimed with giddied excitement. Like a child on Christmas morning, he hurriedly ran to show the glasses to another waiter. Reactions like his have revealed just how life-changing this device could be for so many people.
In March I returned to La Paz to work at CMA again. As soon as I walked through the door, it struck me that everything had changed. The staff size had doubled, there was more equipment, and best of all, there were patients visiting regularly. While I was away, funds had finally reached CMA, and the amazing leadership at the clinic had restored it to functioning order.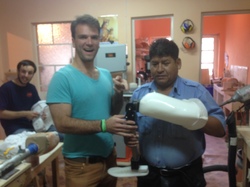 Many of the people we saw had been quoted $8,000 or more for a new leg. In a country where the average income is less than $400 per month, that price is simply out of the question. Fortunately, CMA produces high quality legs and gives them away for free, with a total material cost of about $200. Most of the operations at the clinic are carried out by generous volunteers. It is not surprising that the novelty of free prosthetics often draws patients with the most incredible and heartbreaking stories.
"If I hadn't found out about your center, I would have committed suicide" confessed Carlos.
Carlos lost his leg in a car accident. He could no longer work and became hopelessly angry with the world. He took his anger out on his family and alienated them. He found himself abandoned and left with nothing. Years later, Carlos' son called him and told him about a TV ad he saw for CMA.
When Carlos first arrived at our clinic, he told us, "I don't have anything, I live alone now. All I want is to die."
Our clinic manager, Ivonne, found herself playing therapist.
"Everything happens for a reason. You have to make something out of what you've been given. You have big work to do, find out what that is."
"My family doesn't love me," responded Carlos.
"Your family loves you. But the problem is you don't put yourself in their shoes, and they do not put themselves in your shoes."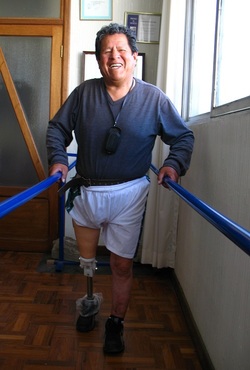 Carlos was eventually fitted with a new leg. He had an immense ear-to-ear grin as he finally walked out of the building. Three months later Carlos called Ivonne. He was now the president of the handicap society in Oruro, Bolivia.
"You see, if this had never happened you would never have been able to become the president of that group!" exclaimed Ivonne.
Now, whenever someone from Oruro calls, Ivonne tells them to go to Carlos first. He makes the patient file in Oruro before the person comes to us. In fact, he has since done so much impressive work with the handicapped, he received a prize from the governor in Oruro. I was so glad to finally see the profound impact our work at CMA was having.
I am proud to say that my work in South America has noticeably transformed many lives, including mine. I have learned fluent Spanish, a fact that surprises me every time I open my mouth to speak it. I have learned that productive change does not come unless someone actually expends effort to create that change. And I have learned that a risky and challenging change in plans can be one of the most rewarding decisions in life.
Calling all HuffPost superfans!
Sign up for membership to become a founding member and help shape HuffPost's next chapter