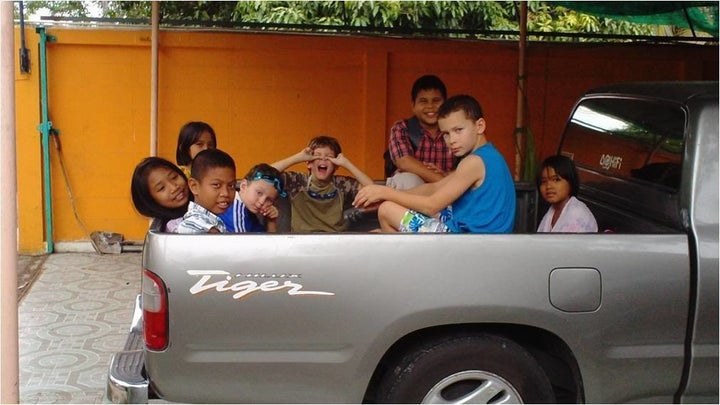 One of the more recent additions to the themes at this time of year is "Giving Back." It's important to have an "Attitude of Gratitude" and remember the "Reason for the Season." This is all lovely, but you know what people really hear? "Here's more pressure" and "Put something else on your to-do list!" I'm guilty of that myself.
At the holidays, the reasoning goes, we are giving so many material belongings that we should give the less tangible stuff too. As if we weren't busy enough. Well, I have a better idea.
For decades, my husband and I were in school. We were busy racking up the kind of debt that had us just dreaming of traveling. We imagined showing our kids the world, getting to know people and places that would open all of our eyes to the variety of... everything.
Have you ever gone to another country even though you didn't know anyone there? Whether it's Jamaica, Borneo, England or anywhere else, seeing the "real country" and meeting the "real people" can be a challenge. The tourism industry is so well thought-out, most places manufacture a shop-and-stay extravaganza with English speakers to serve you and sell to you.
There's a solution to this, too.
Tack on a couple of extra days and volunteer someplace while you're there. With your kids. What?! You feel shocked and betrayed? Don't click away yet. This is a solution to more than one problem. Not only will you get to see what this country is really like and meet people who don't hope to sell you anything, you will also get the holy grail of parenting.
You will raise a family that expects to make the world a better place.
People the world over complain about American tourists. We're rude, demanding and culturally clueless. Well, the world goes out of its way to recreate the American experience so that we will spend lots of our currency in their economies. Who can blame them? But honestly, who can blame us, either?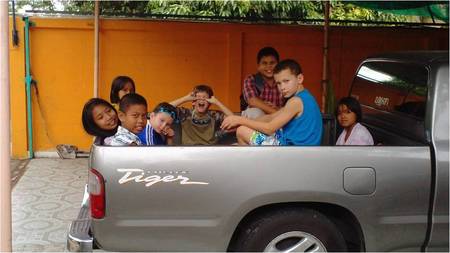 Our family got the opportunity to go to southeast Asia last month. We spent time in three different countries and we did our share of shopping and riding elephants, marveling at snakes and snorkeling.
We also found a place we could volunteer with our kids for a few days. We took an overnight bus ($6 each) to Buriram, Thailand and lived at Tree of Life Orphanage. We did some cleaning and cooking and organizing, but we mostly just played. We met 14 really special kids and the adults who love and raise them. Our kids also did some cooking and cleaning and organizing, but mostly they made friends and they learned. What did they learn?
The 10-year-old said: "There are a lot of different people and not all of them are as lucky as we are."
And the 8-year-old: "I know it's the right thing to do, but it can also be fun to volunteer places!"
The 6-year-old: "The kids at the orphanage were the best part of our trip."
The 4-year-old: "Playing is playing."
Whether you're going to another country or just another town, look for a way to make a difference while you're there. Stop by a soup kitchen and set the table (call ahead). Drop off a bag of clothes at the local Goodwill. Spend a few hours with Habitat for Humanity. Teach our kids that seeing the world is not just about spending money.
There are a lot of reasons not to volunteer. Logistics and finances and our own anxieties are not least among them. But we can't fool ourselves -- our kids are not a reason to put it off. They are actually the best reason to find a way to do it.