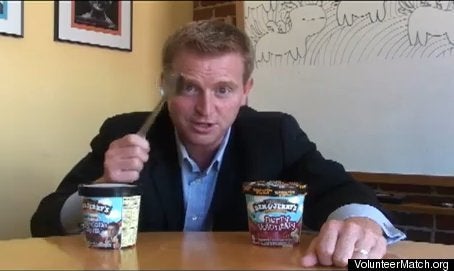 Not satisfied with having its own Ben & Jerry's ice cream flavor, VolunteerMatch has challenged Stephen Colbert to a personalized ice cream taste off.
VolunteerMatch recently teamed up with B&J and Target to create Berry Voluntary, a raspberry cheesecake-flavored ice cream with white chocolate chunks and raspberry swirls.
Scrumptious as it sounds, VM president Greg Baldwin clearly wants the world to agree with him on its superiority to Colbert's AmeriCone Dream, a vanilla ice cream with fudge-covered waffle cone pieces and caramel swirl. VolunteerMatch personnel were even spotted heckling Colbert Report fans on the streets (h/t Fast Compan).
In the YouTube-posted taunt below, Baldwin declares war:
"I challenge you man to man, spoon to spoon, cone to cone, 'who really has the better ice cream flavor?'"
And then delivers a sucker punch:
"Every day thousands of people log on to VolunteerMatch to help others. And every day, thousands of people tune into the Colbert Report because they forgot to turn off their TV sets after the Daily Show."
WATCH Greg Baldwin's 'Spoon to Spoon Challenge' below:
REAL LIFE. REAL NEWS. REAL VOICES.
Help us tell more of the stories that matter from voices that too often remain unheard.