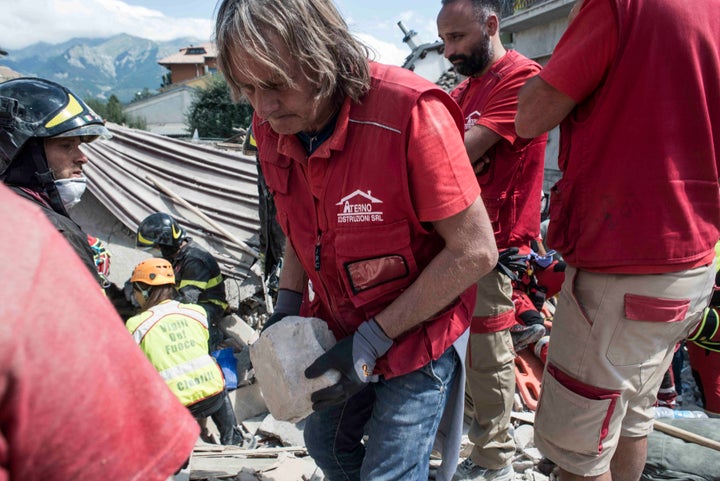 PESCARA DEL TRONTO, Italy, Aug 25 (Reuters) - Within hours of the earth shaking and houses collapsing, thousands of volunteers from all over Italy had descended on the country's stricken central mountains to bring what help they could.
Some were specialist rescuers, who train in their spare time to search for the living and the dead, others were young men and women from nearby communities who just wanted to lend a hand.
The Civil Protection Department said that of the 5,400 people working under its command in the quake zone, including police, soldiers and firemen, more than half were volunteers.
"We dedicate all our free time to training, often to the detriment of our families. Many of us are divorced," said Paolo Cortelli, a member of the Alpine Rescue national service who is a veterinarian by profession and comes from the nearby city of Terni.
The magnitude 6.2 quake hit before dawn on Wednesday, wreaking havoc on a cluster of towns, villages and hamlets in the heart of Italy. By Thursday, the death toll was put at 241.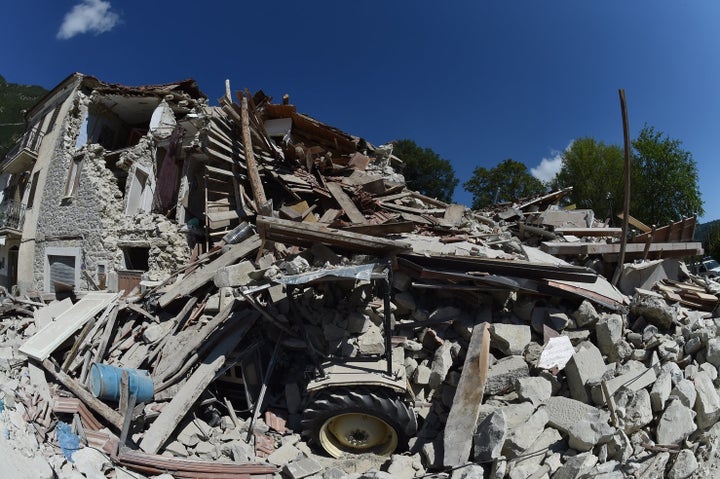 Allies such as Germany, France and Israel all offered to send teams to support the disaster relief, but the government politely declined, saying its hugely experienced emergency service and army of unpaid workers did not need any back up.
Pescara del Tronto, a small town perched on the side of a mountain valley, was flattened by the quake, homes folding in, one on top of the other. The majority of men and women who were digging through the dust and debris were volunteers.
"We have helped dig out six or seven corpses," said Marco Palatroni, 23, who had driven over from his hometown about 40 minutes away with three of his friends to lend a hand.
"I didn't think it would be as dramatic as it seemed on television, but now I think it is even worse."
Palatroni and his friends brought blankets, food, clothes and water to hand out. Other volunteers came wearing motorcycle helmets instead of hardhats, wearing T-shirts and tennis shoes.
The fire department chief directing rescue operations in the village, who asked not to be named because he was not authorized to speak to the media, welcomed the help of the young people and especially appreciated the expert work of the specialist volunteers from the Alpine Rescue and Civil Protection.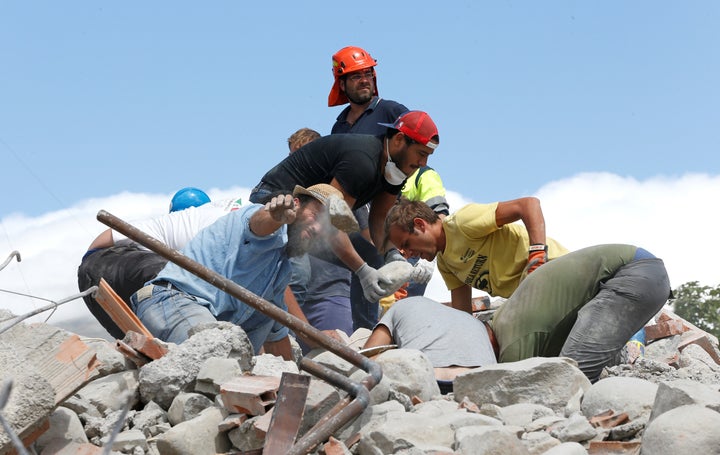 "In the first 24 hours, it's a big help to have all the volunteers we can get, because time is of the essence in an emergency," he said.
Three dogs from the Alpine Rescue searched for human scent below the crumpled rubble, helping to find more than 20 bodies on Wednesday, said Cortelli.
Two dogs, both Belgian Malinois Shepherds, were flown down by helicopter from northern Italy. Ax, a male, and Babi, a female, searched what was left of the town, sniffing between the heaps of shattered brick, terra cotta, wood and concrete.
They signalled areas where human smell was still present. Afterward, the volunteers went to work digging, with their hands, with axes, chainsaws and hammers.
"The dogs detect the odour of the living. The dead have a totally different smell, but they retain some of the smell of the living for a few hours," said Cortelli.
Some of the volunteers were veterans of the rescue effort in Italy's last comparable quake, which hit the central city of L'Aquila in 2009 and killed more than 300 people.
"This is worse than L'Aquila," said Stefano, 41, who had driven to the quake site some 70 km (45 miles) from his home. "This place is just a pile of rubble. There is nothing left."
(Editing by Crispian Balmer)
REAL LIFE. REAL NEWS. REAL VOICES.
Help us tell more of the stories that matter from voices that too often remain unheard.