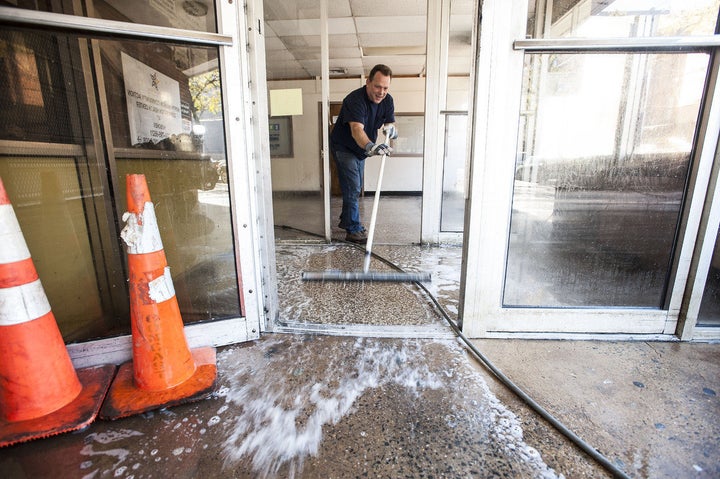 In Hoboken, N.J., a team of 20 volunteers for NECHAMA Jewish Response to Disaster worked to remove damaged furniture and equipment and clean up oily sediment from a multi-use community center flooded by the storm.
"The response has been immense and volunteers have really been digging in," Driscoll said. "We've been joking, calling ourselves 'Defenders of Democracy.'"
Driscoll, who traveled from Massachusetts to help in the relief effort, said that volunteers have come from as far away as Minnesota to help out at the polling place, as well as at two other clean-up sites managed by the organization: a synagogue and a food pantry, both in Hoboken.
NECHAMA provided on-site leadership, safety training and equipment -- including gloves, respirators, eyewear and tyvek suits -- to volunteers, Driscoll said. The organization also provided lodging and meals to volunteers that have traveled to help.
While sediment laden with oil, possibly from cars that were wrecked by the floods that inundated parts of Hoboken last week, covered the sidewalk outside the center and some of its floors, Driscoll said that no heavy duty equipment had to be deployed in the polling location clean up.
"With disaster work, there is always risk," he said.
State and local governments have scrambled to accommodate voters for Tuesday's election. In New York City, 59 polling places that are without power or suffered severe damage due to the storm were moved, The Daily News reported. But Mayor Michael Bloomberg was skeptical of the plan's efficacy, saying he had "absolutely no idea" if it would succeed.
New Jersey is allowing residents affected by the storm to vote via email or fax, and the state is using military trucks to replace damaged polling places. Electronic voting is already open to overseas New Jersey residents and those in the military.
PHOTO GALLERY
Storm Ravaged Hoboken Polling Place Prepares
REAL LIFE. REAL NEWS. REAL VOICES.
Help us tell more of the stories that matter from voices that too often remain unheard.
BEFORE YOU GO
PHOTO GALLERY
Hurricane Sandy