We totter up an incline lined with flaming torches, regaled with the sound of Tibetan gongs. We arrive at an ante-chamber where a girl in bondage is flanked by two semi-nude women with hair covering their faces like human Llasa Apsos, as lunatic cackling bounces off the walls. It could be a meth-fueled vision of an 18th century madhouse. Welcome to the Robert Wilson Annual Watermill Summer Benefit, this year intriguingly titled "Voluptuous Panic."
On a midsummer Saturday dusk, Route 27 in the Hamptons becomes a crush of cars filled with teeth-gnashing partyers -- in fact, with crowds out here at the tipping point, more folks, like overstimulated rats, fall into lethargy and just stay home. But few would dream of passing up the Robert Wilson benefit, inarguably the hottest ticket among summer events in the Hamptons. At least for those with $500 to shell out for cocktails. If you're a Distinguished Benefactor, $50,000 will nab you dinner, an auction, and dancing for a table of ten. Income inequality in the U.S. may be at an all-time high as we edge toward banana republic-dom -- but ain't no one protesting at the Watermill shindig.
At 70, Robert Wilson has long been a monumental figure in the arts, an interdisciplinary visionary who combines music, the visual, dance, deconstructed language, and arresting stage craft to create mind-expanding theatrical events. Summers find him in a mentoring mode, hunkered down in the Hamptons at his Watermill Center with an international group of young performance artists who live and work on the property. The Watermill Benefit features 6 acres of the guest artists' installations and on-site performances, billed as a mix of theater, art, fashion, design, and society. As in some adults-only fairy tale, visitors encounter the startling works as they wander the torch-lit woods. A benefit chair and Wall Streeter tells me the crowd in attendance is "major international society." Uncertain how to identity that particular subset, I parse the group as a mix of money -- both old (Southampton's Meadow Club); and new (Bridgehampton's upstart so there Atlantic Golf Club) -- art world players; the culturati; and women who wear sheaths so tight they locomote with a little shuffle. One tennis dude sports a Dali-esque tie called The Hallucinogenic Tormentor. Near a bar I spot Allen Cummings giving his rescue dog, Honey, ice water.
Other attendees include those willing to pony up the freight in hopes of spotting honorary chairs Sharon Stone, David Bowie, Bianca Jagger -- hell, at least Bob Colacello or a baroness.
Center stage in a large courtyard is American Peter Coffin's giant moving music box, a full size steamroller modified to generate music while rolling on sand, leaving a musical imprint in its path, like grooves in a normal-size music box. Worthy of wider viewing -- let's hope it encores at MOMA -- the work is a witty, surreal marriage of a gross machine and delicate chime-like music recording itself as it circles. It gets lots of love from viewers who would love it even more if they knew the steamroller runs on propane so there are zero fuel emissions.
Meanwhile on a clock high above the square a man in tights goes through acrobatic contortions, standing in for the clock's "hands. No visible safety net. A guest traverses the square, blabbering into his cell, self-important, oblivious to everything; he could be a logo for Hamptons Man. Of course this fellow could also be a piece of performance art, in which case, the joke's on me.
Venturing into the magic forest, I see:
a lady working out on a treadmill in a glade, as signage above her plays on the words exit-exist-exito
two shrieking fatties engaged in a pillow fight
a naked man repeatedly getting electroshock from a yelping creature who resembles Anthony Perkins's mother in "Psycho."
Through the trees a civilian vacation house is visible. They must get some interesting ambient sound.
While some guests think it's really cool to look for celebs among the art they're not sure is art, others walk around with a snarky smile... what the f --- ? For this I sat in traffic and paid 500 bucks? In fact, the response is entirely in keeping with Wilson's stated intention. According to an organizer, he wants people to inquire: "what is it?" As for the meaning of benefit theme "Voluptuous Panic," well, it remains elusive. As one organizer explains, "It evokes, you know... Each person performs their voluptuous panic." Yeah. Gotcha.
Award for most dismaying installation in the magic forest goes to two dudes buried standing up to their chins in the piney earth, with mikes set before them. Someone -- a guest, I think -- pumps water into one guy's mouth. It's hot as hell and apparently these immured souls, like something out of Endgame, depend on the kindness of visitors to get hydrated. Can't say the people out here aren't charitable. One imagines the artists at this point conjuring a different line of work.
Wending my sweaty way through the forest (at the entrance ladies can pick up a packet of "heel protectors") I arrive at a mini outdoor theater where a black guy harangues an audience with an angry rap verging on gibberish, behind him a bride veiled in white. Visitors listen attentively, either absorbed in the performance or defeated by the heat. A final installation called "Beware of the Woman," features a lady crouching in a dog house, a companion piece to a human doll at the entrance sporting mammoth boobs that all but topple her to the ground. Throughout, bondage, spandex, s/m, and face-concealing hair figure as common themes, lending the evening a frisson of naughtiness -- something in short supply, one imagines, among this well-heeled, aging crowd.
"It's a freak show," says a man. Me: "You mean, it's not art?" Him: "Yeah, it's art. The word pretentious comes to mind." An aficionado calls the evening "a wonderful smorgasbord of performance art," in contrast to the major operatic events for which Wilson is renowned. Says a more jaundiced observer: "In many respects the art here is recycled from the 70's." Well, it does evoke the Happenings and theater pieces of the 70's by Robert Rauschenberg and friends.
RoseLee Goldberg, director of arts organization Performa, comes up with the most informed judgment: the evening is not so much about performance art; rather, "it offers tableax vivants made by artists who were asked to do something for a party. Something fun and engaging."
Meanwhile, the guy up on the clock seems to have collapsed at 6:30. Time to get him down. My watch reads 8. Time for the hoi polloi to make a graceful exito, leaving the distinguished benefactors to dance under the stars.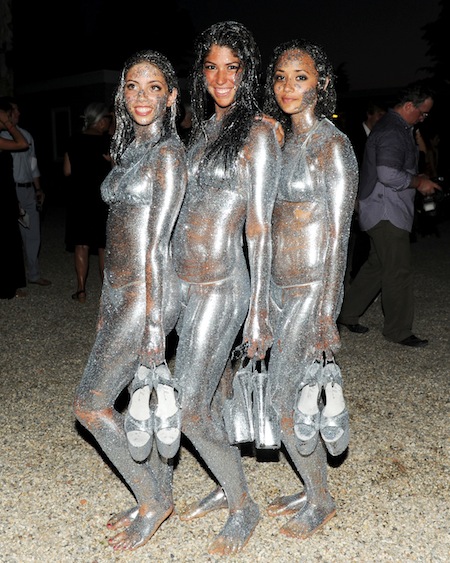 Calling all HuffPost superfans!
Sign up for membership to become a founding member and help shape HuffPost's next chapter