When high school student Kevin Sproles set out to create an e-commerce platform to help businesses sell goods online, anything was possible. He didn't yet have a brand, clients or expectations; he just had a goal. Unencumbered, Kevin proceeded to launch Volusion in 1999, an e-commerce platform that today powers over 40,000 stores and employs more than 450 people.

While Volusion continues to be a key player in the space, Kevin and a small team asked themselves the question, "If we started today, what kind of e-commerce platform would we build for budding entrepreneurs?" The answer was something that included fast and free, and to build it, they knew they needed a startup mentality- just like Kevin in 1999. That new product, Material, is now entering a closed beta test period and is expected to launch later this year.

Ken Jackson, VP of Product Development and Lauren Hill, Brand Manager are key members of the team that is developing and launching Material. I had a chance to catch up with them last week to get the story behind this impending product launch.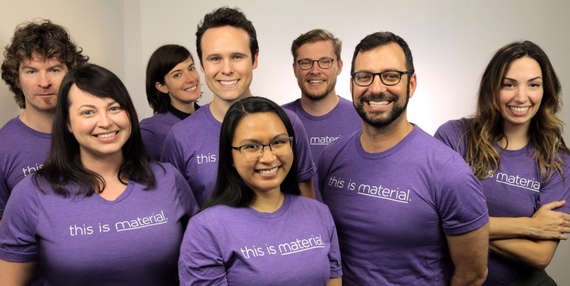 Leo Welder (LW): Where did the idea for Material come from?

Lauren Hill (LH): Our first ecommerce platform, Volusion, was founded in 1999 by our CEO Kevin Sproles. It's our parent company and the most feature-rich product we offer. We're a community of entrepreneurs, and always have been so this is our next great venture.

Ken Jackson (KJ): With the backing of our founder Kevin, we formed an Innovations Lab in 2013 with the mission to build an ecommerce platform with the most modern technology stack focused on the needs of budding entrepreneurs. The core tenets we are striving for are centered around building the most beautiful, simple, intuitive and smart ecommerce solution that grows with the needs of our customers.

LW: Why is this the launch of a new product and brand rather than an upgrade or new package of Volusion's main product?

KJ: Launching Material as a separate brand allows us to be more innovative, nimble and disruptive. We can be laser focused on core ecommerce functionalities without cluttering the interface with the swiss army knife of features that can be found in many other offerings including our own Volusion platform. Additionally, we want to get the product into the hands of our target audience and work towards market fit through their feedback and further user testing. This would be difficult to do with a much more mature product with an established user base.

LH: Our company is a culture of energetic and curious individuals. Material is brand that features modern content and focuses on the entrepreneurial experience; it's meeting a massive and rapidly growing demand for highly functional, fresh themes that have a content-rich bend. It lets innovative people do innovative selling.

LW: What did you see in the market that made you believe there was an opportunity for Material?

LH: There aren't many competitive existing freemium products that focus on ecommerce; most are mainly blog hosting or informational. There's a gaping hole in the marketplace.

LW: What makes Material better than the competition?

KJ: Material builds off the strength of our collective knowledge and experience in the ecommerce space. We've built a very powerful core feature set which blends both ecommerce and blog-like functionalities into a very easy to use and approachable package. We've strived to follow the mantra that if you have to ask a question, then we've likely done something wrong. Material will also see new and disruptive uses of AI and other community enabling features introduced throughout 2016 and beyond that will further differentiate us from our peers. The platform itself is highly performant, being entirely hosted in the cloud and run on the most modern tech stack in the industry. Lastly our freemium model and app marketplace means we can lower the barrier to entry while offering our merchants capabilities that grow as they grow.

LH: Our entire experience is built around ease of use for sellers and buyers alike. Very often that is not just transactional: it's brand-driven, and more user-friendly. Our sellers can have their own brand via our product, whereas most existing freemium platforms remove that element. We are also looking to build a stronger community for entrepreneurs, including a wholly integrated experience with the intention to maximize their success.

LW: What is your marketing strategy?

LH: Material is an entrepreneurial hub; we empower our sellers so their relationship with customers can be inspired and seamless. We do this by focusing on great peer content, guest blogging by sellers we love, no interruptions from ads, and a full experience that gives users a vibrant voice. It's simply and truly fun. We don't need to force or push the growth of the product outside of meeting user demand.

LW: Do you have some lessons or tips to share with entrepreneurs, especially those planning to create their own web application business?

KJ: Get feedback early and often. It's easy to get caught up building something that nobody wants or isn't focused on doing one or two things very well. Instead, build that MVP solution that you can put in front of real users and see what they think. Iterate from there and don't be afraid to scrap it if it's the right thing to do. Don't let pride get in the way by continuing to push for something that just isn't the best use of talent, money, time, etc. Conversely, don't get lost in analysis-paralysis. You have to be willing to put several ideas out there and see what happens. Worst case, you find that none of the ideas are worthwhile and you can scratch them off your list. Best case, you find a gem of an idea that your audience seems to care about and you can iterate from there.

LW: What is your long-term vision for Material?

LH: As the home of commerce for entrepreneurs, our vibrant experience and product offerings take only minutes to engage. Our vision is to build a product that creates success for entrepreneurs and will democratize commerce for all. When our customers are successful, Material is successful.
If it were ready today, Material would be the only product available that enables entrepreneurs without programming knowledge the ability to create a website and sell products on their own domain for free. I'm looking forward to watching this shake up the industry.
Calling all HuffPost superfans!
Sign up for membership to become a founding member and help shape HuffPost's next chapter