Star power and rapid-fire scheduling, with every day bringing us another big game, are considered key to marketing sports to the American fan.
While Major League Baseball grapples with length of its games, the focus will be on the big names -- Mike Trout, Bryce Harper and Clayton Kershaw -- not the top teams as we roll into the October postseason. The National Basketball Association, the pacesetter in how to hype match-ups and really sell a sport, draws eyeballs with LeBron, Melo and Kobe.
But how will an event that has no recognizable names and plays out over nine months fare with the regular sports fan? We're about ready to find out as the Volvo Ocean Race sets sail again.
The 12th edition of the around-the-world departs soon from Alicante, Spain, and ends in Gothenburg, Sweden, in late June 2015. With 11 ports of call and nearly 40,000 nautical miles, it's a voyage right out of Moby Dick.
High stakes sailing costs plenty of money. Just ask the syndicates that vie for the America's Cup. In an effort to cut costs, the Volvo race has shifted to one-design vessels for the first time. That means everyone will be aboard yachts with similar dimensions (65 long at the waterline and 18.4 feet abeam).
Going with the same design trimmed operating costs by half from the $25 million to $35 million per entrant spent in the 2011-2012 race. In addition, teams can now concentrate on getting their regulation models up to speed.
In port, competitors will be "allowed to see each other's boats," said Volvo Race CEO Knut Frostad. "There are no secrets."
Such changes in regulations have attracted seven international teams, with sailors from China, Holland, Abu Dhabi, Spain, Sweden and a joint U.S.-Turkey entry headed up by Charlie Enright from Rhode Island.
"The Volvo Ocean Race is a lot to take on, for sure. But I definitely wasn't blindsided by it," he said. "I think you have to take one step at a time, let things play out and make decisions as they are presented to you. ... It's a nine-month race, a marathon."
While Enright's boat, with seven crew members 30 years or younger, will turn some heads, China's Dongfeng team ranks as one of the favorites on paper. Skippered by Charles Caudrelier, who won aboard the French entry in 2011-2012, his crew will include many of China's top sailors. This will be China's first major effort outside of Olympic event sailing, Frostad said.
For many the most intriguing crew as the Volvo Race begins has to be Team SCA, the first all-women's crew in this event in more than a decade. Team SCA logged more than 18 months of preparation in the Canary Islands. They will be allowed to carry a crew of 11 during the race, while the other teams will be limited to eight. How much of an edge that will be over the 38,739 nautical miles remains to be seen.
The crews have emphasized fitness and teamwork in the months leading up to the race. The entrants will average four people above deck, Frostad said, with the 24/7 scheduling. That isn't a lot of bodies to command a 65-foot sailboat racing toward the horizon.
"You're hot, you're cold. You're wet, you're sweaty. You're tired and you're hungry. You don't get a lot of sleep and conditions aren't fun," said Ken Read, three-time competitor in the the Volvo and former America's Cup sailor. "But you still love it and it draws you back. That's why you see so many guys doing this race over and over again."
Fans, of course, can kick back and follow the action in a number of ways.
Television: There will be weekly 30-minute shows on NBC Sports Network and Outside Television starting this month. NBCSN will air the programs on weekend late afternoons and Outside Television will cover the race every Monday night at 10:30 p.m. ET as well as re-airs and digital coverage at OutsideTelevision.com.
Online: VolvoOceanRace.com will have the latest on the race as well as daily video recaps, which can also be accessed at www.youtube.com/volvooceanrace.
App: Volvo has come up an app for a sail racing event which will launch just prior to race.
Social media: For latest news, go to twitter.com/volvooceanrace and facebook.com/volvooceanrace.com. For pictures, there's http://instagram.com/volvooceanrace
Also, fans on the East Coast can catch the boats in-person this May at the only U.S. race stopover in Newport, Rhode Island.
Whether all of this makes household names of these skippers and their boats in the months ahead remains to be seen. But everyone needs a soap opera in their lives every now and then, right? So sign up for some time before the mast. You can call me Ishmael.
Tim Wendel is a writer-in-residence at Johns Hopkins University and has covered the America's Cup.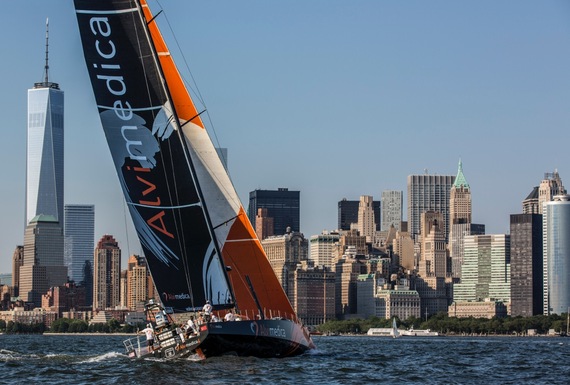 REAL LIFE. REAL NEWS. REAL VOICES.
Help us tell more of the stories that matter from voices that too often remain unheard.