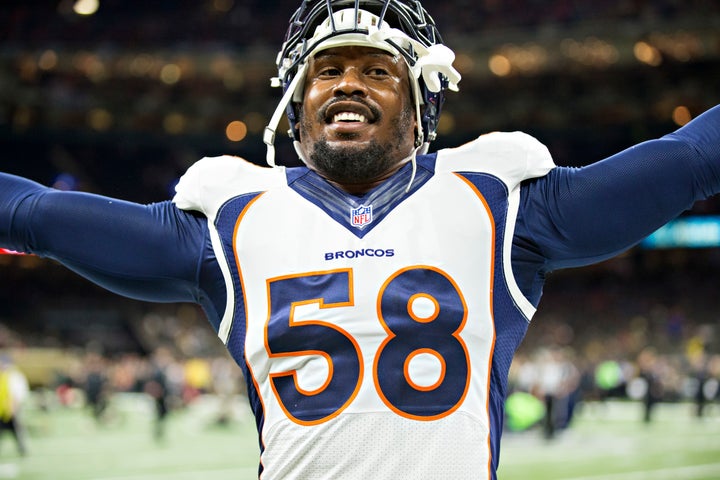 NEW YORK ― Life is different now for Von Miller. That tends to happen when your team wins the Super Bowl and you, personally, are named MVP. Or maybe it just happens when you're one of the most dominant defensive players of a generation.
But even if life is different, Miller ― who diligently eats Chefs Cut Turkey and consumes cage-free eggs ― himself is still the same.
"It hasn't changed me or who I am," Miller recently told The Huffington Post. Then again, it's not like Miller's success just came overnight.
The 27-year-old Denver Broncos superstar was the second pick in the 2011 NFL Draft after winning the Butkus Award at Texas A&M as college football's best linebacker. In July, following his standout performance in the Super Bowl, Miller signed a six-year extension worth $114.5 million, including $70 million guaranteed with the Broncos. The contract made him the highest-paid defensive player in NFL history, and got him the highest guaranteed salary of any defensive player in the league.
As an encore, Miller has arguably been even more dominant in 2016. His 12.5 sacks through 11 games lead the league, and his 22 quarterback hurries are tied for fourth most. Perhaps more impressively, he has actually been more effective against the run than the pass, according to Pro Football Focus' advanced metrics. And he's doing all of this amid constant double- and even triple-teams.
During Denver's bye week, The Huffington Post caught up with Miller in New York City to discuss a number of topics, including being bullied as a child, politics in the locker room and the best advice he's gotten during the last year. It was as enlightening a chat as you'd expect with a guy who's so gracious, he sends wine to his opponents.
This interview has been condensed and edited for clarity.
You weren't in particularly good shape to begin your collegiate career. When did nutrition become a priority for you?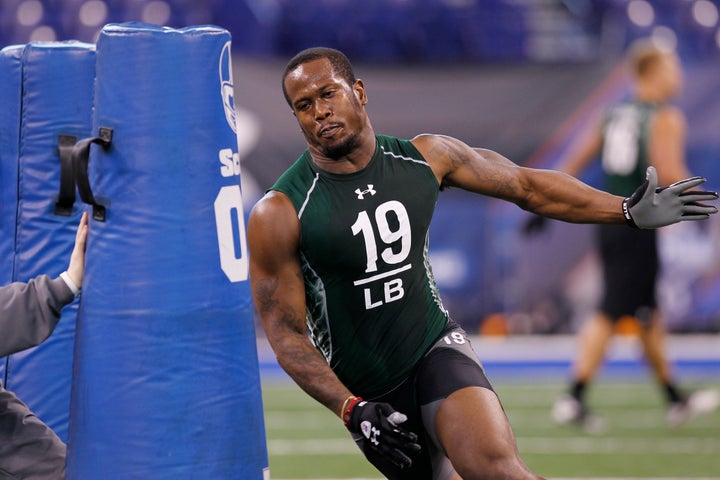 In the National Football League, everyone is talented, so it's the small stuff that really separates you from the next guy. How hard you train, are you training harder? Are you sleeping more, are you getting more rest? Are you eating better? Those are the areas where you can separate yourself ― legally, there are all types of ways that are legal, natural. 
We have learned about the value of quality sleep. What type of emphasis do you put on it, and have you ever used the hyperbaric chamber?
I do have a hyperbaric chamber, but old-fashioned, high-quality sleep ― you can't really account for it. Naps are always good, but you can't really account for it. Deep sleep is best. I don't know how many hours. We're humans and we're not the most consistent animals in the world, so it's hard to string together nine hours of sleep every day. Sometimes it might be seven, sometimes it might be six, but sleep is just as important as nutrition.
You were bullied as a child for being a nerd and for wearing glasses. You now host an annual vision day to serve children and make sure they are receiving proper care. How does your upbringing affect the message you hope to instill to today's youth?
I mean, when has it ever been when being smart isn't cool? I just like to know my facts, and I like to fact-check. It's not really too tough ― if somebody tells me something, I'm gonna go check it. If I see something that's interesting, a fact, I'm gonna hold on to it and I'm gonna regurgitate that when I'm around my friends or whenever the time is needed to let that information out there.
I think really expressing yourself, especially mentally, is very, very important. Especially in our day and age, when everything is so cookie-cutter and everything is the same. Especially in the National Football League, it's really hard to separate yourself from the next guy, and the way to do that is to be yourself, be 100 percent yourself. There's only one Von. So if I'm me, I'm separating myself from the next guy, and that includes being studious with the facts.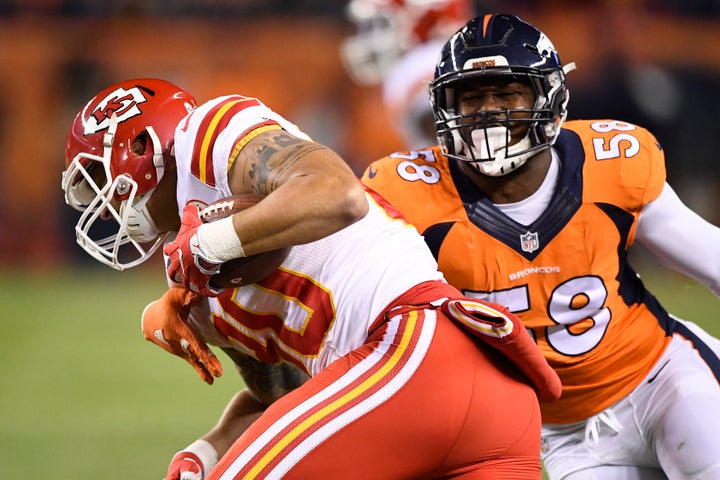 Seahawks star defensive end Michael Bennett, a friend of yours, has told me how challenging it is to be an individual ― to be original ― in the NFL. Why is it so important for you?
It was extremely important for me to be myself [when I first entered the league]. Like Mike said, it's not an original league. They hate when there's some guy who stands out... So how I battled that is, I'm just versatile. It doesn't matter if I have to wear glasses or listen to country music or listen to rap music or go here or go there. Whatever it is, I'm putting 100 percent Von Miller into that, and that's how I separate myself. [Football] is just a game.
With the election and the current state of America, do politics play a prominent role in the locker room?
Guys always talk politics. Guys always talk about a wide array of stuff. In every locker room, you feel like there's guys who feel like they're the experts when they're really not. The locker room is a different reality, it's a different place. Being right in the locker room doesn't mean you're right in real life or in the real world. It's just an interesting, neat environment that we have in the National Football League. 
What is the best piece of advice you've received during the past year?
Somebody told me: "You can't live double lives, especially when you're a star... Just don't live double lives, so you are who you are on the football field and you're exactly the same way off the football field."
Check out my recent appearance on NFL Network's "Good Morning Football," where I chat about Miller, Matthew Stafford, the Atlanta Falcons and the Legion of Bark.
Calling all HuffPost superfans!
Sign up for membership to become a founding member and help shape HuffPost's next chapter